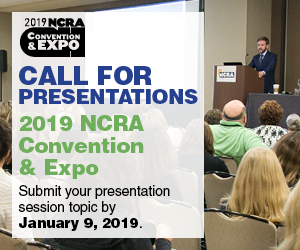 "What better place to learn from your peers than the 2019 NCRA Convention & Expo," says Lisa Knight, FAPR, RDR, CRR, who co-chairs the NCRA Education Content Committee. "And if you have something to share that touches on topics related to the court reporting, captioning, or legal video professions, now is the time to let us know your ideas. Whether you are relating something from your experience in the field or have a deep understanding of a topic such as realtime, speedbuilding, ethics, language, technology, or test-taking skills, this is an opportunity to share that you won't want to miss."
"Presenting is a great opportunity and platform to share your experiences and knowledge with other working court reporters, captioners, and legal videographers. Our peers make a wonderful, welcoming audience," says Merilee Johnson, RDR, CRR, CRC, a freelance reporter and CART captioner based in Eden Prairie, Minn., who also co-chairs the NCRA Education Content Committee.  "There's no better resource than learning from our fellow working reporters and firm owners."
Knight, who has presented sessions on technology, gadgets, and realtime in the past for national events, says that becoming a presenter changed how she thought about her role in the profession. "I'm a self-proclaimed introvert, and I always thought that the people who were presenting at the events I went to were just naturally confident and just loved being in front of the crowd," Knight says. "But I had learned so much in the field – about realtime, about marketing myself, and about embracing technology – and my friends were so supportive in pointing this out when I first volunteered to speak. I knew I had to share my knowledge and help everyone in the profession. Presenting at a convention is a wonderful way to share what you know and give back to the profession as a whole.
"What was amazing to me, though, was how much opened up to me after becoming a speaker," Knight continued. "Speaking in front of such a warm audience, one made of your peers, that is, people who are excited to hear about the nitty-gritty of the jobs and ask questions that really get to the heart of the practice, is such a great affirmation of how important our role is, no matter if you are an official or a freelancer, a captioner or a videographer. It made me want to continue to learn more and be the best I could be."
Johnson, who has presented sessions on realtime, technology, and captioning in the past for national events, says that becoming a presenter helped her meet new people and make connections that aided her career. Stepping up to be a speaker also boosted her confidence and helped shift her perspective. "It was a wonderful experience for me personally," Johnson adds. "It helped me grow in ways I did not expect."
Past presentations have ranged from a review of state and federal regulations, ethics, speedbuilding, marketing, health and wellness, trends in technology, and software training. Even if your idea is not on the list, if it's for court reporters, captioners, or legal videographers – or students of those professions – we'd love to hear more. The 2019 Convention & Expo will be held Aug. 15-18 in Denver, Colo.
Visit NCRA.org/presentations for more information or to submit a presentation for consideration. Submissions are due by Jan. 9.