By Sandy Bunch VanderPol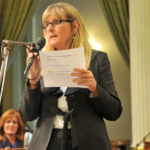 When you love something, you want to support it all the time, even if it takes a lot of effort and time. This is how I feel about our profession and the National Court Reporters Foundation, the philanthropic arm of NCRA.  As a Trustee on the NCRF, I have the privilege to serve all of you, as members of NCRA. It is indeed a privilege.
As a freelance reporter and an independent contractor, it has always been in my heart to support the profession I so love. I do this by volunteering my time and by supporting the profession with my financial contributions, and I have benefited greatly from doing this. Financial generosity is an important element in the success of any organization that supports the philanthropic efforts of that organization, and your financial support is necessary to the success of the charitable work of the NCRF.
I would ask all of you to please take a moment to consider making a charitable contribution to NCRF. There is no amount too small or too large. Your contribution will be spent wisely in supporting the many programs of NCRF. Make a difference! The feeling of giving – what a feeling it is!
Thank you in advance for your support. I appreciate it. Oh, and I forgot to mention, your contribution is tax deductible. And if you contribute $1,000, you will be an "NCRF Angel," which can benefit you through networking and a number of public relations and marketing opportunities.
Sandy Bunch VanderPol, FAPR, RMR, CRR, of Lotus, Calif., is an NCRF Trustee and longtime NCRF Angel. Visit www.bit.ly/NCRFYEA to donate to NCRF to support your profession.