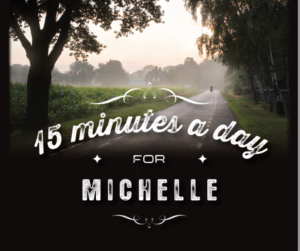 By Rich Germosen
A few weeks after the NCRA Convention & Expo in San Francisco, in September 2014, I started a practice page on Facebook. My goal was to get more consistent with my steno practice. I would always practice, but then life would get in the way and I might not practice for a week or so. I wanted consistency and accountability. So I started the 100-day-challenge practice page on Facebook where you would report your practice once per day in a post. Members would encourage each other to keep their streaks going.
When I first started, I posted both my exercise and my steno to the 100-day exercise page I was already part of. Anne Vosburgh, a reporter friend who was in the practice group, suggested I make a 100-day page for just steno. She told me: Make the page and they will come. After a year or so, I made the group secret and put in the rules that you will be removed if you're not participating. We're now a relatively small group of anywhere between 130 to 140 members.
I felt if I had a page to post my practice to, that it would keep me going so that I would not skip any days of practice. It is so easy to not practice. But, today, it feels strange not practicing. If I have a job at 9 a.m. in New York City, I set my alarm for 3:59 to get my 15 minutes in before catching the train. The rules for the group are simple, or I think they are at least: Practice 15 minutes per day for 100 straight days without missing a day and post your practice once per day; for instance, "Day 1/100: 15 minutes of Q&A at 250," or whatever it was. If you stop practicing, you are gently removed from the page.
I keep track of everyone's milestones, and everyone encourages everyone else. We have a handful of students on there, but the majority of the people in the group are working reporters who want to improve. Personally, I feel I've improved a lot. Since starting the page, I've received three medals total, my first at the Deposition Reporters Association's contest in 2017, third place in the 190 wpm Q&A; second place in the Q&A Realtime Contest in Las Vegas at NCRA's 2017 Convention & Expo; and third place in the Q&A Speed Contest at NCRA's 2018 Convention & Expo in New Orleans. Likewise, just about everyone who is on the page has mentioned that they see the improvement when they practice, as well as a decline if they take time out from practice.
Michelle Grimes and the 100-day-challenge group
In 2016, one of the members of the group, Michelle Grimes from Chicago, shared with us that she had cancer. Michelle felt safe in sharing with us that she was going through treatments. Through all of this, Michelle somehow kept practicing. It was very inspiring. She completed three 100-day challenges in total. While Michelle was going through treatments, another one of the group's members, Allison "Allie" Hall, RMR, CRR, started something new by posting an extra 15 minutes for Michelle. It inspired several other people to post "15 minutes for Michelle" in addition to their regular 15 minutes. This means people were putting in a total of 30 minutes per day: 15 regular minutes and 15 for Michelle. We had a lot of members doing the extra 15 minutes for Michelle.
On May 11, 2017, Michelle passed away. She practiced right up until a week or so of passing. The thought on the page was if Michelle could practice through all this, we should practice consistently. Going from 15 minutes to 30 minutes was extremely challenging, especially on days where I've been on the record for 7 hours. I find I have to get my practice done before leaving for my 6 a.m. train. It doesn't sound like a lot more, but 30 minutes is a lot more to do for 100 consecutive days.
I started a countdown of 100 days before the NCRA Speed Contest as a Michelle Challenge. We started on April 24, 2018. The 100th day was August 1, 2018, the day of the Speed Contest in New Orleans.
Nine members participated in the Speed Contest Michelle Challenge. She has left quite a legacy: She inspired us all to never stop improving and to keep practicing. I dedicated both of my NCRA medals — one in 2017 and one this past Convention in NOLA — to Michelle Grimes. She inspired me to practice more and always to improve and get better. Ron Cook, FAPR, RDR, CRR, CRC, received a medal in NOLA and also did the Michelle Challenge prior to Convention, as well as Traci Mertens, RDR, CRR, CRC. We had a lot of qualifiers, including Allie Hall and Melanie Humphrey-Sonntag, FAPR, RDR, CRR, CRC.
I am confident, if it were not for Michelle Grimes and our special challenge to honor her, I would not have gone ahead and done 30 minutes per day for 100 days. I would have had good intentions, but deep down inside, I know it was all Michelle pushing us all to be better writers. I encourage you to start your own practice group and make it a goal to improve a little bit each day.
Rich Germosen, RMR, CRR, is a freelance court reporter and agency owner from North Brunswick, N.J. He also holds the Realtime Systems Administrator certificate.