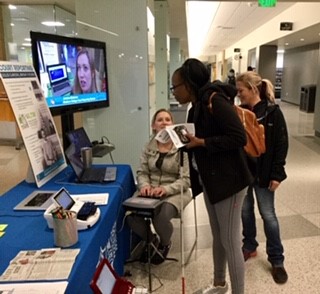 It's almost time to celebrate! NCRA has designated Feb 9-16 as 2019 National Court Reporting & Captioning Week. This is a chance for court reporting schools to reach out to the community and share the exciting opportunities offered by stenography. Up-to-Speed shares what court reporting programs are doing to mark this year's event.
NCRA encourages all schools to get involved in Court Reporting & Captioning Week by highlighting the contributions of stenographic court reporters and captioners to society. Court Reporting & Captioning Week is a perfect opportunity for students to share with friends, family, and members of the community what their careers will involve and why they chose this field. Events held this week promote the profession and showcase the career opportunities in the court reporting and captioning fields.
Updated resources are available to assist with planning and promoting activities during the week such as press release templates, posters, brochures, presentations, and more. Resources are available at NCRA.org and include materials tailored to members, schools, and state associations. Be sure to let NCRA know how you plan to celebrate by sharing your stories and photos via email at pr@ncra.org.
Here's a list of how some of the nation's court reporting schools are planning to mark the event:
Cuyahoga Community College, Parma, Ohio
The Captioning and Court Reporting (CCR) Program at Cuyahoga Community College in Parma, Ohio, is planning a variety of events to celebrate 2019 Court Reporting & Captioning Week. On Feb. 13, the student CCR Club will be holding its annual Write-a-Thon Fundraiser. Students in the program will gather in the Western Campus Galleria, a prominent interior plaza area on campus, to work together on their machines as a visible display of the court reporting profession (in training!). Students plan to seek sponsors ahead of time who will contribute funds to support student members attending professional development activities such as state and national court reporting association conferences.
The following day, on Feb. 14, the CCR program and club will host an interactive career event called "Professional Pop-Up." This event will feature professional reporters from a variety of court reporting and captioning sectors who will be displaying their skills through demonstrations of live reporting and live captioning, followed by Q&A sessions. This will provide a terrific opportunity for both current and prospective students to see the profession "in action."
Madison Area Technical College, Madison, Wis.
The Court Reporting Associate Degree program at Madison Area Technical College in Madison, Wis., will set up an information table in the Cafeteria Mall at its Truax campus. Court reporting students will participate by practicing their writing at the table and talking with people who visit the table.
Visitors can:
See state-of-the-art realtime technology.
Watch demonstrations of stenography in action and give it a try themselves.
Learn the "secret" language of court reporting and how to "text" at over 225 words per minute.
Informally talk with faculty and students about the program at Madison Area Technical College.
Schedule a free "hands-on" Bootcamp to explore the field.