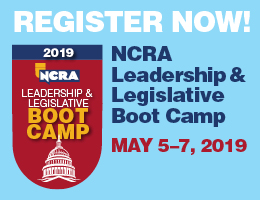 If you are a state leader or are aspiring to become one, don't miss NCRA's 2019 Leadership & Legislative Boot Camp happening May 5-7, outside of Washington, D.C. Registration is now open, and spots are filling fast. This event is NCRA's premier advocacy educational event designed to teach state leaders how to be effective for the court reporting and captioning professions and experience what it is like to advocate on Capitol Hill.
"This is absolutely the best investment state associations can make in their leadership teams," said Phyllis Craver Lykken, RPR, a freelance court reporter from Yakima, Wash., who has attended NCRA's Boot Camp before. She noted that the Washington Court Reporters Association (WCRA) is planning to send at least one of its future leaders to "muscle up" at this year's event.
The cost to participate in the 2019 Leadership & Legislative Boot Camp is $225 per NCRA member and $175 for a second member attending from the state. The nonmember rate is $325. Registration ends on April 5. Once an attendee registers, they will receive a confirmation email with a link to book a hotel room at a special rate of $239 per night at the Embassy Suites in Old Town Alexandria, Va. The deadline to book a room at the special rate ends on April 12.
Craver Lykken said that, while serving as WCRA president, a bill was introduced in the state legislature to eliminate the state's mandatory Court Reporting Practice Act.
"Our association was without a lobbyist at the time, and although we were blindsided and utterly panic-stricken, we were able to swing into action and utilize literally every aspect of the steps several of us had been trained to undertake by attending NCRA's Boot Camp," she said. "Working together, our board was able to quickly mobilize reporters from across the state into a boots-on-the-ground grassroots effort to convince members of the legislature that dismantling our existing law would be a big mistake. We succeeded in the very first hearing and saved our Court Reporting Practice Act. We could not have done that without the necessary training. This year it's been expanded to include more aspects of leadership training. Fantastic idea! I've attended it three times, learning something new every single time."
The 2019 Leadership & Legislative Boot Camp will kick off with a session that will cover what attendees need to know about participating in the event. Other sessions will focus on the nuts and bolts of association work, politics 101, understanding NCRA's 2019 federal initiative, more about the state of the court reporting, captioning, and legal videography professions, and how to mobilize a membership and successfully use grassroots advocacy — and that's just the first day!
Click here to read more about what the 2019 Leadership and Legislative Boot Camp has to offer as well as more about the presenters.
"Boot Camp is a truly immersive experience. If there's one thing you need to know in advance, it's don't plan on bringing any work with you or doing any sightseeing during the event. You'll be busy every single minute," said Liz Harvey, RPR, CCR, a freelance court reporter from Seattle, Wash., who has attended before.
"The fact that Boot Camp is held in our nation's capital makes it especially inspiring. To be able to take the training we received and immediately put it into action on Capitol Hill is truly rewarding. It's an experience you won't duplicate anywhere else," Harvey added.
Remember, registration closes on April 5 so don't wait! Secure your spot now.