By Patricia Nilsen (with Kiki Kim)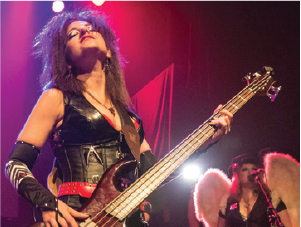 As a lifelong fan of Mötley Crüe, the glam-metal band that became famous in the 1980s, my dream as a child was to someday meet the band. In the mid-2000s, an inspirational Mötley Crüe reunion show at Madison Square Garden in NYC gave me this wacky idea to start an all-girl Mötley Crüe tribute band. The fact that I played zero instruments seemed just a minor detail at the time. A friend of mine — blonde, like the Crüe's lead singer — loved the idea and said she could sing. I thought: "Done, here we go!" And Girls Girls Girls was born. I asked my husband for a bass guitar for my 31st birthday, and he obliged with a shiny pink bass and the words he would probably one day come to regret: "You better actually play that thing."
I was working as a full-time federal official in the Southern District of New York in Manhattan — a pretty busy gig, if you're not familiar with it. Lacking the time for lessons to start with the fundamentals, I essentially learned online. I also couldn't be bothered to learn how to use a pick — my fingers had always been fast on the machine, so I went with what I knew.
I had been noodling at home for a few months when I saw an ad for a ladies' rock camp, which seemed like a good place to meet my future bandmates. Most importantly, I needed a guitarist that could really shred. Sadly, the guitarists at camp were more Jewel than Lita Ford. I did, however, meet a wannabe drummer who did finance by day and just came for fun: Kiki Kim. She and her friend invited me to ditch camp at lunch to get a beer – rock 'n' roll already! Over drinks, I told her my idea, which she probably laughed off as a "Sure, I'll join your (finger quotes) band." We exchanged business cards, and that was likely the last she thought she'd ever hear from me.
To find the last piece of the puzzle, my graphic-artist husband photoshopped our faces over an iconic photo of Mötley Crüe with a blank over guitarist Mick Mars' face and the words "YOUR FACE HERE." I used the picture in an ad containing the same language Mars used for his own ad in search of the band that would eventually become Mötley Crüe: Seeking "loud, rude, and aggressive [fe-male] guitarist." Months went by with no reply, and I was ready to hang it up when I finally got the call. Denise "D" Mercedes, who had played in a famous influential punk band called The Stimulators in the 1980s, hadn't played in 20 years but loved our ad so much that she said: "I just gotta see who these chicks are!"

We were now a full band, and it was time to play. In contrast with my sweet and innocent idea of practicing in my city apartment, D, our lone professional musician, knew how to find rented rehearsal-studio space. And, boy, could she shred. My friend couldn't sing over the loud guitar and was gone by morning. My finance-professional beginner drummer took one look/listen at D and wanted to follow suit. Fortunately, my powers of persuasion were as strong as my will to start this band, and I convinced her to stay at least temporarily (spoiler alert: she stayed for good). And now we were on the hunt for a new singer. The three of us continued rehearsing for months until we found one.
Our first gig was at a club in Jersey, where we played the owner's birthday party. We hired a party bus to shuttle our friends from New York City for the show, and it was an incredible time! Little did I know that what seemed like the culmination of a dream was only just the beginning. Over the next two years, we played almost 50 shows. I spent two to three weekends a month in a van, visiting new cities, making new friends, and rocking my heart out.
I was living three distinct lives: Patricia, band manager and court reporter; Patty, wife, New Yorker; and Nikita Seis, Goddess of Bass. My life as a court reporter wasn't much different except that I took more Fridays off and spent Monday watching the black nail polish slowly chip from my nails, in a daze, with a smile on my face and bags under my eyes. We had enough adventures to fill a book. Our rise was fast, as was our fall. The potent mix of four women with strong and distinct personalities led to a dramatic breakup.
During our time off, one member moved on to form a different band, and I had my first child. During maternity leave, I created a photo book of our time together as a band that made us nostalgic and drew us back together, supposedly with new insight into what went wrong and how to change it. Three years after our breakup, a reunion show was in the works, and I was newly pregnant with baby number two. Four months later, I squeezed into my stage clothes (with much lower heels!), and we packed Brooklyn Bowl with a crowd as eager for our return as we were. Everyone was flying high, so I found a replacement bassist and continued just managing the band from home. Now that I had more time, I was able to take the management role more seriously and brought us to new markets, better money, the cover of The Village Voice, and our first international tour in Mexico.

But two years later, the wheels fell off again, and the band broke up for all the same reasons and more. In total, we played exactly 100 shows in 16 states before I moved to Nashville, when I thought that chapter had finally ended. In December 2018, I was a freelance reporter who hadn't played in three years. Thanks to maintaining our presence on social media, we had continued to receive inquiries from random clubs and people who wanted us to play their brother's barbeque for chump change. But then I got the email: Netflix wanted us to play a private party in Hollywood for the premiere of the upcoming biopic about Mötley Crüe, The Dirt. It was contingent on all four members of Mötley Crüe signing off on us. Phone calls were made, singers auditioned, and the bass was officially out of the case. We landed the gig with about seven weeks to get our act together!
The film producers chose four songs and would decide if the crowd liked us enough for an encore — no pressure! Before the show, we were thrilled to hear that Mötley Crüe singer Vince Neil and drummer Tommy Lee were in the house. We hit the stage in front of a capacity crowd at the world-famous Whisky a Go Go and ripped into our namesake song, "Girls Girls Girls." The energy was electric; it felt amazing. During our fourth song, "Kickstart My Heart," Tommy Lee and the actor who played him in the movie came dancing down the stairs and made their way to the stage, leading to the cue to play our encore, "Live Wire."
Watching the drummer who made this music famous air-drumming to my band was a moment I will never forget. After the show, Tommy told us our set was "dope," and we all went home smiling from ear to ear. I share this story because it all began as a crazy idea I had. The most I imagined was playing a gig for our friends at a real New York City venue. Never in my wildest dreams did I think that I would create something bigger than myself, and that 13 years later, it would still be going. As court reporters, we tend to think that our job is our life and that we don't have time for anything else. But one of the greatest benefits of this career is the flexibility, and we can do what we choose in our off-time. Choose big. Dream big. And don't be surprised when your dreams come true.
Patricia Nilsen, RMR, CRR, CRC, is a freelance reporter with Alpha Reporting in Nashville, Tenn. She can be reached atpatricianilsen@alphareporting.com. For more on Girls Girls Girls, check out the band at www.girlsgirlsgirlsnyc.com and on Facebook at www.facebook.com/girlsgirlsgirlsnyc. Girls Girls Girls drummer Kiki Kim helped with this story.