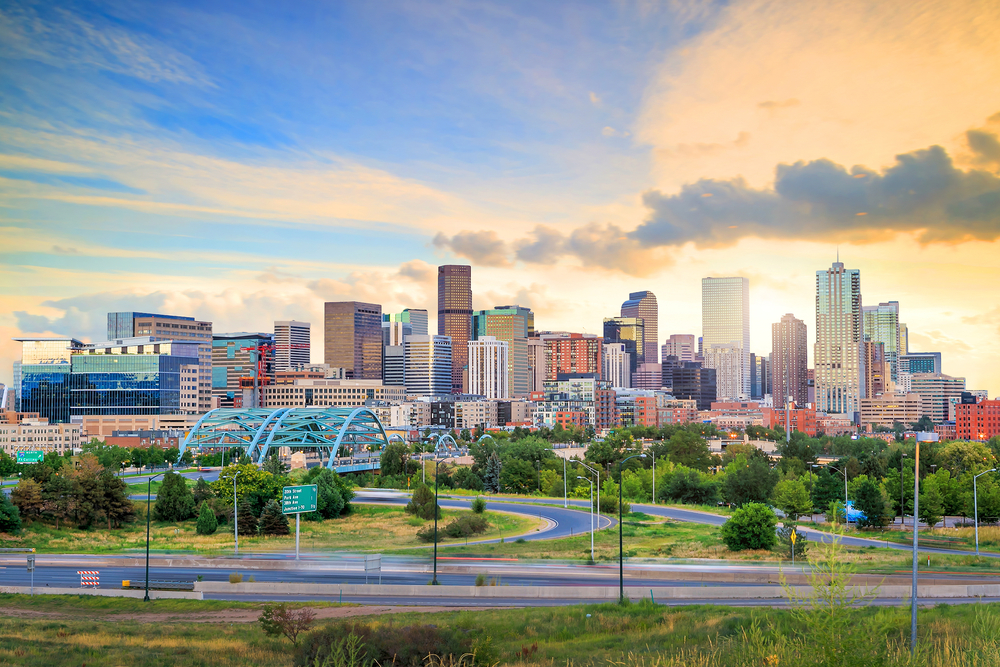 NCRA's 2019 Convention & Expo takes place Aug. 15-18 at the Hyatt Regency Denver at Colorado Convention Center.
Denver, The Mile High City, is a vibrant outdoor city located at the base of the majestic Rocky Mountains. Brilliant blue skies and 300 days of sunshine inspire urban adventures for all ages, so be sure to register to attend this year's NCRA premier event.
Whether you're a foodie, sports enthusiast, a history buff, an art lover, or an avid shopper, Denver will surprise you with everything it has to offer. While at NCRA's convention, be sure to take time between networking and educational sessions to visit the walkable downtown.
"Within a short walk of the Hyatt Regency, you'll find plenty to do on the 16th Street Mall. Boasting 42 outdoor cafés, a multitude of shops, a bustling nightlife scene, and a free shuttle bus called MallRide, the mile-long outdoor promenade is a perfect venue for your convention extracurriculars," said NCRA member and Denver resident Matthew Moss, RPR, an official court reporter with Colorado's 2nd Judicial District.
Moss also recommends visitors to Denver make the 10-minute walk from the hotel to the Denver Center for the Performing Arts, the nation's largest non-profit theatre organization. "On evening nights throughout the convention, the DCPA is scheduled to host legendary improv comedy enterprise The Second City, as well as Broadway musicals including Chicago and Anastasia," he says.
Closer to the 15-minute walking range from the hotel, there's History Colorado Center, an award-winning tourist destination and a hub for learning and entertainment. The area features the Molly Brown House Museum, home to the famed Titanic survivor, actress, philanthropist, and activist, and a portal to Victorian Denver; and the Ralph Carr Building, home of the Colorado Supreme Court and Court of Appeals as well as 11 major public art installations, Moss adds.
"If you're up for exploring a little farther from the hotel, check out City Park. Take a 10-minute Uber ride from the convention site to a sprawling public park in close proximity to the Museum of Nature and Science, the Denver Planetarium, and the Denver Zoo. Farther out, yet worthy of your consideration, are Red Rocks, the best small outdoor venue in America, and the park that contains it, as well as the Coors Brewery in Golden, the largest single-site brewery in the world," Moss says.
NCRA member Brandi L. Burnett, RPR, also a Denver resident and owner of Burnett & Neilson Professional Reporters, notes that foodies attending the convention will find no lack of wonderful restaurants offering an array of tastes. She especially recommends her favorites, Euclid Hall and the Root Down.
Burnett also recommends taking in a game to watch some Rockies baseball if there is a game happening during convention and checking out some of the many theaters Denver has to offer, such as the Buell Theater where the Broadway play Wicked is currently being performed.
"Transportation downtown isn't too bad. The 16th Street Mall has a free shuttle that spans all of 16th Street. There is also the Lime-type scooters available for rent as well as bike companies everywhere," Burnett adds.
Below is a list of the top 10 reasons to visit Denver according to the city's visitor's bureau.
Red Rocks Park & Amphitheatre
Red Rocks Park & Amphitheatre is famous for its one-of-a-kind outdoor concert venue that is surrounded by giant, ancient rock formations. During the day, Red Rocks is a free city park with easy hiking trails and a visitor center that includes a Performers' Hall of Fame. Legendary musicians like The Beatles (1964) and U2 (1983) have performed here, and today, the summer concert series from May through October presents the best artists in jazz, rock, pop, bluegrass, and more. Seeing a concert under the stars is a magical experience. Red Rocks Park is located 30 minutes west of downtown Denver.
2. Denver Beer Trail
Take a self-guided tour along the Denver Beer Trail and sample the craft beer paradise in The Mile High City. Explore the featured breweries, most in the walkable downtown area, and you will find everything from stouts to lagers and all the flavors in between. Denver's craft beer culture is thriving, creative, and growing larger every day.
3. Rockmount Ranch Wear
A true Western icon, Jack A. Weil (1901-2008), invented the first cowboy shirt with snaps and helped popularize Western wear as legitimate American fashion. Many of the Rockmount designs are worn by movie stars and music legends, all with the signature design of diamond snaps and sawtooth pockets. The grandson of "Papa Jack" Weil, Steve Weil continues the tradition today at the store located in the heart of downtown at 1626 Wazee St.
4. Denver Art Museum
See the famous collection of Native American art and explore the bold contemporary art inside and out of the new Frederic C. Hamilton building, designed by world-famous architect Daniel Libeskind. Denver Art Museum, located in downtown's Golden Triangle, also offers free general admission on the first Saturday of every month and is free for kids under 18 at all times. The Golden Triangle Creative District is also home to galleries, fine-art studios, specialty stores, and eight museums, including Clyfford Still Museum and the Kirkland Museum of Fine & Decorative Art.
5. Larimer Square
Larimer Square is Denver's oldest and most historic block, home to the first saloons and businesses in The Mile High City. Today, the Victorian buildings have been transformed into shops, wine bars and the hottest chef-owned restaurants. Look for the sparkling lights strung above the street, relax at an outdoor cafe or bar, taste the best of cuisine created by local chefs, or find unique clothing and accessories in the boutiques.
6. Union Station & LoDo (Lower Downtown)
Downtown Denver's Union Station has undergone a massive restoration and redevelopment effort that transformed the landmark into a transportation, dining, shopping, and entertainment hub, all centered around the boutique Crawford Hotel. The station is a now a fun gathering place for locals and visitors — eat a breakfast burrito at Snooze, sip a beer at the Terminal Bar, sample the locally sourced cuisine at one of the unique restaurants, shop a bit or have a hand-mixed cocktail at Cooper Lounge. There is direct rail service between Denver International Airport (DEN) and this landmark in the heart of downtown.
7. History Colorado Center
Denver's History Colorado Center features exhibits and programs that tell the stories of Colorado and engage visitors in the past, present, and future of the Rocky Mountain West. Enjoy interactive exhibits like a virtual ride in a real Model T, test your skills on a ski-jump simulator, or set off dynamite in an 1880s hard-rock mine.
8. B-cycle to Neighborhoods – RiNo, Art District on Santa Fe and More!
Vibrant arts and culture are just two wheels away! Explore The Mile High City using Denver B-cycle, Denver's pioneering bike-sharing program, and pedal your way through Denver's creative art districts that surround the city center. Explore the River North Art District (RiNo), which is rapidly becoming the hotspot for artists, foodies, and designers. While retaining its industrial character, RiNo still offers plenty of cafés, brewpubs, restaurants, and art galleries. Visit the Highlands neighborhood, just north of downtown, or the Art District on Santa Fe, which is home to more than 100 galleries, artist studios, and creative businesses. Denver's art districts also celebrate the first Friday of each month with art walks where galleries are open late.
9. Cherry Creek
Cherry Creek Shopping Center is home to more than 160 stores and restaurants including Macy's, Neiman Marcus, Nordstrom, Abercrombie & Fitch, Levi's, Michael Kors, and Hugo Boss. Visit the guest services desk and ask for your "Passport to Shopping," which offers discounts for more than 60 stores and restaurants. Head across 1st Avenue to find the charming, tree-lined streets of the Cherry Creek North neighborhood. Here you can explore galleries, boutiques, restaurants, coffee shops, spas, and more. Cherry Creek is located just 15 minutes southeast of downtown.
10. Denver Attraction Passes
The Mile High City offers you two different passes to take advantage of the great attractions throughout the city. The Mile High Culture Pass gives you three days to explore many of Denver's top art and cultural museums, while the Denver CityPASS gives you access to three, four, or five of Denver's most popular attractions for seven days. Explore the two options at DenverAttractionPass.com.