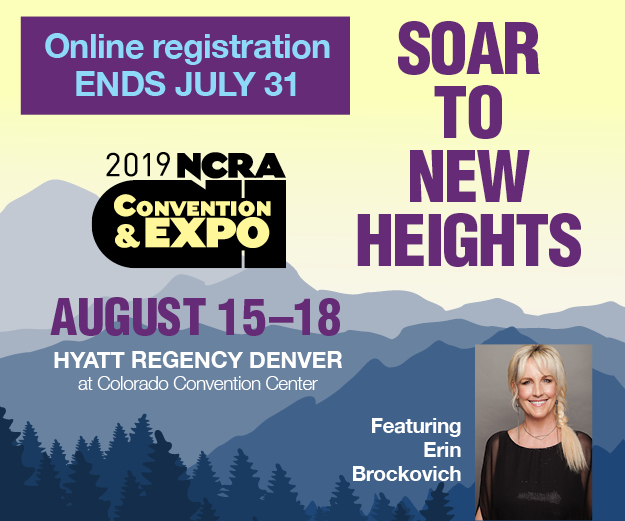 Spots are filling fast, and the deadlines for lodging and registration are looming for NCRA's 2019 Convention & Expo taking place Aug. 15-18 in Denver, Colo. July 19 marks the deadline to reserve a room at the Hyatt Regency Denver using NCRA's special discount, a deal that also gets you a free breakfast on Friday and Saturday (a $75 value). Save more by registering for the Convention & Expo before July 31, when online registration closes, and avoid a $50 additional fee for onsite registration.
This year's all-inclusive schedule is sure to appeal to anyone in the court reporting, captioning, and legal video professions, or in the educational arena.
But hurry; there are only 28 spots available for the ever-popular Punctuation Workshop, 18 spots for the National Speed Contest, and 10 spots for the National Realtime Contest. These events are likely to sell out, so don't miss your chance this year.
The Keynote speaker for NCRA's 2019 Convention & Expo will be renowned consumer advocate and environmental activist Erin Brockovich. The movie Erin Brockovich turned her from an unknown legal researcher into a 20th-century icon by showcasing how her persistence was the force behind the largest medical settlement lawsuit in history. She continues to fight and use her notoriety, knowledge, and dedicated spirit to encourage others to stand up and make a difference. She will deliver the keynote address on Friday morning as part of the Premier Session, which will also include the installation of officers and the announcement of NCRA's prestigious Distinguished Service Award winner.
In addition to a diverse line-up of sessions on topics ranging from remote reporting to coaching students and new professionals, from steno briefs and writing to cybersecurity and social media — all specifically geared to court reporters, captioners, legal videographers, and scopists — the 2019 Convention & Expo will include the two-day CRC Workshop and CRC Exam, the ever-popular CRR Boot Camp, full-day vendor training workshops, and the Punctuation Workshop on Thursday afternoon. Throughout the Convention attendees can earn up to 1.175 CEUs.
For more information about the 2019 NCRA Annual Convention & Expo, or to register, visit NCRA.org/Convention.
For information about sponsorship opportunities, contact Mary Petto, Senior Director of External Affairs at mpetto@ncra.org.