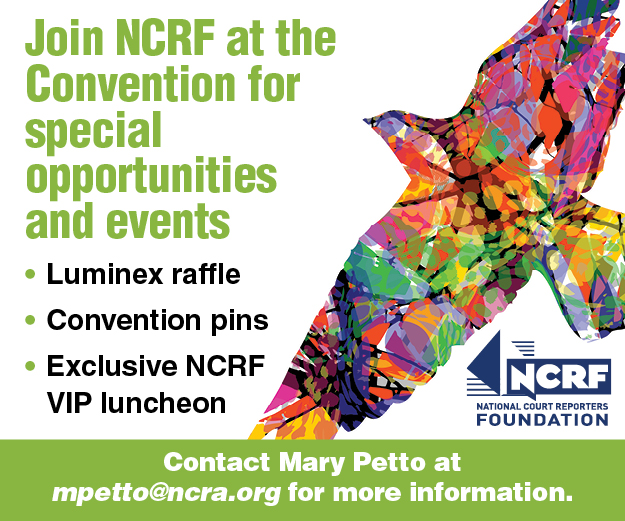 Be sure to stop by the NCRF booth at NCRA's 2019 Convention & Expo, taking place Aug. 15-18 at the Hyatt Regency Denver at the Colorado Convention Center, to enter into two drawings for big prizes.
Once again, Stenograph has generously donated a Luminex shorthand machine, valued at more than $5,000, to be raffled off to aid the Foundation's important work and programs that support the court reporting and captioning professions.
Raffle tickets are $50 each or three for $125 and can be purchased at the NCRF booth on the Expo floor. The drawing will be held on Saturday, Aug. 17, at the Member Recognition Gala: Denim and Diamonds ball being hosted by 2019-2020 NCRA President Max Curry, RPR, CRI. The winner need not be present to win.
Keep Your Angel Status Current and Get Two Chances to Win a Getaway!
Be sure you have made your donation of $1,000 or more to NCRF in the last 12 months by Sept. 3. Not only will you continue to receive the Angels Quarterly enewsletter, but thanks to generous Foundation supporters NCRF Trustee Sandy VanderPol, FAPR, RMR, CRR, Lotus, Calif., and Denise Paternoster, RPR, Staten Island, N.Y., you will also be entered to win a trip to Mexico or Lake Tahoe! Drawing will take place LIVE on Sept. 4 on NCRA's Facebook page.
Visitors to the NCRF booth can also be among the first of the many NCRA members who will commit to donate $1,000 or more to support the Foundation's 2020 Angel Drive. The gift provides a great tax write-off and a myriad of benefits, including a listing on the Angels poster at the booth and an invitation to attend the exclusive VIP Luncheon next year in Orlando, Fla.
Visit the NCRF booth to learn more about both of these opportunities to win big and, while you are there, learn more about how you can help the Association's philanthropic arm do more through the many programs, scholarships, and grants it offers. This is also your best chance to purchase the 2019 Soar to New Heights Convention Commemorative Pin, which will be offered for $10 each. Attendees can buy past convention pins also.
Finally, become part of NCRA history by signing the Official Convention Register, a time capsule of sorts that has documented convention attendees since the early 1900s and is housed in NCRF's Robert H. Clark Library at NCRA headquarters between conventions.
For more information about NCRF programs or its booth at convention, contact Jill Landsman, Development Relations Manager, at jlandsman@ncra.org.