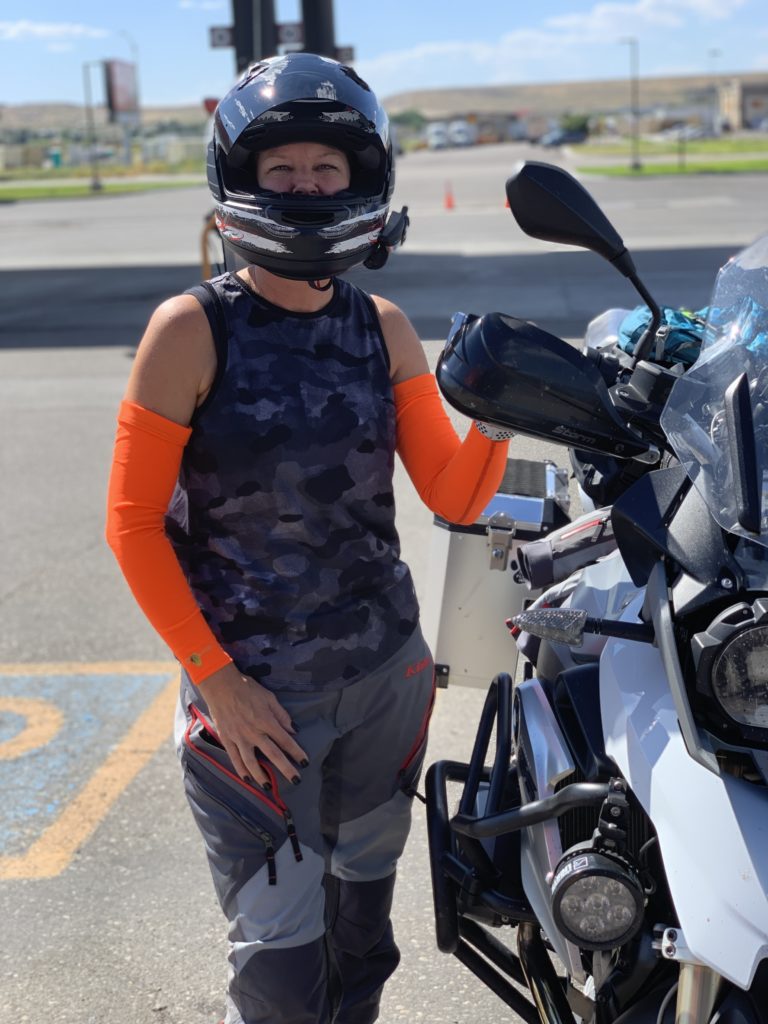 By Monyeen Black, RPR, CRR
About 10 years ago I purchased my first motorcycle after completing a motorcycle safety class in Paso Robles, Calif.  I was hooked. I had always ridden double-up with my husband, but he thought I should take the class just so I had my license. Fast forward some years, and we started doing long-distance riding, mostly completing Iron Butt Saddle Sore 1000s, which is riding more than 1,000 miles in under 24 hours. 
How court reporting is very similar to long-distance motorcycle riding
I am a long-distance motorcycle rider. I ride 1,000-mile+ rides in under 24 hours — just like pulling an all-nighter to produce an expedite. 
Riding takes focus — just like listening to a mumbling attorney and/or witness. 
Having the correct riding gear makes the ride that much more enjoyable — just like having a great steno machine or a DYMO or a back rest.
Riders always practice their skills — just like many reporters practice or attend seminars to learn new tips.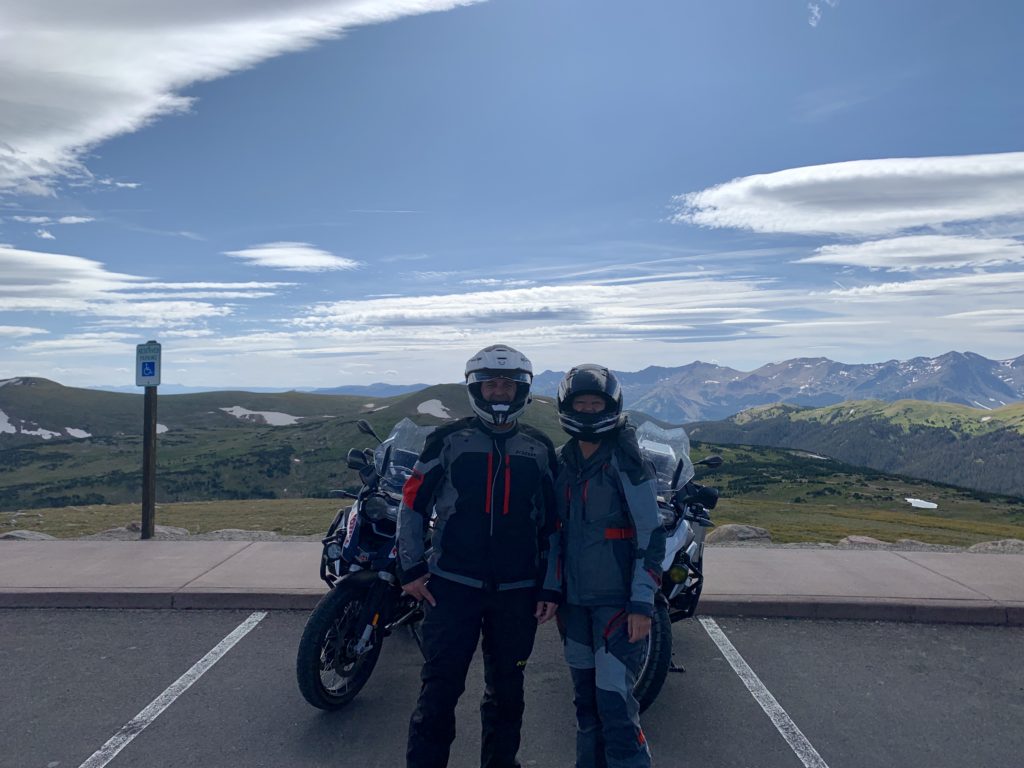 My husband, Keith, and I got to do an amazing motorcycling adventure this summer. He had to be in Milwaukee to attend a conference, and so we decided to make a trip of it on our motorcycles. This would be the biggest trip we have taken. 
We knew the trip to Milwaukee, Wis., would complete an Iron Butt Saddle Sore 1,000 (although we had wanted to do a Bun Burner Gold originally, which is 1,500 miles in 24 hours). We had a few different routes picked out over the months we were planning this trip and last minute decided to head north to avoid the heatwave that was hitting through Las Vegas when we were scheduled to leave on our trip since we were concerned about dehydration. The plan was to just knock out miles going there and on the way back we would play more tourists.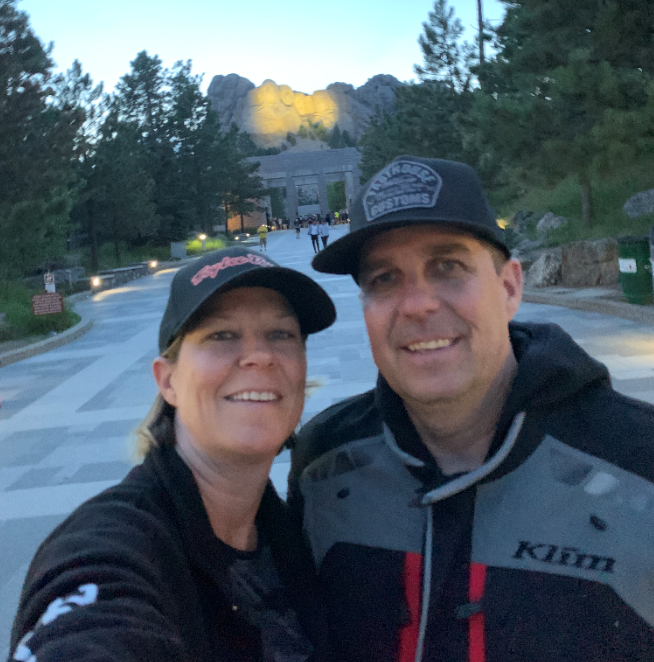 The one thing I really wanted to see was Mt. Rushmore for the illumination viewing at night. I had wanted to check out Crazy Horse Memorial, ride through Sturgis, S.D., just to see the town, maybe get to Chief Joseph's Highway. Nothing was set in stone, only making hotel reservations a few hours before we had planned to arrive into a city. We basically followed wherever the front wheel took us, and it was pretty amazing! 
We left our house in Paso Robles about 4:15 a.m. When you are completing an Iron Butt ride, you must document each stop and obtain receipts at each location; this is how you prove the route you took. Our goal was to end up in Rexburg, Idaho, that night. It was a great ride. Ended up at 1,032 miles.
The next day was going to be another long one. We left Rexburg, and the goal was to go to Bismarck, N.D. It was slow going as we traveled through West Yellowstone since there were still a lot of tourists in the area. We rode 728 miles and really enjoyed the countryside. Heading north was the smart thing to do. We had weather that was just perfect. 
We traveled 611 miles on our third day and ended in Eau Claire, Wisc. Now, we could have made it all the way to Milwaukee, since it was only another 248 miles, but we stayed in Eau Claire for the night so we had a short ride the next day and wouldn't be tired for Keith's conference.
In 3.5 days we rode 2,533 miles. It was just awesome.
After the conference it was time to enjoy the ride as we were not on a schedule to return home. We knew we were Mt. Rushmore—bound but weren't sure when we would arrive there. Well, we both felt good riding and decided to ride straight through and arrive 918 miles later to the illumination viewing at Mt. Rushmore. It was very cool.
The next morning we got to ride through Sturgis, check out the Spearfish Scenic Bypass, and make our way south to Colorado. We hit crazy weather in Wyoming which consisted of lots of lightning, quarter-sized hail, and 60 mph gusting winds. After many miles of that, we finally found an underpass to park under until the hail stopped.
From Ft. Collins, Colo., we were able to ride a dirt road up to the Rocky Mountain National Park to an elevation of more than 12,000 feet. Just beautiful views to take in from a motorcycle. I also saw a mountain goat up high in the canyon that made me squeal with excitement.
Next stop was Grand Junction, Colo., and we traveled 404 miles to where the weather got h-o-t. When we left Ft. Collins, it was only 56, but temperatures rose almost 50 degrees to 104. This is where being prepared is helpful. We have these sleeves that you wet and wear under your riding jacket, and the air coming up your cuffs makes you feel like you have air conditioning on. It helps to keep you cool and make the ride a little more bearable when conditions are on the hotter side.
We were excited for the ride from Grand Junction over to St. George, Utah.  Utah just has some beautiful scenery, and we couldn't wait to take it in. It was an easy 408 miles as we stopped at each scenic view spot to take in the amazing landscapes. We got to ride some canyons and eat at some great spots along the way. But ending in St. George with 107 degrees meant it was time to jump in the pool and relax with a cold drink.
Strategically, we left really early to ride during the cooler temperatures for the last leg to get home. We also knew we'd gain an hour near Las Vegas.  We jumped on our bikes at 4 a.m. It was crazy to ride through Vegas that early and it was still 92 degrees outside. This whole day we knew would be a "hot" ride, and we had to stop every 60-90 minutes to wet our sleeves to keep the ride bearable. But we were so excited to travel the 526 miles home to see our black lab Enzo.
We utilize a Spot satellite tracker that was fun to share with our family and friends. We had a friend who is a pilot checking weather radar for us on our routes, parents Googling our locations and reading about where we were. Mostly, the Spot gave our parents peace of mind and excitement as they "traveled" alongside us. 
Our trip consisted of 10 days of riding, 5,285 miles, 31 fuel stops, 12 states, eight hotels, two tires (changed in Colorado), one hailstorm, and one Saddle Sore 1000 Iron Butt.
Would we do it again? Absolutely. The next trip we'd like to do is go up to Canada and hit Jasper, Banff, and Glacier parks. Can't wait to start planning it. 
Monyeen Black, RPR, CRR, is a freelancer and agency owner in San Ramon, Calif.