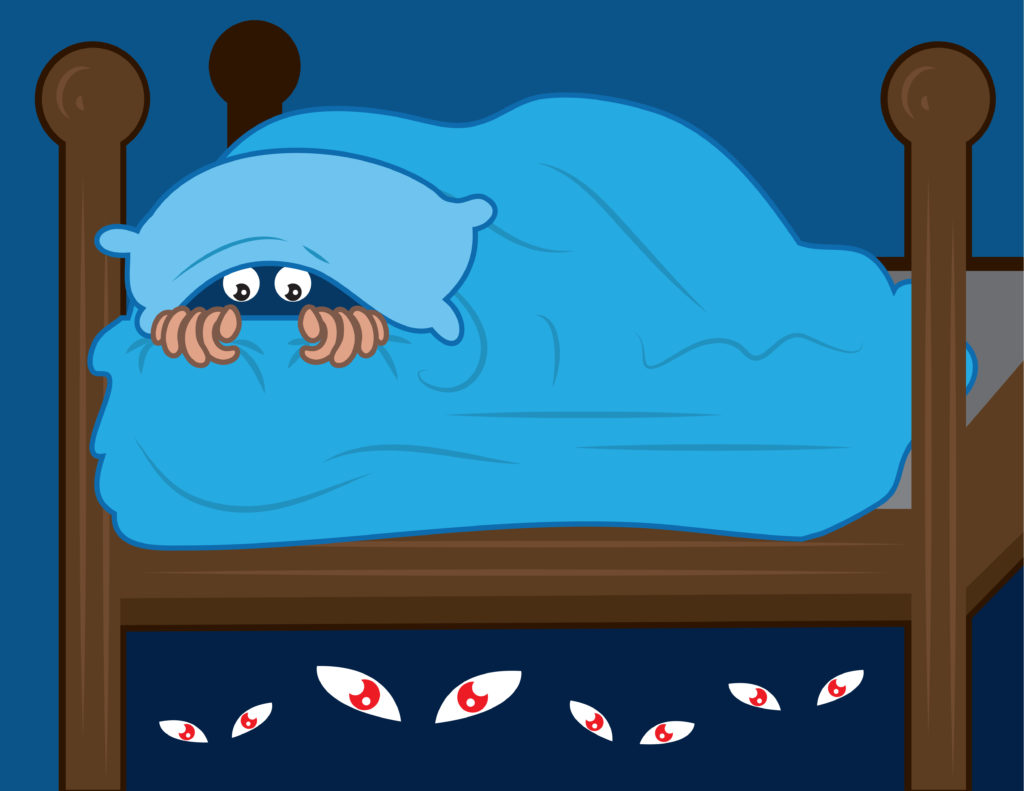 In honor of all the Halloween scares happening this week, we asked court reporters on social media what bad dreams they have had. Here are some of their responses:
I didn't have my machine, so I was provided a cookie sheet with refried beans spread out, into which I pushed my fingers with steno strokes. Each stroke was lighter than the prior so it would rest on top. I felt I got the hang of it until I was asked for read back. Last thing I remember of the nightmare was holding a butter knife and trying to figure out how deep to slice the beans on a horizontal plane to find the readback spot. I was worried not only if I could read my bean record but how I was not going to turn all the bean record into mush. (My husband interpreted the dream that I was too stressed and needed to take a vacation.) Duh!
Debbie Gale, RPR, Santa Ana, Calif.
I had to ask my client to drive me to deposition with baby in tow and asked him during break to feed my baby her bottle.
Donna L. Linton, RMR, Ashburn, Va.
I used to have a recurring dream when my kids were very little that I couldn't find a babysitter. So I was in the courtroom trying to balance the baby on my chest leaning back while I was writing the proceedings.
Lisa Welch, RPR, Gridley, Calif.
I had a dream where I had to knit the testimony. And I'm a terrible knitter!
Rebecca Forman, RMR, CRR, Staten Island, N.Y.
I think a lot of us have the dream where we forget our writer, and we're "writing" on the table while hoping to remember everything that's said and hoping nobody notices.
Danielle R Murray, RMR, CRR, Olathe, Kan.
Two recurring dreams. One is that I am trying to write everything down with a pen and notepad because my machine isn't with me. The other one is that I'm running an errand before an afternoon deposition and keep getting delayed or lose track of time, so I am never able to get to the deposition.
Susan Sims, RPR, Meridian, Idaho
I have had this dream several times: I am in court, and for some reason I don't have my machine. I, however, am trying to write the steno outlines by long hand on a note pad. It's like I am a pen writer from the old days, only I am writing in steno shorthand. Of course, I cannot keep up and am just frantic.
Laura Payne, RPR, Henderson, Texas
I have had this nightmare too, forgetting my machine and trying to write it all on paper. I've had it a couple times, then my last nightmare I didn't even have paper and told them: "Go ahead, I'll just remember it all."
Deirdre Rand, RPR, Lehi, Utah
Mine is always walking into a room with a hundred lawyers and having to gather appearances from each one. Always wake up before I get them all!
Karen Vornkahl, CRI, CPE, Baton Rouge, La.
I also have had the dream where I am writing on my machine, and it is sinking in the sand or water.
Kelly A. McKee, RDR, CRR, CRC, CPE
All 15 lawyers around the deposition table look identical and have the same last name.
Tammey Pastor, RPR (Ret.), Chandler, Az.
I had a dream in my 225s in school where the machine keys turned to razor blades! And it was finally a take I was getting. As I'm writing a steady stream of blood was going down my machine to my tripod and making a sticky pool of blood at my feet. It didn't hurt, but I was horrified! Talk about test anxiety!
Kairisa Magee, Gary, Ind.
I used to have a recurring nightmare where I forgot my machine, so I decided I would just write down everything they were saying using a pen and paper. I then realize that I can't keep up, so I decided that I'll just memorize everything they're saying and type it all out later.
Theresa Phillips-Blackwell, Lomita, Calif.
Show up to a depo with no clothes on.
Cindy Isaacsen, RPR, Olathe, Kan.