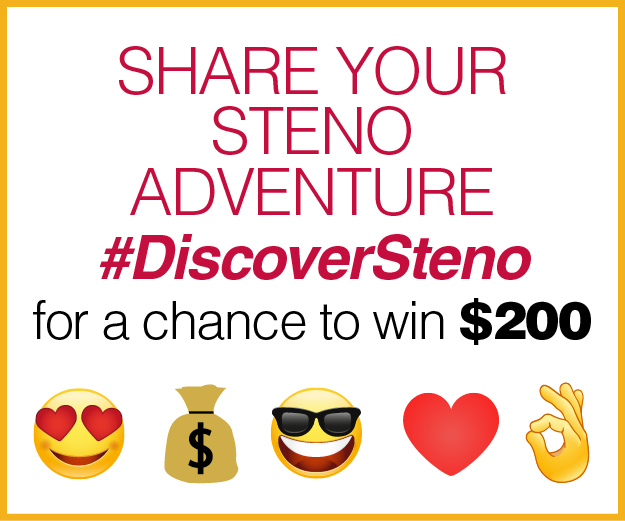 From Nov. 1 to 15, creators of social media posts on Facebook, Instagram, and Twitter with #DiscoverSteno are eligible to earn a $200 Amazon gift card from NCRA.
NCRA is launching a social media hashtag campaign to spread the word about the great professions of court reporting, captioning, scoping, and legal videography. Participants will be eligible for one of three $200 Amazon gift cards that will be randomly awarded.
Examples of posts could feature an anecdote, a quote, a photo of a steno setup, or something behind the scenes.
The hashtag campaign is intended to extend the message beyond the usual court reporting circles. Therefore, posts are encouraged to be made in groups and pages unrelated to the profession, such as fan groups, neighborhood pages, and hobby groups – anywhere that there may be people who could be looking for a new career and are unaware of the possibilities of a court reporting profession. Please be sure to tag @NCRA in your posts.
"This is an exciting way to get the word out about our awesome careers to a much wider audience," said NCRA Board of Directors Member Cindy Isaacsen, RPR, CRR, an official court reporter from Shawnee, Kan. "We need to get the message to people outside of our industry, and our active 'socialites' are just the ones to do it!"
Make sure to follow NCRA on Facebook, Twitter, and Instagram to see everyone's #DiscoverSteno posts.
$200 Amazon gift card incentive:
Beginning Nov. 1 through Nov. 15, posts featuring the hashtag #DiscoverSteno on Instagram, Facebook, or Twitter will be shared on the NCRA official pages of the same platform. At the conclusion of the campaign, one post from each platform will be randomly selected to win a $200 Amazon Gift Card.
Rules, regulations, and logistics:
Each unique post on Facebook, Instagram, or Twitter with #DiscoverSteno that is accessible by NCRA staff and made from Nov. 1, 2019, through and including Nov. 15, 2019, will be entered into the random drawing for a $200 Amazon gift card.
Posts featuring #DiscoverSteno may be shared, with appropriate attribution, on the NCRA social media platforms during, and possibly after, the campaign, and in other NCRA media and websites.
One post each from Facebook, Instagram, and Twitter will be chosen at random from all the posts made during the dates of the NCRA #DiscoverSteno campaign.
Per Facebook guidelines, posts on Facebook can be made on pages, groups, or events which you can access and are not required to be posted on personal timelines or the timeline of a Facebook "friend."
If an identical post is duplicated multiple times on a platform, none of the identical posts will be considered for the campaign incentive.
All participants in the NCRA #DiscoverSteno Campaign agree to a complete release of Facebook, Instagram, and/or Twitter.
This promotion is in no way sponsored, endorsed, or administered by or associated with Facebook, Instagram, Twitter, or Amazon.
The winners of the NCRA #DiscoverSteno campaign will be notified via their respective social media platform, as well as on the NCRA Facebook, Instagram, and Twitter pages.
Winners will have 14 days to claim their prize, or an alternative post will be chosen.