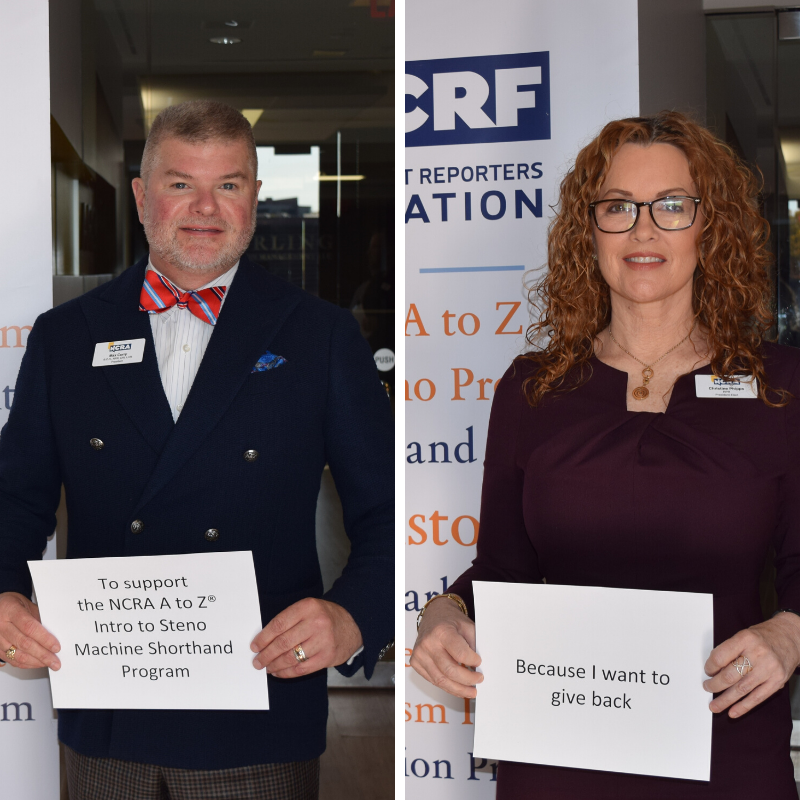 Giving Tuesday is considered by many as the kickoff to supporting others with donations and contributions through gift giving in the holiday season. This year Giving Tuesday is being celebrated on Dec. 3. The National Court Reporters Foundation (NCRF) is encouraging NCRA members to contribute to the Foundation to support its many programs. The reasons members give are important, too.
"Giving Tuesday is the chance for those of us who have truly thrived in our industry to help students in need, support the Foundation's Oral Histories Program, and more," said Tami Keenan, FAPR, RPR, CPE, NCRF chair and a retired court reporter from Battle Creek, Mich. "We are grateful to any member who texts a donation of any amount."
Recently NCRA's Board members shared why they support NCRF. Those reasons ranged from supporting NCRA's A to Z® Intro to Steno Machine Shorthand program, NCRF's Oral Histories Program, helping current students and new professionals through scholarships and grants, and giving back in honor of the work the Foundation does. A special shout-out to all the Board members who donated to the Foundation at the Sat., Nov. 9, Board meeting and throughout the year.
Giving is easy by texting NCRF to 41444.
"Thank you to anyone who donates any amount this Giving Tuesday," Keenan said. "All contributions help support the many wonderful programs NCRF makes possible to support the court reporting and captioning professions," she added.
Visit NCRA.org/NCRF to learn more about NCRF. Go to the NCRF mobile cause app to give.