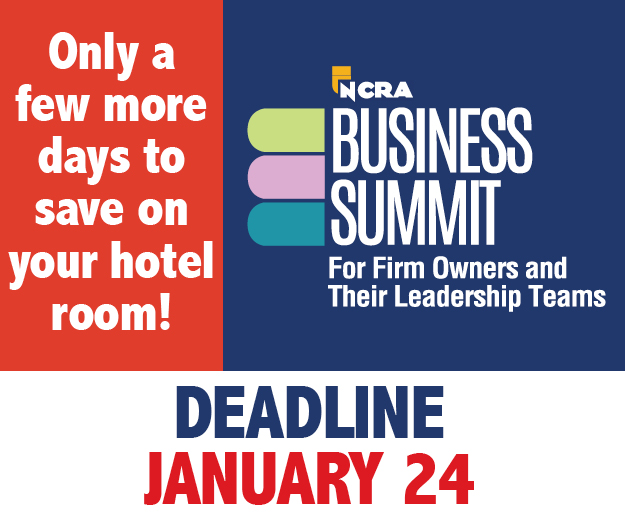 Attendees at NCRA's 2020 Business Summit being held Feb. 9-11 at the Hyatt Regency Lost Pines Resort & Spa in Austin, Texas, will hear firsthand the findings of the 2019 Firm Owners Economic Trends and Outlook as presented by NCRA Executive Director Dave Wenhold, CAE, PLE, in a special session. NCRA's ninth annual Firm Owners Economic Outlook paints a picture of the stenographic industry, as well as provides some comparisons to previous years.
Although space is filling up, it's not too late to register for the event and take advantage of the special hotel room rate for single/double occupancy of $209 per night for attendees plus tax ($237.73), which ends Jan. 24. Book now and you can also enjoy additional savings when the resort fee of $35 is reimbursed by the hotel upon check-in.
Attendees of the 2020 NCRA Business Summit will not only receive a copy of the report but will also get an inside look into the insights shared by more than 200 firm owners from across the nation. The findings include the state of the industry in terms of growth in business, revenue, staffing, and more. In addition, the findings shed light on what today's firm owners expect the future of the industry to hold, new business opportunities being sought, and thoughts on the pros and cons of outsourcing.
Also on this year's schedule is an array of topic savvy experts who will address the latest in business trends proven to help increase business for firms of all sizes. Learn more about the exciting and informative line-up of presenters who include:
Chris Williams,co-founder of Wide Awake Business;
Karim R. Ellis, founder of Empowered Education, a company devoted to developing both organizations and individuals
Cathy O'Neal, communications director for Levitt Pavilion Arlington, an outdoor concert venue that presents more than 50 free concerts a year
Also on the schedule is Ron Comers, a former FBI agent and current advisor on corporate security risks through Charted Risk, LLC, who will present "Protecting Your Firm from Scams & Data Breaches," and offer tips on how firms can keep their files and other information safe in today's cyber-savvy world, and Chris Moyseos, a financial advisor and financial planning specialist with Morgan Stanley Wealth Management, who will lead a session on financial planning and managing personal wealth.
Opportunities throughout the three-day event provide attendees with the chance to expand their networks, engage with old friends, and build relationships with new ones.
Located on more than 400 acres along the banks of the Colorado River, the Hyatt Regency Lost Pines Resort & Spa offers a variety of amenities and activities for attendees and their guests to enjoy during their stay. The recreational amenities attendees can enjoy include: A full-service spa, salon, and fitness center; two tennis courts; an 18-hole golf course; hiking, biking. and jogging paths; horseback riding; a video arcade; a water park; a meet-and-greet with the facility's mascots; and more.
Be a part of the NCRA 2020 Business Summit when it kicks off with a fun and exciting team-building activity followed by an opening reception.
Regular Registration ends Jan. 31, 2020
Member: $1,075; Nonmember: $1,250; Additional Firm Employee: $950; Spouse/Guest: $250
Last-Minute Registration: Feb. 1–9, 2020
Member: $1,125; Nonmember: $1,300; Additional Firm Employee: $1,000; Spouse/Guest: $300
For more information and to register for the 2020 NCRA Business Summit, visit NCRA.org/BusinessSummit.