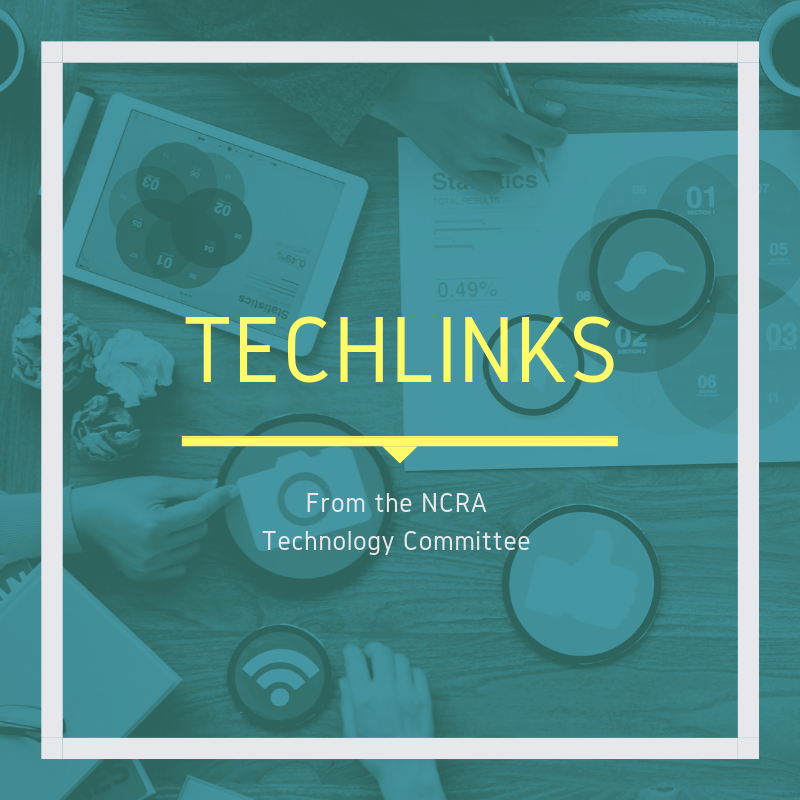 The NCRA Technology Committee is looking out for you with great information on realtime and technology. The Technology Committee looked into tips for making Windows 10 work for you, whether you are a court reporter or a captioner.
Windows 10 has been around since 2014, and Windows 7 is no longer supported. If you've been putting off upgrading to Windows 10, there's no reason to wait. Windows 10 is very stable and secure – and it has plenty to offer.
The Technology Committee went looking for tips and tricks. Try one or a few and see if they don't make your day a little brighter.
Create a WiFi hotspot
​​In Windows 10, you can broadcast your WiFi, Ethernet, or cellular data connection as a WiFi hotspot. This allows other devices to connect to it. This can be done through the Settings app.
​​​Open Settings. Press the start ​​button and then the settings gear ​​on the lower left-hand side of the menu. 
Click or tap the Network & Internet section.
Select mobile hotspot from the left pane.
Choose your settings.
​​Select which connection you want to share under "Share my Internet connection from."
​​Press the edit button to change the hotspot's name and password.
"Turn on remotely" automatically turns on the hotspot if both devices (PC and that device) are Bluetooth-enabled.[1]
Toggle on ​​the slider next to "Share my Internet connection with other devices." Other devices will now see your hotspot and connect to it provided the correct password is entered.
​​Set up a VPN
Setting up your system to connect to (and through) the Internet via a VPN (Virtual Private Network) is a great way to keep your computer and your information safe and secure. While this process is a little more intense than setting up a WiFi, it is well worth taking the time to set it up.
For more information and instructions on how to set up your own VPN, the Technology Committee recommends the PCMag article "How to Set Up a VPN in Windows 10," which includes an explanation of how a VPN works and why you want one complete with Legos. (It's only 1:30 minutes and well worth watching for the entertainment value!)
​​Change mouse cursor
​​The standard Windows mouse cursor only goes so far. If you want your cursor's appearance to be larger or more playful, or if you simply want Windows to change the icons it displays while it's performing certain tasks, you can do it. For more information on how to switch up your cursors, check out the DigitalTrends.com article "How to change your mouse cursor in Windows."
Adjust your screen to dark mode
Speaking of usability, are you one of those people who likes to turn down the brightness? Windows 10 offers a dark mode and allows you to set custom colors for your screen. Find more in "How to Enable Dark Mode in Windows 10."
Take screenshots
You never know when it might be useful to take a screenshot, and Windows 10 has many ways to do just that. The article "How to Take Screenshots in Windows 10" in PCMag.com walks you through a number of different options.
Capture video clips
Microsoft includes a built-in video capture tool called Game Bar for capturing video from your screen. PCMag tells you how to do it in "How to Capture Video Clips in Windows 10."
Use Alexa
If you don't have an Echo device but want to use Alexa, you can use the Alexa app through Windows 10. As long as you have an Amazon account, you should be good to go. Check out this article on TechRepublic.com to find out how to get it set up.
Make calls from your Android
Integrate your cell phone with the Your Phone app in Windows 10, and you can connect your calls, text, and more. Get more information from How-to Geek with the article "Why Android Users Need Windows 10's 'Your Phone' App."
Increase shutdown speeds
For some people, speed is everything. If you want to speed up your shutdown process so you can be on your way, check out this TechRepublic.com article on "How to Increase Shutdown Speeds in Windows 10."
Stop Windows 10 from launching at startup​​
If you want to be more in control of when Windows 10 is up and running, here's a tip for you: PCMag.com offers a series of steps on how to get your computer to not launch Windows 10 immediately.
If you have a question about technology or realtime, send it to the NCRA Technology Committee members to tackle at jcrfeedback@ncra.org.