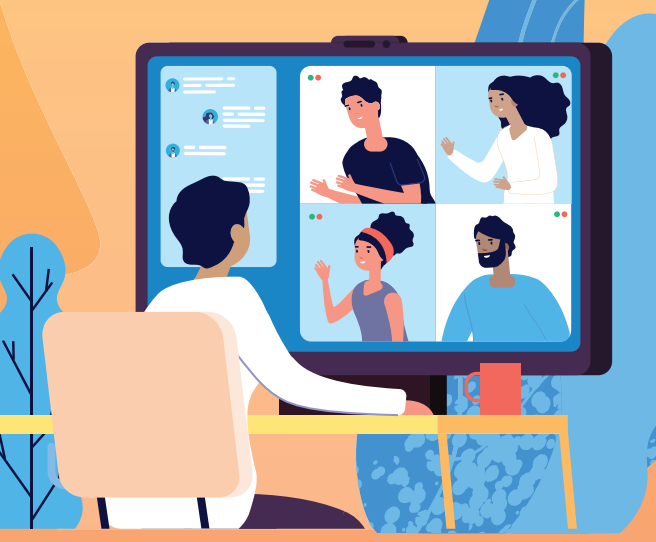 By Lynette Mueller
In the legal environment that court reporters work in, many clients wish to attend depositions remotely for various reasons. With the high costs of airline travel and the expenses associated with it comes the need to find affordable solutions to take depositions critical to a litigator's case.
Of course, there's always the telephonic deposition, which is a good option but not always what an attorney is needing. The traditional videoconferencing hardware can be quite expensive for the small- to medium-sized court reporting firm to purchase and not a great option for those times when the need arises to conduct a deposition remotely. "Web conferencing" is an online service by which you can hold live meetings, conferencing, presentations, and trainings via the internet particularly on TCP/IP connections. You can connect to the conference either by telephone or by using your computer's speakers and microphone through a VOIP connection.
Luckily, many great options provide video attendance for the legal professionals who wish to attend remotely when conducting depositions and/or hearings. The tools available for web conferences range from simple, free tools to more affordable choices that include several other features designed to streamline the web conference experience. Many different apps and/or software are available to hold a web conference. Court reporters must do research to find the tool and the provider that best fits each individual need before committing to their tool of choice. The benefits of using web conferencing tools rather than the traditional videoconference and/or telephone deposition are many.
1. Some tools are free, with the option of purchasing an upgraded account at an affordable price.
2. Eliminates long-distance telephone charges one would incur in a traditional telephone deposition.
3. Eliminates costly airline travel and extra expenses associated with air travel.
4. Cost-effective method to use when your client may be budget conscious.
5. Viable option when you cannot conveniently meet in person.
6. Allows legal professionals more time on deposition preparation and the discovery process.
7. Gives legal professionals a face-to-face experience with potential witnesses.
8. Web conferencing gives one the ability to gauge reactions and facial expressions of the witnesses.
9. Share exhibits and documents easily utilizing web conferencing tools.
10. The voice, video, file transfers, and instant messages in most of the web conference options are encrypted. This protects you from potential eavesdropping by malicious users.
A few of the NCRA Tech Committee members have some great options for colleagues based on their personal experience.
---
Teresa Russ, CRI, a CART captioner and freelance court reporter from Bellflower, Calif., has this guidance to offer when using the Skype platform: Anyone using technology today is more than likely familiar with Skyping. After downloading the app, all you need is for your client to sign up and email or text their Skype username. It's super simple to use. After you have connected with them, you can decide whether to use audio or video.
As a CART captioner, I opt for audio and utilize the screen sharing window in the program. You and your client can make comments by using the comment box. In my experience, if I'm CART captioning a technical class and I write an unfamiliar term phonetically, my client can type the correct spelling in the comment box. I have captioned lab classes and sometimes the student may be working on a project. The student can use the comment box to keep me informed on what's happening during the class. The inconvenience I have experienced with Skype is losing connection and poor audio reception.
The Skype audio can be used for CART captioning by using other screen-sharing programs. Overall, Skype is my go-to platform because most of my clients have been familiar with Skyping. As long as one has access to the internet, there are no charges. For example, one of my clients, who is deaf, contacted me to caption her morning worship service at church. We had the convenience of just logging into the program without hassling over a cost. The Skype app can be used on a PC, tablet, or smartphone.
---
Kim Greiner, RDR, CRR, CRC, an official based in Lenexa, Kan., has these suggestions to offer for ezTalks Meetings, her web conference tool of choice: ezTalks Meetings offers a free plan in addition to a monthly or yearly plan. The lowest fees for meetings, which would accommodate a deposition, is $10 monthly if you pay annually. The prices vary, mainly depending on how many participants and how many recordings you need. Sign up is simple: Just use an existing Google account or Facebook account. Participants aren't limited to a laptop. ezTalks supports Apple and Android devices, allowing busy attorneys and deponents on the go the ability to participate in any location. As with any program using the Internet or cell service for transmission, things will vary depending on the strength of your signal. Cellular users need to be sure they have an unlimited data plan or connect to an existing WiFi service. Some key features of ezTalks Meetings:
1. Record the deposition.
2. Use a whiteboard.
3. Rotate camera on phones to view document witness is looking at.
4. Use invites to allow the participants to simply launch from an email using a meeting code.
5. View the screen of other participants.
6. View the other participants at the same time.
7. Allows attorneys to share their screen so a deponent can view a document.
---
Robin Nodland, FAPR, RDR, CRR, a freelance court reporter and agency owner based in Portland, Ore., reviews the popular web conferencing tool, Zoom: Zoom is a simple solution for web conferencing. The first time I saw this service in action was at a law firm. It was impressive for its ease of use.
Zoom is a big player in the web conference industry. Other brand names you may be familiar with use Zoom as their platform and simply resell the service under their name. Whether it is run on a smartphone, tablet, laptop, or desktop with large-screen monitors in your conference room, Zoom is a solid application; but it still relies on a robust internet connection. Each user connection should be tested and qualified prior to "game day."
Zoom has several account options. There is a free plan for one-to-one meetings or limited time for multiple participants. That will get you started. For reporting firms, you will want a plan that allows you to:
1. Add multiple parties for unlimited time.
2. Have H.323/SIP Room Connector capability so you can connect with non-Zoom users and for those clients utilizing a traditional Polycom system. This is an add-on feature you may purchase.
3. Record the session in the cloud for those inevitable instances when the client thought having a videoconference meant there would be a videographer present, even though you explained the difference in advance.
With these plans, one of these multiple "participants" could be considered a laptop/tablet with the exhibits preloaded. Zoom has a wonderful website: zoom.us. They even make equipment recommendations. Also, they have periodic webinars for their customers. I have found their support to be stellar.
Zoom offers end-to-end encryption for all meetings, role-based user security, and password protection. Zoom also offers useful features, such as calendaring with Outlook, Gmail, iCal, and other collaboration tools. Zoom Meetings connects with apps like Slack, Trello, Google Calendar, Microsoft Teams, YouTube for Zoom, etc. Zoom has recently launched Zoom Phone, a cloud-based solution for telephone service. This is a company to watch for future innovative products that could be very useful for our industry.
---
I want to follow up on Robin's comments regarding the Zoom platform. I started using Skype about ten years ago for out-of-state clients attending remotely. As the technology has evolved, Zoom is now my first choice for a web conferencing tool. The beauty of using Zoom is that you pay for the tool as you need it. No depositions coming up next month where clients need to attend remotely? No problem. Simply suspend your account until the next time you need the service! The basic free account of Zoom allows up to 100 participants. As Robin mentioned above, Zoom is feature-packed. Other features offered for the free account are unlimited one-to-one meetings, 40-minute limit on group meetings, unlimited number of meetings, and online support. The free account would only be viable for very few depositions, as most of the time the length of the proceedings would more often than not exceed one hour of testimony.
Their group collaboration features within Zoom are indeed robust and include the following:
• Mac, Windows, Linux, Chromebooks, iOS, and Android
• Group messaging • Screen share documents, photos, and video clips
• Simultaneous screen sharing
• iPhone/iPad screen share with iOS mirror • Annotation and co-annotation
• Keyboard and mouse control • Whiteboarding
Features for Simple Online Meetings:
• High quality desktop and application sharing
• Personal meeting ID and URL name
• Instant or scheduled meetings
• Google Chrome and Outlook plug-ins
• MP4 or M4A recording
• Virtual backgrounds
• Host controls
• Raise hand
Additional tips for ensuring a smooth web conference deposition:
1. Audio transmission problems may be a concern when using your laptop. If testing reveals problems with the audio, an easy solution is to instruct your participants to use the telephone number associated with the Zoom booking. If you choose to use the telephone for audio, remember that everyone needs to mute their speakers on their device of choice before joining by telephone.
2. Advise the participants to turn off any and all notifications on the device they are using for the deposition. You don't want any distractions during the testimony.
3. If you're utilizing a Mac computer like I do for your Zoom meeting, remember to disable WiFi calling so you don't have those unexpected phone calls come in during the proceedings.
4. More often in today's modern offices, you may not have the opportunity to plug in directly to the internet with hardwire. If you're lucky and the location has a hardwire connection, remember to bring any adapters so that you can connect your laptop via cable to the Internet.
5. More likely than not, you will need to connect to the internet via WiFi. There are multiple ways to do this. If you choose to connect to the location's wireless network, you can check the speed of their WiFi by going to speedtest.net. I know in one instance my hotspot on my iPhone was faster than the client's WiFi, so I ended up connecting with my smartphone.
6. Practice a mock web conference deposition with your friends to ensure that you are comfortable with the features of the service and, also, that you're comfortable with the proper settings for your hardware.
7. Be sure to schedule a test call with your booking attorney or legal professional. Sometimes it's their first time for a web conference deposition and you want them to feel comfortable with the service as well. The test call will provide the time necessary to address any potential problems that may arise.
8. Advise all participants to call 15 minutes prior to the start time of the deposition to make sure everything is set up correctly.
9. Position the laptop in front of the witness and be sure the witness is facing a window, if there is one in the room. If the witness's back is toward the window, the backlighting prevents a good image for the attorney attending remotely. Court reporters, you're well on your way to hosting those video meetings and depositions!
Lynette Mueller, FAPR, RDR, CRR, is a freelance court reporter based in Memphis, Tenn., and chair of NCRA's Technology Committee. She can be reached at lynette@omegareporting.com.