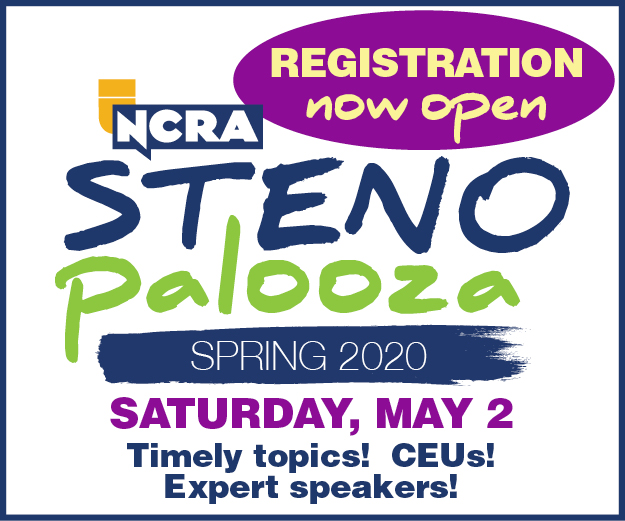 Register now for Stenopalooza, and join Joe Strickland, RPR, CRR, CRC, retired chief reporter for the U.S. House of Representatives and current freelance reporter, for this online, all-day event put together by NCRA's Board of Directors that offers a schedule with a variety of sessions to choose from, all at an affordable price.
"Why am I participating in Stenopalooza? Because it's another example of NCRA serving its membership during this particularly challenging, confining, isolating, slow time for our industry," said Strickland, who lives in Washington, D.C. "I want to support the effort, join with my colleagues to learn, and rake in some CEUs — from home!"
The cost to attend the full day with eight webinars is $120 for members and offers 0.85 CEU credits, compared to a regular cost of $460. A half-day registration, which includes four webinars and offers 0.45 CEU credits, is priced at $64 for members, compared to a regular price of $240, while the member cost for a single webinar that offers 0.15 CEU credits is $20, compared to $75. For nonmember pricing, visit NCRA.org/Stenopalooza.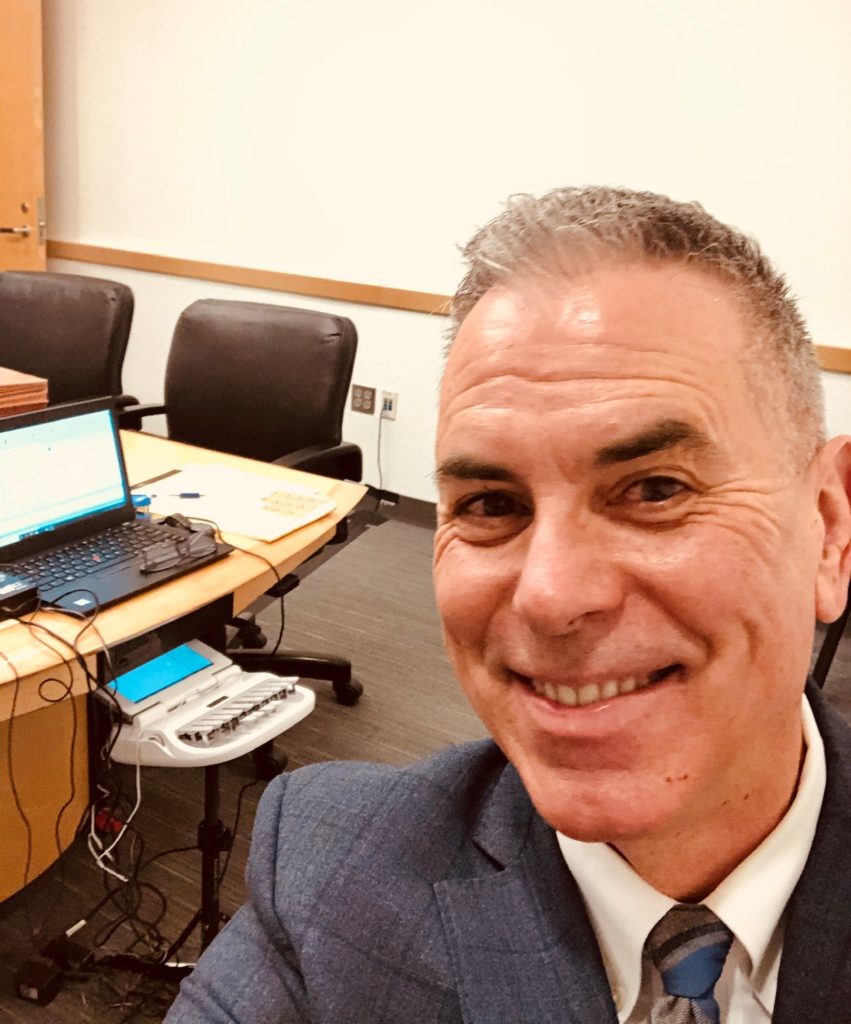 Strickland said he has registered for the eight-session package and is happy to have saved $40 as a member of NCRA. Plus, he notes, adding no airfare or hotel expenses makes it a score for him. He said he is looking forward to the "Lights, Camera, Zoom" session since everyone needs to be agile and adapt to using online technology to communicate during these times.
He said that he is also looking forward to learning firsthand more about the great things the NCRA STRONG Task Force has been doing from the keynote session, POW! Knowledge is Power, being presented by NCRA STRONG and led by Sue Terry, FAPR, RPR, CRR, CRC, NCRA Immediate Past President; Kristin Anderson, RPR, NCRA Secretary-Treasurer; and Cathy Penniston, RPR, CRI, NCRA Director.
Some of the other sessions on the schedule include: Captioning Facebook Live, led by Denise Hinxman, FAPR, RDR, CRR, CRC, and Kelly Linkowski, RPR, CRR, CRC, CPE, NCRA Captioning Committee member; Captioning Training: Getting Started, led by NCRA Director Heidi Thomas, FAPR, CRR, RDR, CRC, and Alan Peacock, FAPR, RDR, CRR; and Fear … Let it Go! led by Max Curry, RPR, CRI, NCRA President. For a complete list and descriptions of all the sessions being offered, visit NCRA.org/Stenopalooza.
This all-day program will be offered on InReach, NCRA's continuing education partner. Registrants will have an opportunity to attend the webinars live when they are offered on May 2 or have access to them for 30 days after the live event. This special pricing will be available for a short time only and then all webinars will go back to their regular price of $55 member/$75 nonmember.
"We're now on day what of this quarantine? I think it's Day 46 for us. Attending Stenopalooza will make me get out of the kitchen and stop my baking (and eating!). It's a health-positive move. (And I'm only sort of joking about that.)" Strickland said. "Seriously, I want to thank NCRA and our Board and Committees for putting all of this together. It's a lot of work and I appreciate it."
Don't miss this one-of-a-kind event at an incredible price. It's a first for NCRA. Registration closes Friday, May 1, at 5 p.m. Eastern. Still have questions? Check out the Stenopalooza FAQs.
More online training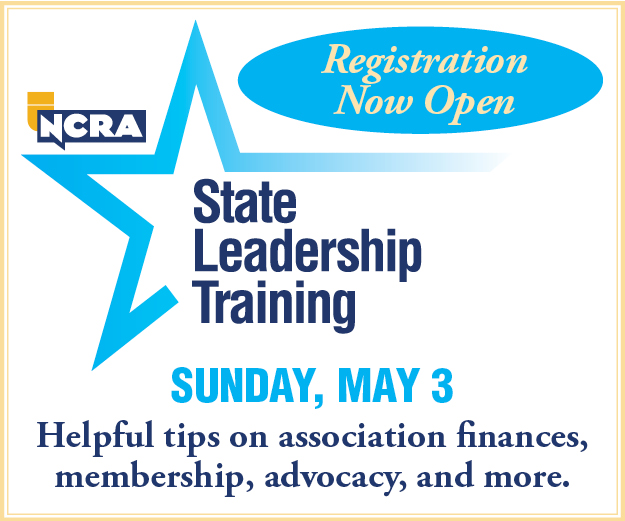 On May 3, NCRA is presenting a special one-day State Leadership Training via the InReach platform from 10 a.m. to 5:15 p.m. Eastern time. The event is open to NCRA members and nonmembers who currently hold state leadership positions or who aspire to do so.
Sessions will be led by experts in their respective areas. Topics on the schedule that will be discussed include meetings and conventions, finance issues, effective governance, membership recruitment and retainment, the nuts and bolts of association leadership, and successful grassroots advocacy. Attendees can earn up to 0.6 CEU, depending on how many sessions they attend.
"I am happy to say that our entire board and incoming board members will be attending this training. This has never happened before," said Stacy L. Drohosky, RPR, CRR, CRI, president of the Indiana Court Reporters Association (INCRA). "I know that each of us will take away something different. This will allow us to come together, collaborate, and better be able to serve our members. The online offering, price, and content make it a win-win for all of us."
Drohosky said she expects to learn so much from attending the training, and she notes that based on the schedule there really is something for everyone who is or will be serving their state association in some manner.
"There is no one topic I can single out. I am very eager to hear what each of the presenters have to share. I feel each session will give us invaluable information that we can all use going forward," said Drohosky, an official court reporter for the Northern District of Indiana.
"Serving on the INCRA board for a second time now, I wish I would have had this training available to me when I was a new officer. I believe this will give current and new board members the confidence that they are serving their members in the best way they can," she added.
The member cost for the full day of offerings is $99, while the nonmember rate is $129. Attendees can also register for individual sessions at $20 for NCRA members and $25 for nonmembers.
"I couldn't go to Washington, D.C., for the leadership training, but now NCRA is bringing the leadership training to me and at a fabulous price," said Twila Jordan-Hoover, RPR, CCR, a freelance court reporter from Carriere, Miss., and president of the Mississippi Court Reporters Association.
To learn more about what's on tap for this event or to register, click here.