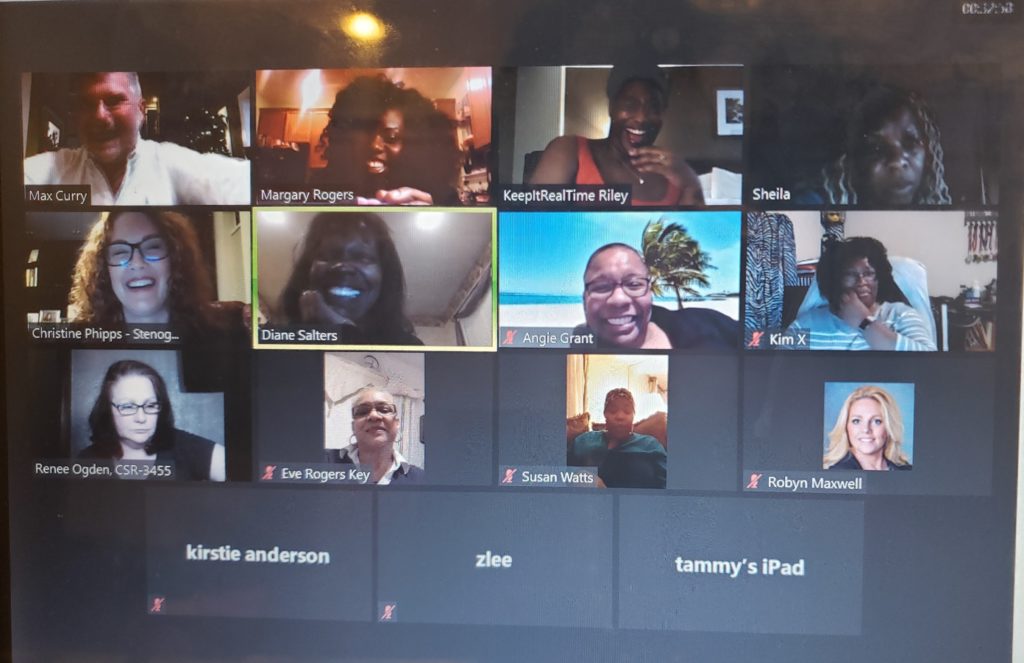 Margary Rogers, RPR, CRI, recently started the Facebook group Stenographers Leveling up with Certifications. She talked to the JCR Weekly about what she hoped to accomplish with the group.
JCR | What gave you the idea for the group?
MR | The main reason I created this group is to encourage stenographers, including myself, to level up and take and successfully pass certifications tests. I wanted to provide a safe space for test-takers. There are many reporters who fear taking tests; many are embarrassed that they haven't passed tests after many tries. I also wanted experienced reporters who obtained the highest level of certifications to join the group to encourage, train, mentor, and provide answers to questions that many reporters have. I want reporters to know that we are all in this together and that we have to help each other and celebrate each other when we fail and when we pass. This is a no-judgment-zone group. We learn from each other and support each other.
I am also a Certified Reporting Instructor (CRI). So I, along with other test-taking experts and highly decorated certificate holders, post test-taking tips, online testing tips, and test practice links. I also like to keep members of the group abreast of what tests are being offered and registration dates. Even though NCRA sends out weekly reminders of events, I thought having a page specifically based on certifications will keep people focused on their goal of obtaining certifications.
JCR | What do you hope to accomplish with the group?
MR | I firmly believe in teamwork. My desire is to have all members share test-taking strategies, common test-taking mistakes, post pictures of testing set-ups, how they prepare for tests, provide practice material, tips on how to write smarter, and discuss smart software settings. I want to hear good reports. I want to hear: "I passed the test that I have been trying to pass for the last five years." I want to hear: "Ok, I am going to take an online test for the first time." We also like to celebrate and acknowledge members when they pass tests and become certified. We want to celebrate every stenographic testing achievement and lessons learned.
What's really ironic is at the time I created and launched this page on March 6, 2020, I had no idea that NCRA had a Celebrate Certification Month. When I realized May was Celebrate Certification Month and May 1 was the first day of online testing, I thought I have to do something big to celebrate the month with this group. We have to get some great, well-respected, certified leaders to come and encourage the members of this group during this month.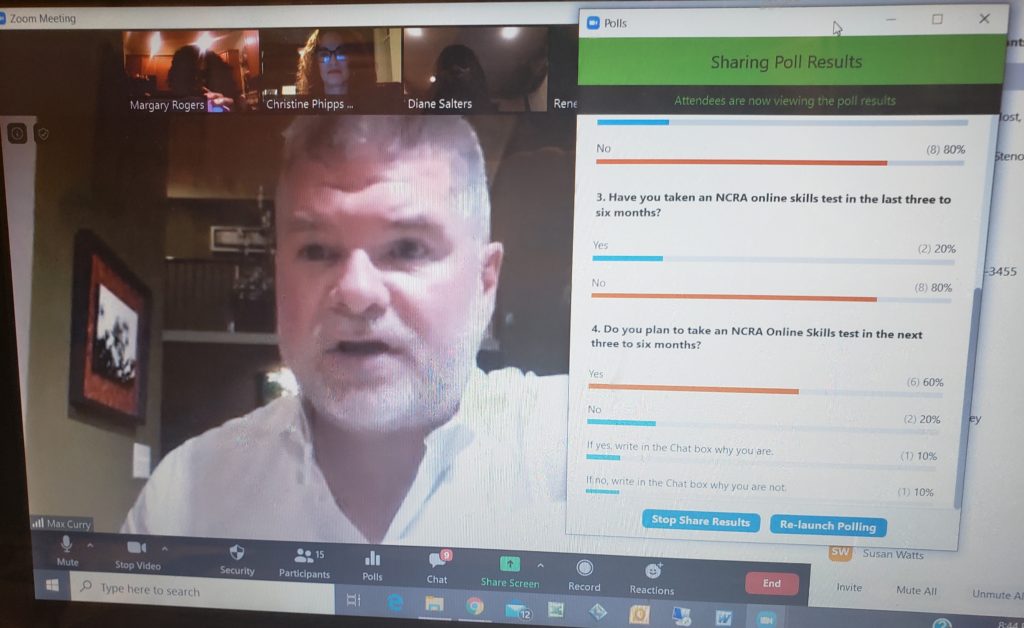 The first thought I had was, who is better than the president of NCRA, along with the leadership team, to encourage Stenographers Leveling up with Certifications members about obtaining certifications. I was very excited and honored to have President Max Curry, RPR, CRI; President-Elect Christine Phipps, RPR; Vice-President Debbie Dibble, RDR, CRR, CRC; and Immediate-Past President Sue Terry, FAPR, RPR, CRR, CRC, join our Celebrate Certification Month Zoom events during the month of May. They all provided great advice. They were all down-to-earth and realistic.
Kim Xavier, RDR, CRR, CRC, CMRS, CRI, a highly experienced court reporter who has obtained many NCRA certifications, was also one of our speakers for our Zoom event. She gave great test-taking advice, and she has also contributed to our group by giving encouraging words to our members.
Another reason that I created the group is because I have always been concerned about the disparity with stenographers of color not having court reporting certifications and realtime certifications. I also recognized that some freelance reporters had more of a hustler mentality, and some officials had more of a complacent mentality or are more comfortable with the status quo, me included. I have also been concerned about not seeing reporters of color participating/represented in Speed and Realtime contests.
JCR | What is your personal certification story?
MR | The certificate that I am most proud of is my Bachelor of Science degree in court reporting from Johnson & Wales University in Rhode Island, which I earned in 2000. I have also obtained the RPR and the CRI, which are NCRA certifications, and I also earned NCRA's Realtime Systems Administrator. I am geared up now and hoping to pass the RMR and CRC between now, 2020, and 2021.
JCR | Are you welcoming new members to the group?
MR | The group is always open to new members, members who would like to learn more about obtaining certifications, receive alerts about when online test registration opens and closes, and helpful tips about taking tests online. We also focus on writing cleaner to pass the CRC and CRR tests, writing "Real Realtime" as Anissa Nierenberger, RPR, CRR, CRC, CRI, says. Anissa is one of the top contributors to our page. She's phenomenal. She's very quick to answer questions that are posed by members of the group. I truly appreciate her and everyone else that contributes to the page to help others.
We also welcome contributors, coaches, and highly decorated, experienced certificate holders to help, train, and encourage those of us who are working toward earning certs. On our page, we have a mentorship program where experienced reporters with certifications are matched up with reporters who want or need help to level up.
Margary Rogers, RPR, CRI, is an official court reporter in Washington, D.C.