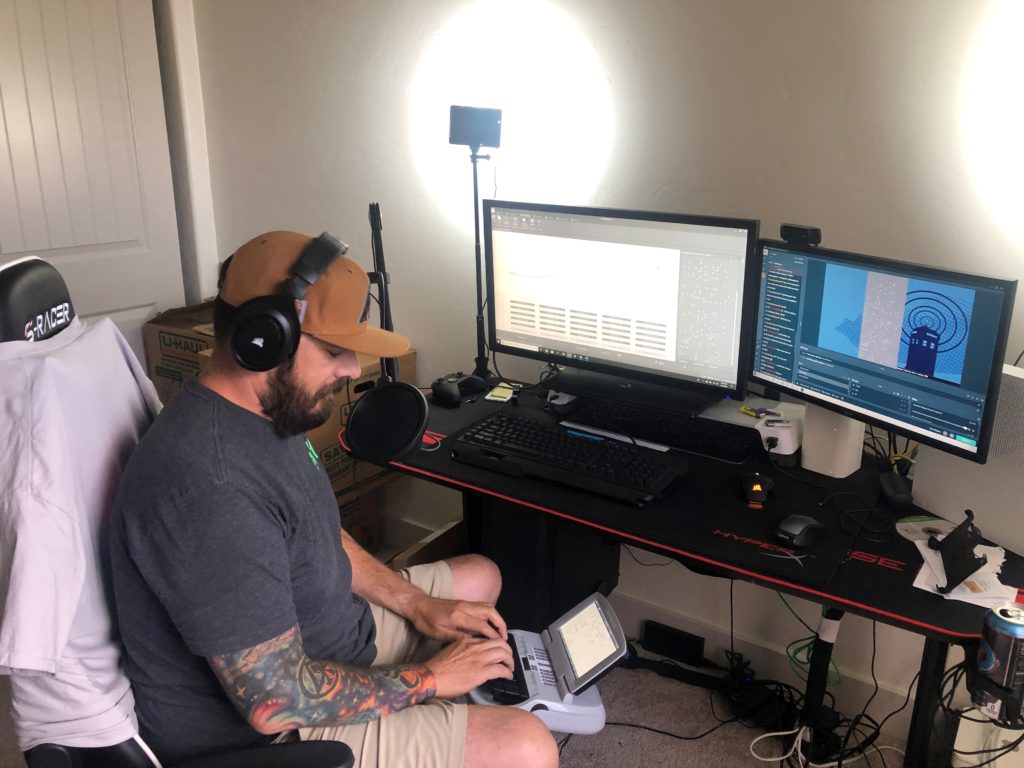 By Brian Binkney
I was raised in rural Arizona and played video games and performed with my band around the state. I joined the U. S. Marine Corps in 1996 and served as a military policeman. After I was discharged, in 2004, I continued my public service and became a law enforcement officer in Arizona, where I worked for the Mohave County Sheriff's Office and Kingman Police Department. I got to work with amazing people, serve my community, wake up with purpose, and care for my family.
At about 40, I was still looking for what I wanted to do because I didn't want to spend the rest of my life in a state of vigilance. I wanted to have purpose but not brace for a fight. I wanted to be able to relax for the first time in more than 20 years and let my body have a break. As I was looking, I worked in a local brewery that was just starting. I sold beer and talked about something I loved, traveling all over Arizona putting on events and getting the beer onto taps. I also worked as a substitute teacher mainly with middle school kids who had behavior problems. But I was still searching, thinking where to go and what to do. I was looking at job boards, looking for what to start, wondering what to do. And, somehow, the idea of court reporting came to me; probably from my wife who has all the great ideas and sees court reporters daily at the courthouse.
This is a profession that gives purpose, can be flexible, and ultimately felt like a challenge I could take on. I started at the College of Court Reporting in 2018 and attend through the Veteran Administration's (VA) Vocational Rehabilitation and Education Program. Having the assistance of the VA has made this new career choice possible. I push toward learning new skills and accepting the idea that this will take time. To that end, I decided to share it. I needed something to hold me accountable to my practice, so I decided to stream my practice sessions. I was not expecting anyone to watch. I also didn't realize that no one else was doing this. I had started streaming video games as a way to stay connected to my family who is far away, so I would stream video games via Streamlabs to Facebook Live and Twitch. It would be me playing video games and chatting with people who were watching. As time went on, I figured I'd give streaming my practice sessions a shot.
Streaming my steno was just another way to share my day. It's a lonely world of online school where it's just you doing it. More and more people started following, and it was awesome to interact with other students and officials while practicing. It made it feel more like a classroom environment. The Streamlabs program lets me do scene transitions, overlays, etc. I am able to start a live stream for both Twitch and Facebook from within the program itself and allow people to chat with me. Streamlabs is kind of like my own little TV studio at home.
Much to my surprise, people wanted to watch and interact. The positive reaction has been incredible and has created a community for me as I push through the difficult process of speed building toward graduation. I'm enjoying sharing what I do. My friends who have no exposure to stenography expressed interest and explained they had no idea what this was before. I also love building a steno community. People are watching me practice and practicing along usually on their own machines in their own CAT software. It's like a huge practice session for anyone to join.
Additionally, I appreciate that this holds me accountable to practice daily. I enjoy the conversations that are held during the stream between students and certified court reporters alike. There are funny stories, brief exchanges, and career advice freely exchanged. This is a community I am so proud to be a part of and that I am proud to represent. I finally have a plan for what I am going to do when I grow up.
Brian Binkney is a student at the College of Court reporting in Valparaiso, Ind. Brian's livestreams can be found on Facebook at Stenogamer and at Twitch.tv/Stenogamer.