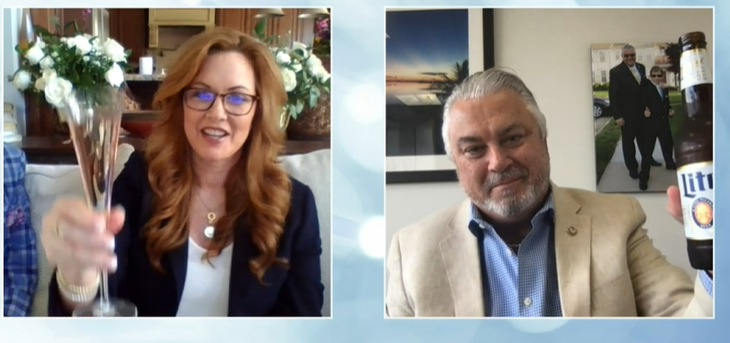 While networking looked a little different than past NCRA conferences, members still had fun moments and time to share at NCRA Connect Virtual 2020.
The first day of the conference ended with Max's Favorite Things. Guests were invited to put on their bow ties and hear Max share some of his favorite things (including his never-before released drink recipe). The evening ended with a dance party.
"I attended Max's Favorite Things and that was really cool and engaging," said Caitlyn Hartley, RPR, a freelancer in Ann Arbor, Mich. "I'd love to learn more cocktail recipes."
"Max dazzled us with his martini mixology lesson," said Darlene Parker, FAPR, RPR, a broadcast captioner and the director of steno captioning and realtime relations for the National Captioning Institute in Chantilly, Va. "At the end of the event, many attendees turned on their cameras and danced. Many were wearing the plastic bow ties, around their necks and in their hair, that they received in their convention packet — in honor of Max."
After the learning sessions ended on Saturday, it was time for trivia. The final bonus question had everyone stumped. Here was the question (the answer is at the end of this story).
Bonus question: In 1927 NSRA adopted its first Code of Ethics, and women reporters were finally given the opportunity to play a more active part in future convention proceedings. Florence C. Chamberlain of Omaha, a member of the ________________ Committee, made the point that the committee's work was difficult and "has always been wished off on the women of the association." It was the only committee composed entirely of women.
After trivia, NCRA members hosted networking parties for captioners, CLVSs, freelancers, new professionals, officials, and students and teachers.
"I really loved virtually connecting on Saturday evening with other freelance reporters," said Hartley. "That was a lot of fun! Actually, everyone enjoyed the Saturday meet-up so much that although it was slated for 6-6:45 p.m., we stayed on until 8 p.m. They extended our time."
Parker attended the captioners' networking party.
"I thought the virtual captioning networking session was great," she said. "It was good to catch up with old friends, meet new people, and encourage those contemplating entering the field of captioning. A nice feature of a large group meeting virtually is that everyone in the 'room' was included in the conversation, unlike in-person events where people often tend to talk only with the people they know. Kelly Linkowski did a good job of 'hosting' the session and trying to include everyone. Later, a person I met in the session contacted me directly. During the convention, I also contacted a few attendees directly. That was a nice feature of the platform."
Sunday night ended the conference with a toast to new NCRA President Christine Phipps, RPR, an agency owner from North Palm Beach, Fla., which included a lesson in cocktails from NCRA Director Membership and IT Natalie Dippenaar and NCRA Director of Events Terpse Gentile. NCRA Executive Director Dave Wenhold toasted Phipps, and then NCRA Vice President of Finance & Human Resources John Dripps shared some of the personal and professional aspirations that were sent in by NCRA members.
"This virtual conference was very important for me personally and professionally," said Matthew Hanneman, a freelancer in Fargo, N.D. "There was a wealth of information on a national scale. It had been several years since I had attended an NCRA conference, and I missed them. I was able to get Facebook info for some new colleagues as well."
Hartley said she liked to option to virtually connect: "I can't usually take the time off work or really want to spend the money flying out to the NCRA conferences, so this was my first NCRA conference and I've been a member since I was a student in court reporting school eight or so years ago."
"For me it made it possible to be able to see what the NCRA conferences offered and to be able to meet other reporters I wouldn't normally meet. I will say that there were some technical difficulties about sessions restarting a couple times, but the ones that you play back that aren't live worked fine and I think I still prefer virtual as it's much more convenient and less expensive in regards to travel costs," Hartley said. 
"Once we got past the glitches in the first few seminars on Friday, I thought the convention was great and went well," Parker said. "There was a wide array of seminar topics to choose from. It was easy to ask questions at the end of each session. It was nice to be able to talk to vendors in the virtual exhibit hall. I really appreciate the fact that at a later time I can watch some of the sessions that I could not attend and also have the opportunity to again watch the ones I attended that I'd like to hear again because they were so chock-full of information."
Parker even found a possible new career path for her husband when she ended up attending a CLVS seminar.
"I knew very little about legal videographers," Parker said. "At about 10 minutes into Making the Record is a Team Sport with Lajuana Pruitt and Gayl Hardeman, it struck me that this could be a new career path for my husband. I attended all of the other CLVS sessions to learn as much as I could. Perhaps my husband will become a CLVS at some point. Thank you to the CLVS presenters and NCRA!"
The answer to the bonus question from the trivia party is the Necrology Committee.