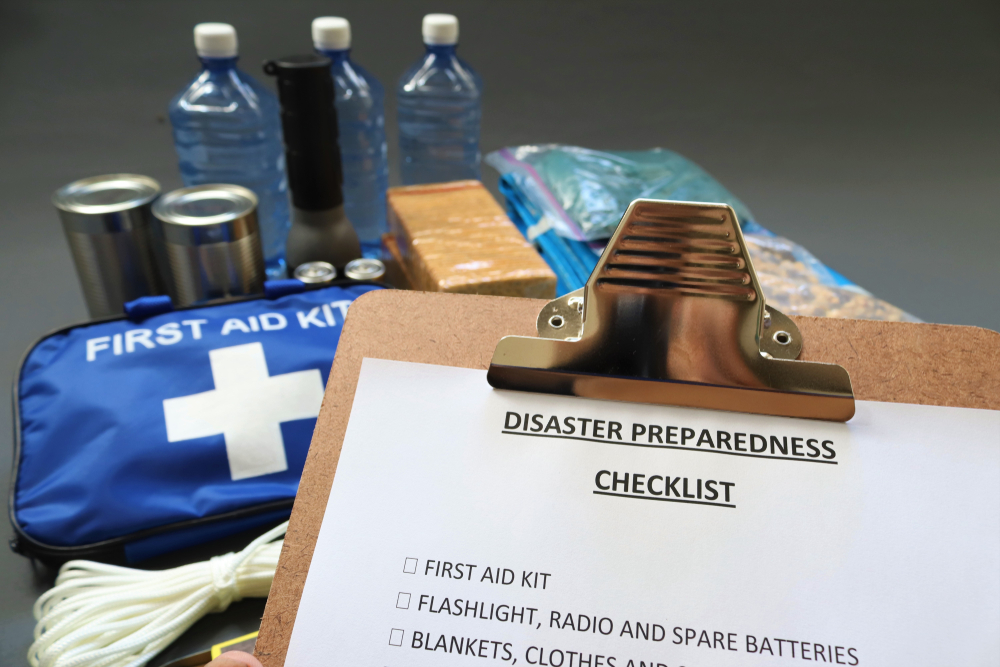 Don't get caught unprepared when disaster strikes. With hurricane season upon us, wildfires raging in some parts of the country, and other unexpected emergencies that often pop up, make sure you are prepared to weather it all. To be sure you and your family are ready to stay safe, keep in touch with loved ones, and stay in the know about changing emergency situations, consider building a disaster kit now that includes some or all of the items below.
Keep vital information safe and accessible. Before disaster even strikes, consider storing your vital documents including personal and work documents, irreplaceable photos, and other scannable items in a Dropbox account. Storing these items in the cloud will help ensure that vital information is secure and accessible when you need it.
Keep connected. Consider purchasing a set of long-range walkie talkies to ensure you and your loved ones can stay in touch, especially in the event you become separated or phones, internet service, and electricity are down. You might also consider downloading an app that lets you keep in touch with family and loved ones by GPS and other mapping services.
Keep the lights on. Don't get caught in the dark. Be sure your disaster kit includes battery-operated or solar-powered light sources. When choosing your light sources, be sure to consider the setting options each offers such as dimmers and strobe modes. Also consider choosing light sources that are waterproof or water resistant, durable, and lightweight.
Light sources to consider include:
An LED emergency light or long-lasting flashlight
A headlamp, which can be extremely useful in situations where you need to see what you are doing using both hands
LED camping lanterns
Keep fed. An automatic fire starter can be a lifesaver when it comes to being able to cook over an open flame should you find yourself without power. Matches are good, but in wet weather situations they risk becoming damp and useless. An automatic fire starter is also more compact to store in a disaster kit.
Keep hydrated. Drinkable water is critical to surviving a disaster. It is not uncommon for local water supplies to become inaccessible or contaminated during a disaster. Consider including a water purifier system in your disaster kit to ensure access to clean, drinkable water.
Keep warm. Any type of thermal blankets are also a good item to include to ensure you can stay warm should disaster strike during colder weather and access to heat sources are limited or not available. Consider checking out other emergency heat sources such as portable propane gas heaters.
Keep it running. Be sure your kit includes extra batteries that are stored in waterproof wrapping or containers. Also consider packing a portable battery pack. When choosing these types of items, review options such as length of time they will hold a charge and the amount of power they produce. Items like these can help ensure your phones and computers can still be used during an emergency. Also consider choosing a solar-powered backpack as your backup power source.
Other tips to consider to help you and your loved ones be better prepared should disaster strike.
Keep your pantry packed and clothes at the ready. Keep a variety of food items on hand such as fruit, condensed milk, dry drink mixers, and canned meats that don't necessarily require heating up to eat. A two-week supply is recommended. Also, keep several days of clothes stored where they can be easily accessible and kept dry in the event you need to evacuate and since many times laundry facilities are unavailable during times of disasters.
Download the American Red Cross app. Consider downloading the American Red Cross' First Aid app, which has step-by-step advice for everyday first aid for issues from asthma attacks to strains and sprains as well as instructions on handling out-of-the-ordinary scenarios such as hazardous chemicals. It is integrated with 911, so you can call emergency services directly from the app. It also has safety tips for dealing with extreme weather, from severe cold to hurricanes and tornadoes, and includes addresses of the nearest hospitals. And in case of a power loss or evacuation off-grid, all this content is available offline. It is free on Android and iOS.
Before building your disaster kit, remember to research the items and services you choose to include. Check out consumer guides for the latest reviews on products and services, conduct research on the internet, or ask friends and colleagues for their recommendations. Most importantly, stay safe.