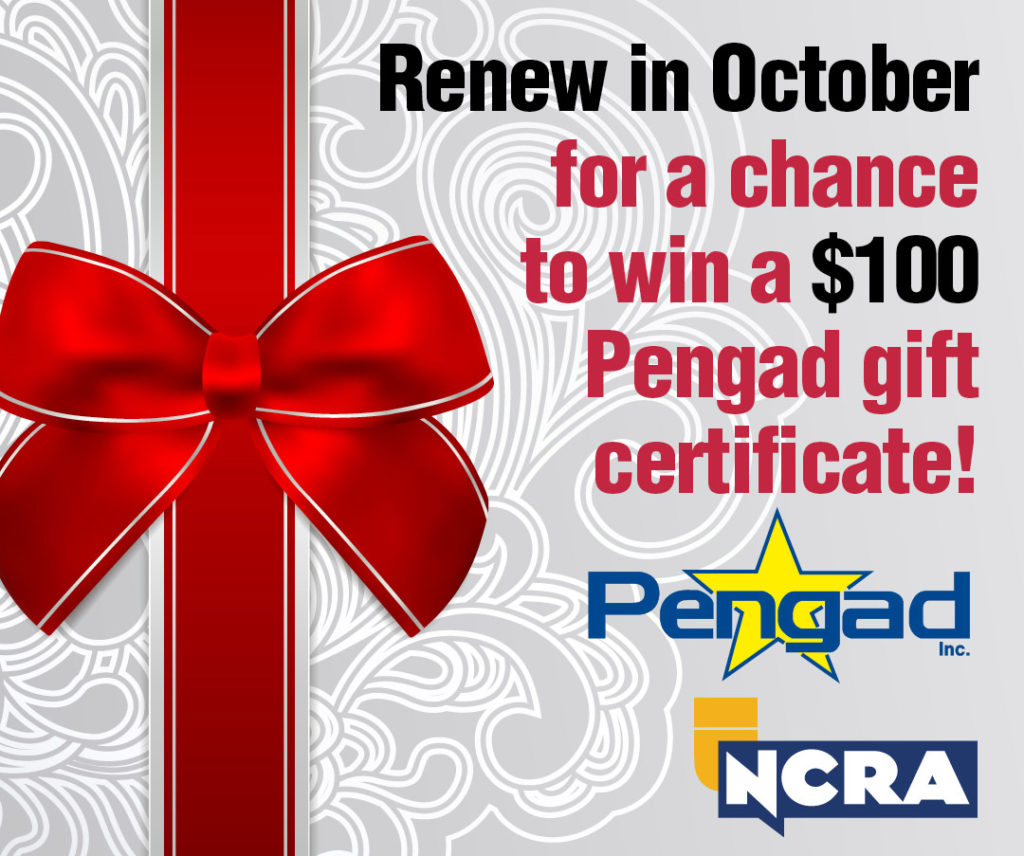 It is the season to renew your NCRA membership. Renewing now enters you to win in October. One member who renews in October will win a $100 Pengad gift certificate.
Get a second chance to win this month by answering the poll question about printed renewal invoices at the bottom of the Oct. 21 JCR Weekly. It was also sent in an email to members. If you know how you will be renewing, please let us know as we start to print renewal invoices. Not printing an invoice lets NCRA more effectively use your money!
If you know you will need a printed renewal invoice to submit to your employer, just let us know. But, if you are renewing online or by phone anytime between now and the end of the year, then help us save some money by opting out of a printed invoice. One person who responds to this question will be chosen to receive a $50 Amazon gift card!
Member benefits include:
A listing in the NCRA Sourcebook
A subscription to the JCR magazine and the JCR Weekly
Multiple certification programs with online Skills Tests and Written Knowledge Tests designed to help your earn more
Access to discounted group insurance programs through Mercer for personal liability and errors and omissions
Member pricing to can't-miss networking and educational events at the NCRA Conference & Expo, Boot Camp, and Business Summit
Premier educational opportunities
In addition, NCRA membership aids the profession by giving NCRA the funding to pursue projects that benefit the profession as a whole. These include developing marketing materials, promotional information, serving as a repository for shared information, creating networks that allow lessons learned in one state to reverberate in others, responding to negative (and positive) comments, and so much more. If you want a brighter future for the profession, join with other NCRA members who share your passion and renew today.
Renewing is easy and available online at NCRA.org/renew.