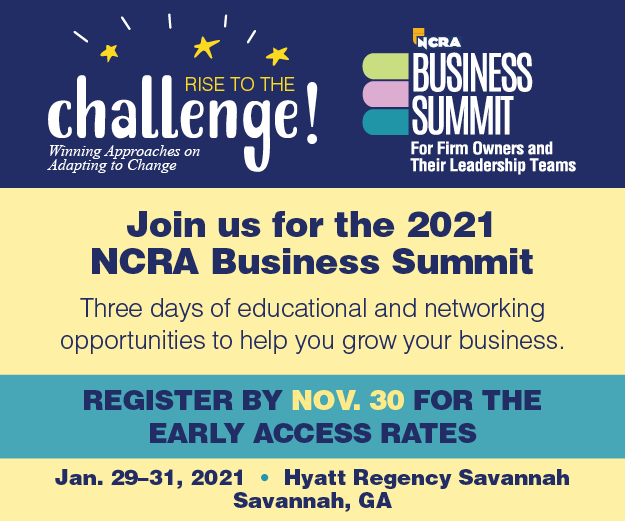 "Hot Seat" Peer-to-Peer Solution Storming is just one of the new and innovative sessions being offered at the 2021 NCRA Business Summit taking place Jan. 29–31 at the Hyatt Regency Savannah in beautiful and historic Savannah, Ga.
So how does the session "Hot Seat" Peer-to-Peer Solution Storming work? Participants will be broken into groups, and each person in each group will have the chance to be in the "hot seat" and benefit from the sage advice of their peers during this interactive session. Participants will share their own experiences, what-ifs, and those twisty turns that keep them up at night and go home with solutions they can put into effect in their business. As a bonus to all participants, one person from each group will be chosen to share what was learned with the entire group.
"The 2021 NCRA Business Summit theme 'Rise to the Challenge! Winning Approaches on Adapting to Change' reflects the current state of pivoting we are all faced with to ensure doing business successfully. Getting a chance in the hot seat to share with your peers what issues you need insight on is just one of the many sessions planned to help attendees rise to their own challenges in today's changing marketplace," said NCRA President Christine Phipps, RPR, an agency owner from North Palm Beach, Fla.
If you have safety concerns about your stay at the host hotel, rest assured that the Hyatt Regency Savannah is taking every precaution to keep its guests and its staff safe.
Under the hotel's global care and cleanliness commitment, the Hyatt Regency Savannah is working closely with the trusted medical and industry advisors of the Cleveland Clinic and holds accreditation for cleanliness from the Global Bio-risk Advisory Council. In addition, each Hyatt has on staff dedicated hygiene and wellness leaders to reinforce cleanliness standards.
Other safety and health measures the Hyatt Regency Savannah has employed include: mandatory wearing of masks by guests and staff especially when inside the facility and when moving around in outside venues; spacing measures and signage; rigorous cleaning with hospital-grade disinfectants; increased frequency of sanitizing public spaces with electrostatic sprayers; sanitizing stations prominently positioned throughout the hotel; enhanced food safety procedures; capacity guidelines at elevators and all public spaces; and more.
Additional highlights on the schedule include Melanie S. Griffin, Esq., who will serve as keynote speaker. She will kick off a two-part session with Maximizing Your Personal & Professional Life: The Art of Focusing, Prioritizing, and Goal Crushing, where she will provide insights and strategies to help you stretch the 24 hours in each day, followed by Rebrand 2021: Personal Branding & Networking Strategies to Shine Beyond Your Competition.
In addition, Pick Me! Pick Me! being presented by Virginia A. Jones, paralegal, Korinne R. Morris, ACP, and Jessica Van Troost, will comprise a panel of law firm key players who will address what they look for and consider in choosing a court reporting firm, as well as the likes and dislikes in court reporting operations and tips for court reporting firm staff to make their firm stand out from the rest.
Other sessions on the schedule for the 2021 NCRA Business Summit will cover topics such as financial planning, business law and leveraging government regulations to help your business, successful social media strategies, and numerous networking sessions. Watch the JCR Weekly for more information about additional sessions and speakers.
During early access registration, which runs through Nov. 30, the cost to register is $695 for NCRA members, $795 for nonmembers, $595 for additional attendees from the same firm, and $175 for a spouse/guest attending social functions only. Fees will increase after Nov. 30 by $50 for members, nonmembers, and additional attendees. The cost for a spouse/guest will increase by $25.
Please note that the spouse/guest registration category is reserved for a spouse/guest of an attendee who is registered for the conference. Professional reporters and captioners may not register for this category as a guest. Guests are welcome at only the receptions through the spouse/guest package; attendance at the educational sessions requires a full registration.
A special rate of $225 per night is also available through Jan. 6, 2021; the rate does not include tax and other fees for single, double, or triple occupancy. The cost for quad occupancy is $250 per night plus tax and other fees. The cutoff date for the discounted rates will be Jan. 6, 2021, or until the room block is filled, whichever comes first.
Make plans now for one of NCRA's most popular networking and learning events and take advantage of all Savannah has to offer, from waterfront views, delectable dining, unique shopping, historical offerings, and more. Register now and save.
Sponsorship information: Contact Jill Landsman, Development Relations Manager, at jlandsman@ncra.org.