By Jill Parker Landsman
"Life's most persistent and urgent question is, what are you doing for others?" — Martin Luther King, Jr.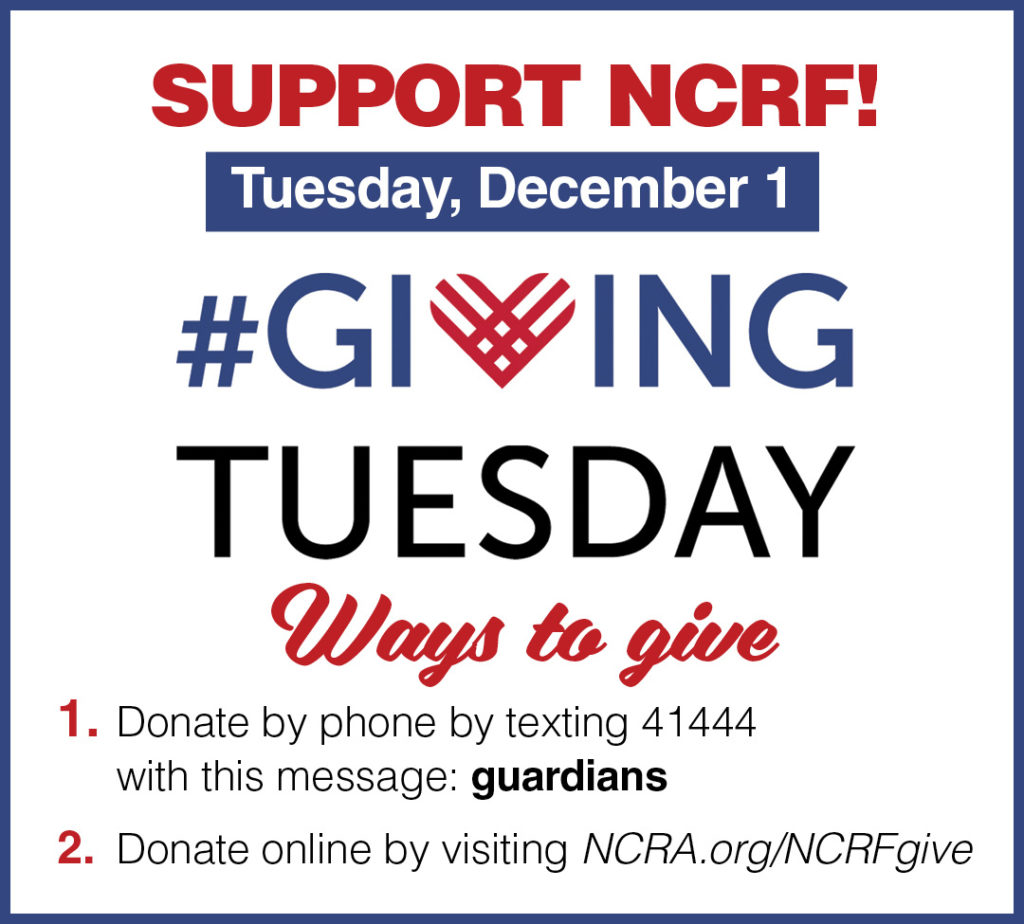 Each year, the first Tuesday after Thanksgiving is #GivingTuesday, the biggest giving day for nonprofits worldwide, and this year, you can support the National Court Reporters Foundation through its 2020 #GivingTuesday campaign on Dec. 1.
As court reporters ready for their 2020 holiday season, we know many will reflect how each of us makes an impact in this world. Think about which nonprofits matter most to you. For many NCRA members, NCRF is the perfect ­match to "give back."
"It is extremely gratifying to be giving back, for the continued success of our profession, to the philanthropic programs that NCRF sponsors," said Debi Cheyne, a captioner from Sherwood, Ore., and a 2020 member of the Foundation's Angel Gatherers Committee.
Her Angel Gatherers committee colleagues share her sentiment:
Denise Paternoster, RPR (Ret.), Spring Hill, Fla., especially loves the Foundation's Veteran's Oral History Program
Isaiah Roberts, RPR, of Magnolia, Ill., knows firsthand the challenges of young court reporters but is happy to give a helping hand to other young reporters.
Melanie Humphrey Sonntag, FAPR, RDR, DRR, CRC, of Greely, Colo., knows that the Foundation perpetuates our professions, scholarships, and the new Career Launcher education program.
Rich Germosen, RDR, CRR, of North Brunswick, N.J., loves the fact that the Foundation offers the Veterans History Project, which preserves veterans' stories.
Sandy Narup, RPR, of Orlando, Fla., appreciates the court reporting profession so much that donating to the Foundation is how she has chosen to give back.
Sharon Velazco, RPR, of Miami, Fla., loves to help to give new reporters the same opportunities that she had. Foundation scholarships do that, she said.
The #GivingTuesday fundraising effort is organized at this time each year with the aim of encouraging individuals, families, schools, businesses, and others to give to those who need some help and reinforcement. NCRF provides several scholarships, supports the Library of Congress Veterans History Project, and most recently funded NCRA's Mental Health Webinars during the Association's first Mental Health Awareness week held in October, as well as Career Launcher, a new mentor program scheduled to be released in the near future.
New NCRF initiatives emerge all the time, and members' support will help sustain ongoing and new outreach programs. Please support NCRF programs by donating to its #GivingTuesday campaign. No donation is too small. Donate here. Thank you.