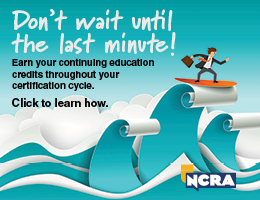 "Becoming certified through NCRA, whether it be your RSR all the way to your RDR, shows a commitment to your profession and that you are striving to be the 'best of the best.," said Sheri Smargon, RDR, CRR, CRC, of Riverview, Fla., who chairs the Education Content Committee. "Fulfilling your CEU requirements not only maintains the certification you worked so hard to achieve, but it may enlighten you to a new way of doing things; teach you something you didn't know about or maybe hadn't thought about before; and most importantly, shows your commitment to maintaining your professional drive in a forward-looking, positive way."
For many, the main reason to pursue CEUs is to learn something new. Doug Zweizig, RDR, CRR, of Towson, Md., and a member of NCRA's Education Content Committee, says, "I've been doing this for a long time and I'm pretty smart, but I always learn new things when earning CEUs. I've worked hard for all the letters behind my name, so I'm not about to give them up. It's a no-brainer – especially during a pandemic!"
Cathy Phillips, FAPR, RMR, CMRS, of Collierville, Tenn., who chairs the Council of the Academy of Professional Reporters (CAPR) and the National Court Reporters Foundation Board of Trustees, agrees, "Earning certification is a crucial part of almost every court reporter's, captioner's, or legal videographer's career because it imparts to the world around that this person has met the standards of the profession. But it is equally important to recognize that the world is constantly changing – 2020 is a year that showed us that we can never rest on what we think will happen. And, because of that, it is important that all of those who hold certifications through NCRA show their continued dedication to their own personal and professional growth by earning CEUs on a regular basis."
Pandemic proves the point of continuous learning
The COVID-19 pandemic required many state associations and other organizations to completely change the way they offered CEUs; and many reporters, captioners, and legal videographers needed content that would help them cope with the rapid change.
Todd Allievi, who owns CCR Seminars and has been a court reporter for more than 25 years, shared how the pandemic changed how and what he offered: "With the pandemic hitting the U.S. in March, I had to form a game plan quickly to come up with contingencies for my April seminar. … [W]e decided to move all attendees to the live online webinar platform. With social distancing guidelines in place at my home office and with the help and flexibility of all my presenters and having understanding and patient attendees, we were able to present a full, live webinar that court reporters could attend and earn CEUs from the safety of their own homes or offices.
"As court reporters, flexibility and adaptability are just two of the many traits at which we excel," Allievi continues. "We have to be prepared to handle an assignment that may be as simple as a personal injury slip-and-fall plaintiff to as complicated as a medical malpractice expert witness. One day you may simply be at a law firm's conference room and the next day may be at your local jail or horse stable, but that is a story for another day."
Yvette Heinze, RPR, of Helena, Mont., a member of NCRA's Education Content Committee, agrees that 2020 was a good example of how important it can be to stay up-to-date: "Keeping up with technology is much easier to do a little at a time, step by step. This last year was a good example, things changed dramatically. The reporters who knew their software and kept up with technology were able to embrace remote reporting and jumped right into it. You never know what opportunity is around the corner. If you're not prepared, you have fewer options."
Connecting the dots
Of course, while there are many personal reasons for taking your education seriously, remember certification and continuing education help set standards that reflect highly on the entire profession.
Lori Judd, FAPR, RMR, of Henderson, Nev., who is a member of NCRA's Education Content Committee, shared her experience of the changes that happened when Nevada started to require mandatory CEUs in 1990: "At first, our licensees grumbled about it, but I have noticed with myself and my professional peers (reporters and captioners) that the quality of our reporting has improved since it became mandatory. I have been on our state Certified Court Reporter Board since 2008, and there have been many changes in our laws and regulations since that time, including a significant pay increase for our official reporters. I believe the focus on the mandatory continuing education was instrumental in the pay increase, such that the reporters became aware of the laws and regulations, became educated in the process necessary to change the laws and regulations, and then got involved in changing the pay rates rather than leaving it to lobbyists to do all the work necessary for the pay raise. Testimony at the hearings regarding the pay increase was much more effective from the reporters themselves than a paid lobbyist."
States that require mandatory CEUs vary on how many and what types are required; please check with your state certification board or state court reporting association regarding any deadlines or specific requirements.
Those who hold current NCRA certifications must earn a minimum of 3.0 Continuing Education Units (CEUs) over the course of three years to maintain their credentials, with the exception of those who have earned the CLVS, who must earn 1.0 CEU over three years. A single 1.0 CEU is the equivalent of 10 hours of approved seminar time. The next deadline for earning CEUs is Jan. 31, 2021. To check on your current status, follow the instructions here.
More information, including some ways to earn CEUs, can be found at NCRA.org/home/Continuing-Education.