NCRA's 2021 Court Reporting & Captioning Week celebration kicked off on Feb. 6, and NCRA has encouraged a variety of activities to mark this ninth consecutive year of promoting the profession. The theme this year is "All you need is love and steno," and below is just a first glimpse of what's happening to mark the weeklong celebration, which runs through Feb. 13.
At the national level, U.S. Rep. Ron Kind of Wisconsin recognized the week with the submission of an official proclamation that was recorded in the Congressional Record on Feb. 8.
In his written remarks, Kind noted that court reporters and captioners are highly trained professionals who share a unique ability to convert the spoken word to text that can be read, streamed, broadcasted, searched, and archived. This specialization includes broadcast captioning and realtime translation services for people who are deaf and hard of hearing, as well as providing near-instant translation in legal and other settings.
He also acknowledged the court reporters and captioners in the U.S. House of Representatives, especially those who were on the House floor on Jan. 6, when insurrectionists breached the Capitol. "Their work is crucial to the sustained function of our government, and I thank them for their service and dedication to our country," he wrote.
In the 116th Congress, Rep. Kind reintroduced the Training for Realtime Grant Program and encouraged careers in realtime writing and court reporting to adapt to our changing world. The Training for Realtime Writers Grant Program has been successful in training the current generation of captioners and court reporters and has aided in the rapid growth of these professions.
Read the entire proclamation here.
NCRA President Christine Phipps invited everyone to celebrate the week in this video.
State associations have also been busy submitting official proclamations, including: Alabama, Colorado, Florida, Kentucky, Mississippi, North Carolina, South Carolina, and Virginia. States that submit official proclamations by state leaders to NCRA will be eligible for a drawing to win a free registration to the 2021 NCRA Conference & Expo registration happening July 29-Aug. 3 in Las Vegas, Nev. Submit your state's official proclamation to pr@ncra.org.
2021 celebrations go virtual
Despite the pandemic hampering in-person events, NCRA members and schools found ways to celebrate virtually.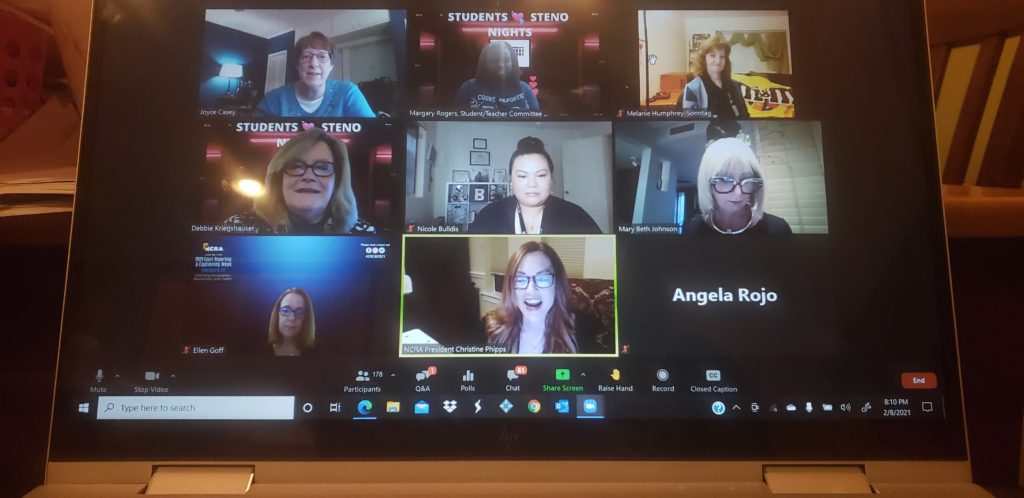 On Feb. 8, members of NCRA's Student/Teacher Committee hosted the first of three Students Love Steno Nights Zoom sessions, which were open to students and anyone else who is interested in participating to observe NCRA's 2021 Court Reporting & Captioning Week.
The first event drew more than 180 participants, including NCRA President Christine Phipps, RPR, who addressed the students. More than 20 NCRA-approved and non-approved court reporting programs were represented, as well as a number of participants from an A to Z® Intro to Steno Machine Shorthand program being led by Debbie Kriegshauser, FAPR, RMR, CRR, CLVS, CRC, an official court reporter from Dallas, Texas, and chair of the Student/Teacher Committee. Kriegshauser also served as moderator for the session, which featured guest panelists NCRA members Melanie Humphrey-Sonntag, FAPR, RDR, CRR, CRC, an official court reporter from Greeley, Colo.; Joyce Casey, FAPR, RDR, CRR, CRC, a captioner from Spartanburg, S.C.; and Nicole Bulldis, RPR, an official court reporter from Phoenix, Ariz. The committee has two more Zoom events planned for the week. Read more.
"I shared with the participants one message, and that was something my teacher said to the entire Theory 1 class," Phipps said. "It was on a golden piece of paper that I still have to this day, and it was about perseverance. She said that it's not necessarily the brightest or most talented person that becomes successful, but the one who has perseverance. Hard work beats talent when talent fails to work hard."
Phipps said she also encouraged students to practice. "The only thing that is separating you right now from where you are as a student and being in the greatest profession in the world is practice. I have been reporting for nearly 30 years now, and I love this profession more than the day I started. It feels like I have never worked a day in my life because I love what I do that much."
Mary Beth Johnson, CRI, program coordinator for the court reporting program at the Community College of Allegheny County (CCAC) in Pennsylvania, said she feels confident that all the participants left the room feeling energized and hopefully sat down immediately to practice.
"The palpable energy zigzagged not only across time zones but Zoom lines as well. Students sharing passing a 200 to family urgencies, from briefs to plans to attend the convention in Las Vegas, all arrows pointed to the success of day one of Court Reporting and Captioning Week programming," Johnson said.
"The speakers were passionate about their chosen career of court reporting and inspired a new generation of court reporters. To see the names of the dedicated students I am teaching scroll across the attendees list made me proud to be a court reporting teacher," she added.
Johnson also shared that Alyssa Getty, a CCAC student, texted her the following: "The exposure to experienced and more recent court reporters/captioners thoroughly reinforced all the reasons as to why this choice of profession is worth the effort, struggles, and perseverance." Another attendee wrote: "Taking part in the Student Steno Night was an incredible experience! At one point I was overcome with tears hearing the incredible women, who are just like me, talk about this amazing profession and how fulfilled and happy it has made them. Most had been working in stenography for decades and still have a passion for the field. Their passion lit an even greater passion in me … all that's required is practice and perseverance! My takeaway from the experience was I can and I will!"
On Feb. 9, the Virginia Court Reporters Association hosted a Tech Talk Tuesday via Zoom. Attendees asked questions about technology and shared some of their favorite gizmos, tips, and experiences during the social event.
Meanwhile, the Bexar County Court Reporters Association in Bexar County, Texas, is celebrating with several virtual events including a salsa dance lesson, a cooking class hosted by a local chef, and an end-of-the-CR&CW party.
Plaza College in Queens, N.Y., is also hosting several virtual events in honor of the week. The first was held Feb. 8 and featured NCRA Vice President Meredith Bonn, RPR, CRR, an official court reporter from Webster, N.Y., followed by a virtual mock trial on Feb. 9. Other sessions will follow later in the week and will offer insights from working professionals and tips for using Zoom.
"Court Reporting & Captioning Week is a great time to tell the world how much we love our profession," said Amy Doman, RMR, CRR, a freelance court reporter from Carmel, Ind. "I will be running in a virtual 5K 'Strides for Steno' to support the Indiana Court Reporters Association." In addition, Doman said she plans to don a temporary tattoo on her right wrist, which, she said, will be "perfect for administering the oath via Zoom."
And of course, don't forget about the social media celebrations
The British Institute of Verbatim gave a shoutout to NCRA's 2021 Court Reporting & Captioning Week, asking, "What will you be doing to celebrate?" The post also included a link to NCRA's Court Reporting & Captioning Week resources page.
The Texas Court Reporters Association has launched its own social media campaign for the week that includes:
Saturday "Start": Share your story of how you got started with court reporting.
Sunday Showcase: Share a photo that represents you as a court reporter (modern-day photos of stenographers needed to wipe away the old-fashioned image of stenographers; share a new one or a not-so-distant-past favorite of yourself that clearly shows you as a stenographer).
Monday Madness: Share the most outrageous thing that has happened during a court reporting proceeding.
Tuesday: Share what you love about court reporting and why you would recommend this career to others … and share one of your most interesting or inspirational job assignments.
Where Are You Wednesday: Show us your workplace and what you love about it … or don't love … or what's unique about it.
Zoom Thursday: Share your funniest Zoom/virtual participant (photo or a written description).
Fun Friday: Share your favorite court reporting meme, funny story, or anything that will make a fellow court reporter smile.

Don't forget to check in throughout the week on NCRA's Facebook page for daily postings about how you can join in the celebration of the court reporting and captioning professions. And as a reminder, there will be a second JCR Weekly issue on Feb. 12 dedicated to 2021 Court Reporting & Captioning Week that will highlight other activities and celebrations happening around the country.
Finally, be sure to visit NCRA's 2021 Court Reporting & Captioning Week resource page to learn more about how you can participate in this special week. NCRA has made available an array of resources from press release templates to flyers to posters and more designed to help you celebrate.