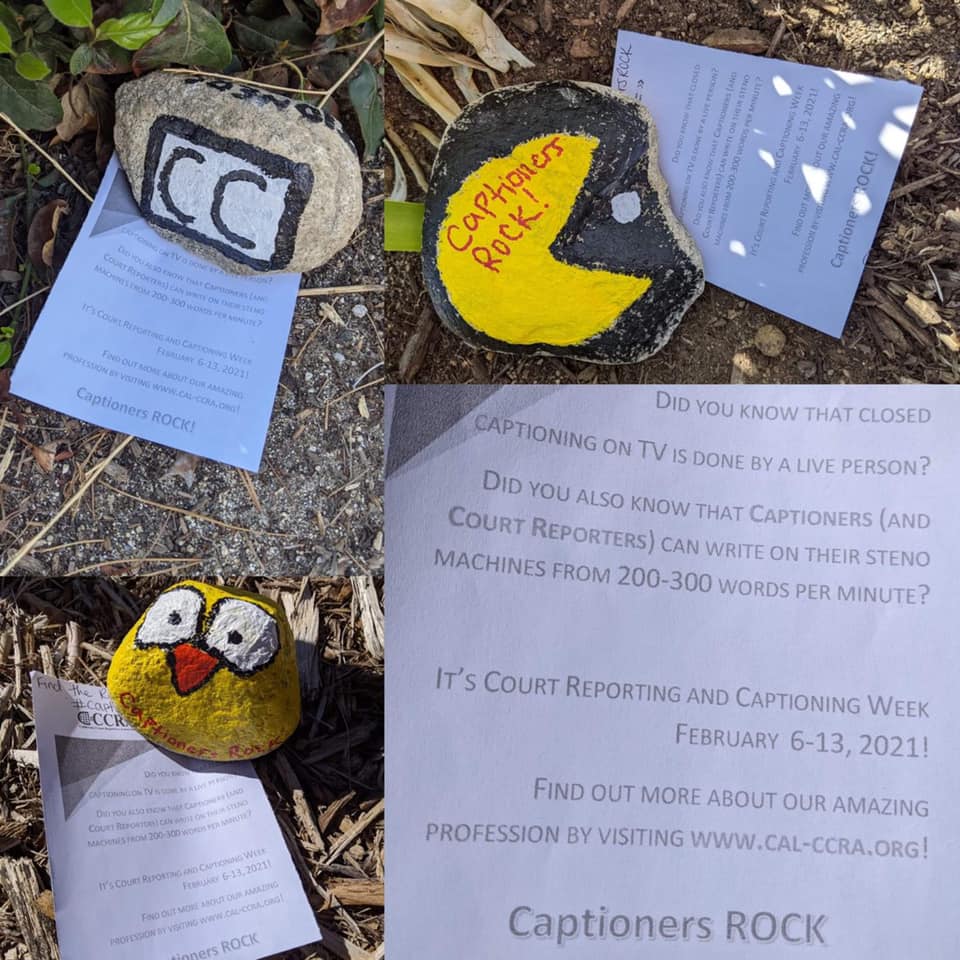 A number of state and local associations as well as individuals and firms shared with NCRA how they marked 2021 Court Reporting & Captioning Week. From Zoom events to raffles to challenges, the activities ran the gamut and offered fun, insights, and honors along the way.
The California Court Reporters Association (CCRA) celebrated the week by challenging students with completing one of several tasks. Those who participated are being entered into a drawing to win a one-year membership to the association. The challenges included:
Transcribing five or more pages from any episode of Shaunise Day's podcast "Confessions of a Stenographer";
Recording a video of anything related to stenography such as capturing your hands working on the machine and posting it on the association's social media page; and
Asking a working reporter or captioner five questions relating to court reporting or captioning and submitting their answers in a transcript format.
Members of CCRA's CART/Broadcast Captioning Committee also spent the week hiding rocks in cities around Southern California that were painted by local kids and carried messages about a career in captioning.
The Indiana Court Reporters Association (INCRA) hosted its first annual Strides for Steno 5K run/walk to mark the week. More than 60 participated in the event that was sponsored by College of Court Reporting, Valparaiso, Ind.; the software company EV360, Valparaiso, Ind.; Smith Reporting, Muncie, Ind.; Stewart Richardson Reporting, Indianapolis, Ind.; Circle City Reporting, Indianapolis, Ind.; and Veritext Indianapolis.
INCRA also reached out to its members to share insights about why they love their job. The effort generated videos and written statements highlighting all aspects of stenography, CART/captioning, freelance, and official work. The testimonials are being shared via social media throughout the week. Members also prepared packets to be delivered to high school counselors to educate schools throughout the state about the profession. Members also used NCRA resources to create materials they shared with local news outlets.
The Maryland Court Reporters Association (MCRA) hosted a free Zoom event for its members who are Eclipse users called "Perfect Partners Transcript Brigade Realtime Scopists."
In Virginia, members of the Virginia Court Reporters Association (VCRA) worked in collaboration with The Lawyer magazine and its Paralegal Liaison Committee to create a video about the role of court reporters to show at the Roanoke Valley, Va., Paralegal Association Education Conference, being held Feb. 15.
The association also created backdrops for its members to download and use in Zoom depositions during the week.
At the local level, members of the Bexar County Court Reporters Association (BCCR) in Texas, encouraged students to celebrate the week with a TikTok challenge. Students were urged to upload videos to the online platform that related to the court reporting and captioning profession. The video with the most likes at the end of the week will be crowned the winner.
The BCCA also hosted a number of virtual events throughout the week including an Eclipse webinar, Chair Yoga for Everyone, a ProCAT webinar, and a Case Catalyst webinar.
NCRA member Laura Axelsen, RMR, CRR, CRC, a freelance court reporter from Dixon, California, celebrated the week by honoring her father, who was also a court reporter, in a special video she posted on NCRA's Facebook page.
In St. Louis, Mo., Alaris Litigation Services also celebrated by dedicating a page on the firm's website highlighting Court Reporting & Captioning Week. The page features several articles about the work of NCRA members as well as a recent blog featuring the responses of several of the firm's court reporters about going remote during the pandemic.
If you know of others that are not mentioned in this week's issue or in the story that ran in the Feb. 10 issue, we encourage you to share more about them at pr@ncra.org for inclusion in the final follow-up coverage slated for the Feb. 17 issue. Be sure to send any photos or graphics as well.