By Ellen I. Goff
Even for those who have never watched a single episode of Law & Order: Special Victims Unit, the opening words are unmistakable: "In the criminal justice system…." And that ominous chung chung sound that follows is no less recognizable. For Chelsey Fafard, a freelance reporter in Calgary, Alberta, Canada, however, it is the sound of frustration. Fafard, a self-described Law & Order superfan, recently took to TikTok to report one of the worst crimes committed by the show: court reporters using paper machines.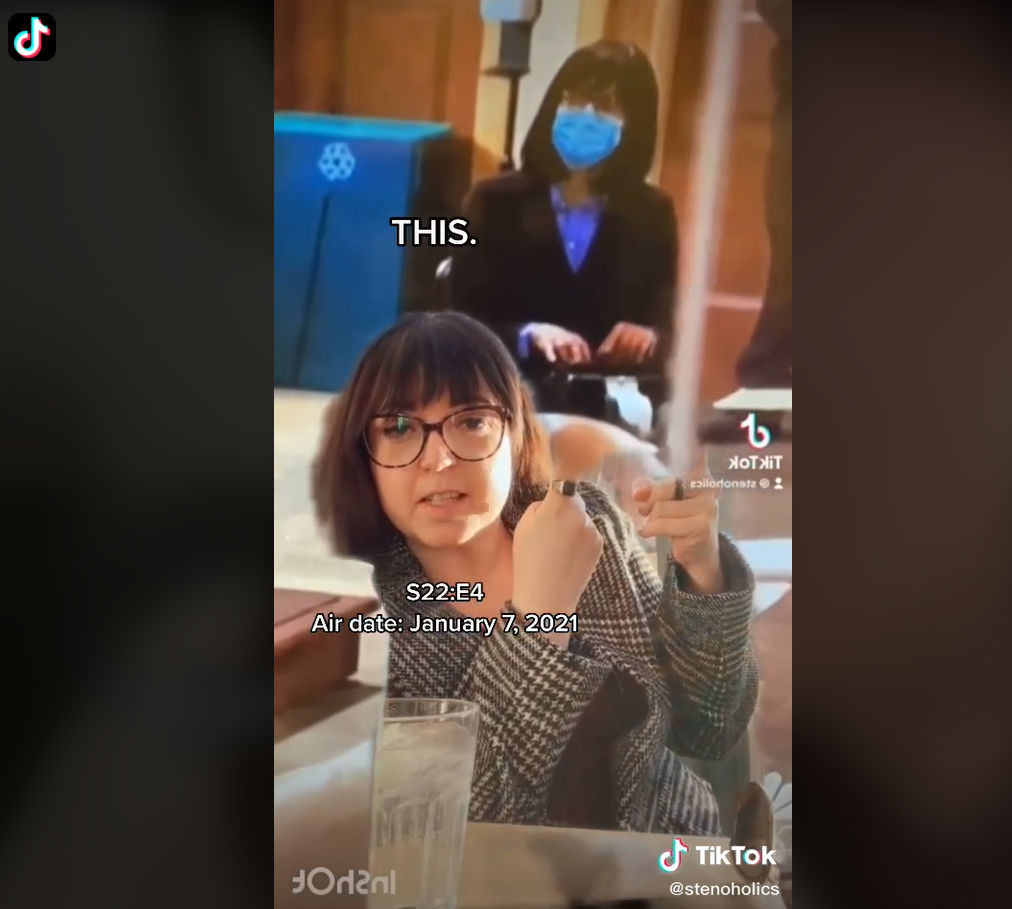 "This message is for Dick Wolf, Wolf Entertainment, and NBC generally, on behalf of all court reporters," Fafard announces on the video. "I have seen every single episode in the 22 seasons, and I look for the court reporter in every single episode and you guys still have them writing with paper." Fafard is also a fan of other legal dramas, including additional Law & Order franchises, The Good Wife, Suits, and Better Call Saul. "I've seen many more instances of court reporters being misrepresented than properly represented," she says.
The video, titled "Attn: Dick Wolf," points out that court reporters already struggle with the perception that their profession is behind the times. "People come into our jobs every day and ask, 'Isn't AI going to replace you?' No … but with your help showing paper in 2021 people might think that." Fafard is hoping that someday someone with ties to Law & Order will see the video. So far it has been viewed more than 1,200 times.
Fafard and a colleague, Mandy Sweet-Coulter, created the TikTok account, @stenoholics, where they have posted dozens of steno-related videos. There are several actors who participate in the videos, but she and Sweet-Coulter write all the sketches, which riff on the frustrations court reporters often face on the job. One recurring sketch asks, "What is your most embarrassing moment as a court reporter?" One of the most-viewed videos features a reporter taking down a bit of gruesome courtroom testimony. The group also posted a special dance video to celebrate NCRA's 2021 Court Reporting and Captioning Week.
As for her callout to Dick Wolf and NBC, Fafard has a suggestion: "Is it that you need a real court reporter? 'Cause I can check my schedule."
Ellen I. Goff is NCRA's Senior Marketing Manager. She can be reached at egoff@ncra.org.