By Debbie Dibble
As COVID-19 restrictions begin to vanish and we slowly come out of our social hibernation, as friends and family come together and reignite traditions lost to the past year, it is my pleasure to announce that we're getting the band back together! I have been a member of NCRA for three decades and served on the NCRA Board of Directors for the past eight years. My involvement in this Association has been on an almost daily basis. I now realize that I really took for granted the company of my peers. I'd venture to say I didn't truly appreciate just how much my NCRA family meant to me until a virus kept me from them. I miss my colleagues, my friends, and my professional family, and I cannot wait to be back together with them all in Las Vegas at the 2021 NCRA Conference & Expo.
I am writing this article with one goal in mind: To encourage you to make your room reservations today! Vegas is a hot post-pandemic destination, and it is fully open for business. Due to the popular demand of the 2021 NCRA Conference & Expo, the NCRA room block at the Planet Hollywood Resort & Casino is filling up quickly, and you do not want to be left without a room at our steeply discounted rate! The NCRA block is already sold out for Saturday night, but rooms are still available at the resort (at a higher rate) for Saturday, and the special rate is still available for the rest of the week from Wednesday thru Monday. You will still save money by staying inside the block. But hurry! This rate expires July 2 (or until the NCRA room block is sold out, whichever comes first).
Last month, I headed to our Conference location in Las Vegas to discover the many adventures that are in store for us this July and was astonished at the skyrocketing hotel rates. One weekend night was just shy of $500. As many of you may appreciate, when the pandemic hit and conventions were cancelled due to state mandates, our Conference team renegotiated our contract to protect NCRA with a hope that by 2021 we would again be able to meet in person. As the excitement begins to build that we will all soon be back together, you simply must not miss your opportunity to secure a room in the NCRA room block at our fantastic negotiated rates.
Before my life of service began, I never understood how important the room block was to the success of the Conference. Room blocks and food and beverage contracts allow our team to negotiate lower Conference expenses that would otherwise be passed on to the members in the registration price. If NCRA doesn't fulfill its commitments in the contract, then we must pay the attrition expenses. This all results in higher registration fees at future events. The room block rate also protects the attendees against hidden fees. You may find a lower room rate, even at the same hotel, but be ready to lose your shirt in resort fees.
Another situation that can sometimes be created by attendees is called a wash. This is when members book their rooms in the block if they think they may attend and then cancel at the last minute. At this point, NCRA cannot rebook the rooms. We fall short of our contractual obligations and are assessed penalties which may result in higher registration fees to our membership down the road.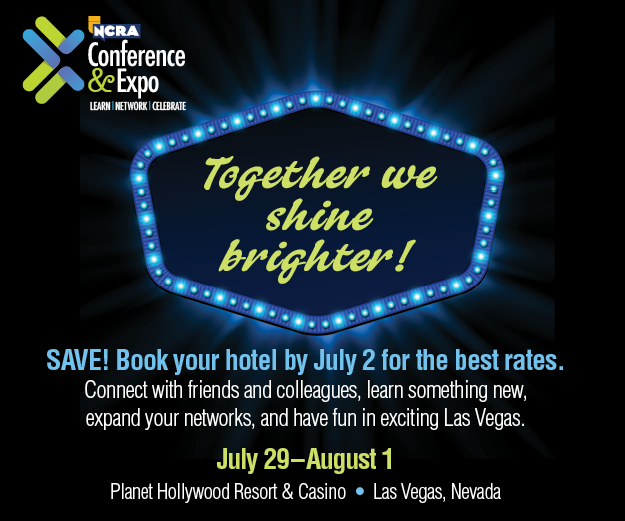 "Watch out for pirates," I heard. "They are back!" I thought: Cool! I will have to wander down to the Treasure Island Hotel and check them out! Turns out that's not what they were talking about. Pirates are nefarious organizations that obtain private information of potential attendees or vendors and send out communications saying things like the room block is filling up fast and you need to click this link to register today. You click, you register, and then you pay dearly. NCRA will never contact you in any way other than a direct communication from NCRA or a link in the JCR Weekly. If you receive a notification that appears to be from the hotel or any other entity, it is not legitimate. And if you suspect you've been contacted by a pirate, please notify NCRA immediately at meetings@ncra.org. We can send them a cease-and-desist letter, driving them back out to sea and saving many members from potentially crashing into the rocks.
I can't wait to see my NCRA family again, to be inspired and energized and invigorated by my colleagues whom I respect, learn from, and admire. I plead with you all to BOOK IN THE BLOCK and help us keep our registration costs as low as possible so that we can continue to get together every year and enjoy the quality education and camaraderie that have always been the hallmarks of the NCRA Conference & Expo!
NCRA President-Elect Debbie Dibble, RDR, CRR, CRC, is a freelance court reporter from Salt Lake City, Utah. She will assume the office of President at the 2021 NCRA Conference & Expo. She can be reached at ddib06@gmail.com.