Registration is still open for the 2021 NCRA Business Summit taking place Nov. 19-21 in beautiful Savannah, Ga., at the Hyatt Regency Savannah. "The NCRA Business Summit is for everyone, and all are invited," says NCRA President Debbie Dibble, RDR, CRR, CRC. "The content is worth it. YOU are worth it! This year's lineup of business content is unprecedented, and the growth potential for all of us, regardless of the size of our businesses, is exponential. And to add to the benefits, the networking opportunities are unparalleled for meeting colleagues and creating new connections for future work. Your return will far outweigh your investment. Please consider joining me at this year's NCRA Business Summit, and let's learn, grow, and progress together!"
Dibble has never been to Savannah and notes that she is looking forward to being immersed in Southern hospitality. "The great thing about this event," adds Dibble, "is that the schedule is packed with nonstop education yet still leaves time for networking and exploring the locale. We have been deprived of each other's company and this incredible business training for far too long, and this year's lineup will not disappoint attendees."
Registration: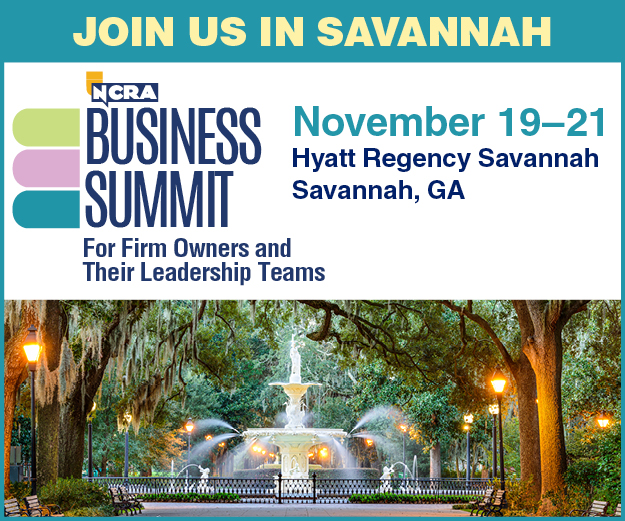 The cost to register is $1,075 for NCRA members, $1,250 for nonmembers, $950 for additional attendees from the same firm, and $250 for a spouse/guest attending social functions only. Please note that the spouse/guest registration category is reserved for a spouse/guest of an attendee who is registered for the Business Summit. Professional reporters and captioners may not register for the spouse/guest category. Guests are welcome at the receptions only in this package; attendance at the educational sessions requires a full registration.
Discounted hotel rates:
A special group hotel room rate at the Hyatt Regency Savannah of $225 per night is also available through Oct. 27; the rate does not include tax and other fees for single, double, or triple occupancy. The cost for quad occupancy is $250 per night plus tax and other fees. The cutoff date for the discounted rates will be Oct. 27 or until the room block is filled, whichever comes first.
Dibble says she is excited to learn business practices from keynote speaker Melanie S. Griffin, Esq., that she can immediately implement to improve her business. "Register and reserve your spot at this intensive training," says Dibble, "where you will learn tools for success from industry leaders and brainstorming with your peers as well as networking with professionals across the country to build and grow your business for years to come."
Health and Safety:
NCRA places the safety and health of its guests, presenters, and staff as its top priority and remains committed to its 2021 NCRA Business Summit and wants you to be assured that we are doing everything possible to ensure a safe and healthy experience for all. We are closely following the recommendations of the Centers for Disease Control and Prevention (CDC) as well as state and local health authorities, to keep abreast of the latest recommendations and protocols being put into place regarding COVID-19. 
You can view NCRA's latest policies regarding COVID-19 as well as the Business Summit Code of Conduct on our FAQ page. Registrants will be asked to agree to the Code of Conduct before completing registration. Visit Hyatt's Health and Safety Protocols for more information on the health and safety protocols that the Hyatt Regency Savannah has in place.
For additional questions about the 2021 NCRA Business Summit, please contact meetings@ncra.org.