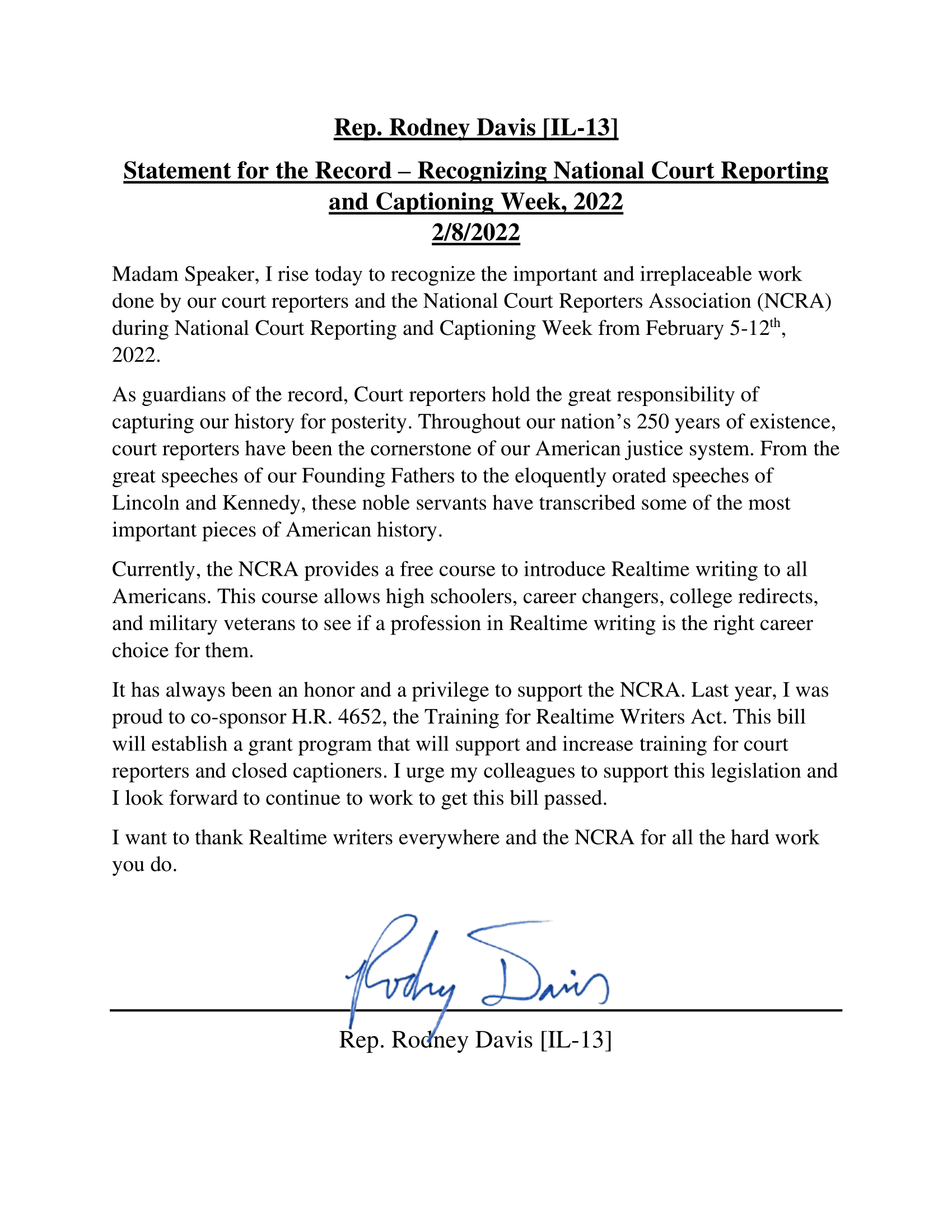 In recognition of the 10th annual NCRA Court Reporting and Captioning Week, U.S. Rep. Rodney Davis (Ill.) entered the following statement into the Congressional Record:
Madam Speaker, I rise today to recognize the important and irreplaceable work done by our court reporters and the National Court Reporters Association (NCRA) during National Court Reporting and Captioning Week from February 5-12th, 2022.
As guardians of the record, Court reporters hold the great responsibility of capturing our history for posterity. Throughout our nation's 250 years of existence, court reporters have been the cornerstone of our American justice system. From the great speeches of our Founding Fathers to the eloquently orated speeches of Lincoln and Kennedy, these noble servants have transcribed some of the most important pieces of American history.
Currently, the NCRA provides a free course to introduce Realtime writing to all Americans. This course allows high schoolers, career changers, college redirects, and military veterans to see if a profession in Realtime writing is the right career choice for them.
It has always been an honor and a privilege to support the NCRA. Last year, I was proud to co-sponsor H.R. 4652, the Training for Realtime Writers Act. This bill will establish a grant program that will support and increase training for court reporters and closed captioners. I urge my colleagues to support this legislation and I look forward to continue to work to get this bill passed.
I want to thank Realtime writers everywhere and the NCRA for all the hard work you do.
The Congressional Record is the official record of the proceedings and debates of the United States Congress. You can view previous entries into the Congressional Record recognizing court reporting and captioning here.