Don't miss out on the special savings on registration fees for the 2022 NCRA Conference & Expo happening July 21-24 in Orlando, Fla. Register by May 15 and take advantage of the special pricing of a $25 discount on the full registration.
Attendees are also encouraged to reserve hotel rooms for the Conference at the Hyatt Regency Orlando. A special group rate is available through June 27 or whenever the block is filled, whichever comes first. Staying at the host hotel not only gets great amenities for registered attendees (including free breakfast on Friday and Saturday), but it also helps NCRA keep rates for events reasonable for everyone.
3 Reasons to Come Early
Take an active role in your Association by attending the Annual Business Meeting on Thursday morning. Starting at 8:30, the Business Meeting is the place to hear the latest reports on the Association and discuss Bylaws amendments.
If you want to get to know your CAT software better, sign up for the vendor training sessions from Stenograph, Advantage Software, or Stenovations.
If you are interested in learning more about captioning, make plans to be there Thursday for an afternoon Captioning Boot Camp Workshop with Anissa Nierenberger, RPR, CRR, CRC, CRI.
And don't forget the Opening Reception on Thursday night – a great time to find some of your favorite people and enjoy some drinks and appetizers in the Expo Hall.
Keynote Speaker Jim Davidson
As court reporting instructors have told you, resilience is key in working in the court reporting, captioning, and legal videography professions. During the Premier Session on Friday morning, we'll tackle the topic with resilience expert Jim Davidson. As a high-altitude climb expedition leader and a New York Times best-selling author, Davidson will share uplifting lessons from his 39 years of adventure and survival that will help you overcome change, challenge, and uncertainty. Davidson has scaled high peaks from Argentina to Nepal, from Bolivia to Tibet. The U.S. National Park Service has commended Davidson twice for volunteering for successful high-altitude rescues in Colorado and Alaska.
Sneak Peaks
We've got some spectacular sessions planned for you:
Hear Whitney Kumar talk about how she ended up on the new Judy Justice show with Judge Judy.
What is it like to work on Capitol Hill? Traci Mertens, RDR, CRR, CRC, takes you along on a day in the life of a Congressional reporter.
The tech guru is in the house! Mike Hensley, RDR, shares his love of everything tech and gives you that upgrade you've been looking for in "TECH Talk."
Can you say "Voir Dire"? Richard S. Scire, RPR, and Michael Scire, RPR, CMRS, help you learn to write and conduct voir dire more effectively — and maybe even learn to pronounce it!
Stressed out? Get some tips on relaxation methods, neck, back, and upper body stretches, and find out how to take care of yourself and reduce anxiety in this high-stress field.
He/She/They. Inclusive language is an important step in acknowledging diversity and conveying respect. Take this opportunity to understand more about the LGBTQ+ community.
See the full session schedule here.
Find out what's new and interesting with our vendors
The Expo Hall is the place to find the latest and greatest in technology for the professions, so make sure to plan some time for checking out the vendors and what they are offering. Stopping in to check out what is new will keep you in the loop on the changes to software, upgrades on writers, and the overall health of the profession.
Practice your air guitar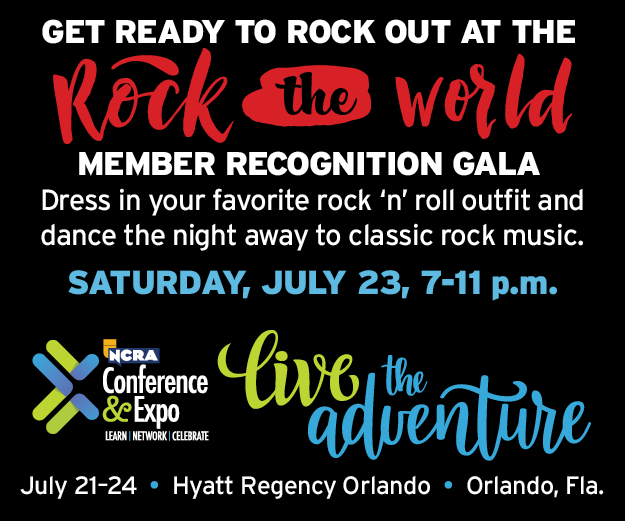 This year, the Member Recognition Gala boasts a rock 'n' roll theme, where you can get down and dance the night away with friends and colleagues! You may even get to rock out on air guitar and let loose a little as you end your time on a high note.
The Gala is not your only chance to network, however, so bring your business cards (or a cell phone) to exchange information and build your network. Of special note: Plan to attend the Opening Reception on Thursday night and the Saturday Awards Luncheon, where you can enjoy your lunch with friends while you cheer on the luminaries of the profession, such as the Fellows of the Academy of Professional Reporters, the CASE Award of Excellence, and The Jim Bouley Family Lifetime Award for Altruism. And make sure to keep your eyes open for other opportunities – we heard that you can learn a lot just hanging out in the halls between sessions from a number of past attendees.
Students that means you, too!
Welcome, students! Our NCRA members love to meet the next generation of court reporters and captioners, so expect to receive lots of advice and encouragement. Students also have an in-depth series of sessions planned for the three-day event, including time to network with the NCRA Board of Directors and the vendors who will be on the Expo Hall floor. It will be time well spent in building your network and will give you a leg up in the profession.
Kudos to all of the NCRA members who donate to the "Sponsor a Student" program, which keeps the student registration low! If you register by May 15, consider donating your $25 savings to the student fund. Also, if you are participating in both the Speed and Realtime Contests, consider donating that $25 savings too!
You can donate money for students in several ways:
• When you register for the Conference, you can pick an amount to donate.
• Donate through NCRF's MobileCause or by texting using the keyword student2022 to 41444.
For more information about the 2022 NCRA Conference & Expo or to register, visit the event page. Don't let procrastination make you miss the special pricing in effect through May 15 that will get early registrants a $25 discount on the full registration.
For sponsorship and exhibitor information please contact Susie Prue at adsupport@ncra.org. Download a prospectus here.