So glad you are there!
Thank you for being an NCRF Angel and/or NCRF Donor to one of our wonderful fundraisers!
Welcome to our 2022 Spring Angels Quarterly! Please accept thanks from all your NCRF leaders: Our NCRF Trustees, our NCRF Angel Gatherers Committee members, and our NCRF staff.
Your generous gifts are powerful! You may have helped by donating to our recent NCRF Natural Disaster Relief Fund, created late last summer during Hurricane Ida to help members in dire need.
Or you may have donated to our NCRA Student Conference Fundraiser, or our memorial campaign for our beloved Karen G. Wimmer. You may have supported our new Career Launcher program for our learning modules on the NCRA Learning Center. Or your donations may have helped us continue our work with the Library of Congress and other oral histories programs or helped us provide the Mental Health Webinars jointly provided to NCRA members by NCRA and NCRF.
Your gift funds NCRF grants and scholarships awardees, and it allows us to continue our outreach programs. You qualify for the annual tax write-off provided by our Foundation. NCRF is a registered, qualified 501© (3) organization. We have almost two decades of charitable giving to the court reporting industry and beyond. We are gaining traction each year, thanks to donors such as you!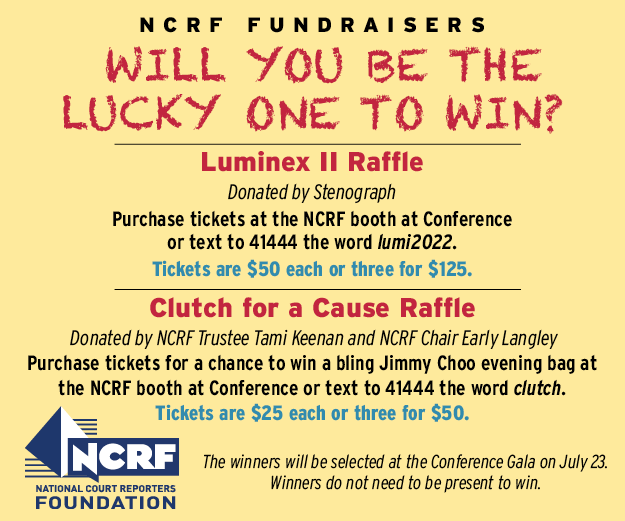 Please stop by our National Court Reporters Foundation booth at the NCRA Conference & Expo in Orlando, Fla., July 21-24. We will be selling raffle tickets for a chance to win a new Stenograph Luminex II Writer (donated by Stenograph) and a bling Jimmy Choo evening bag, donated by NCRF Trustee Tami Keenan and me, for our Clutch for a Cause Fundraiser. Why not buy raffle tickets for both? You can buy tickets in person at the NCRF booth at Conference or start now by texting the keyword lumi2022 (all lowercase) for the Luminex, or clutch (all lowercase) for the Jimmy Choo bag to 41444. Tickets are $50 each or three for $125 for the Luminex; $25 each or three for $50 for the bag.
And CALLING ALL ANGELS! Our prized NCRF VIP Luncheon for Angels is on Friday, July 22, at our Conference hotel. If you are not an Angel, hop on as a guest for $125. NCRF donations do not cover guests. We welcome newbies to join our Angel Family at any time. Learn more about our Foundation here.
Our grant and scholarship awardees thank you! Our Career Launcher students thank you! Our Veterans thank you! Our NCRA/NCRF Mental Health Webinar attendees thank you!
Whatever you donated: WE APPRECIATE YOUR GENEROSITY ALWAYS! Email me at ncrfoundation@ncra.org with any ideas.
Hope to meet and greet you in Orlando,
Early Langley, RMR
NCRF Chair