In March we brought you the stories of three women who were counting down the days to the 2022 NCRA Conference & Expo in Orlando, Fla., by getting out, working out, and supporting each other. The "Steno Fitness Challenge 'til Orlando 2022! Exercise at least 15 minutes a day" Facebook group was started in August 2021 by Margary Rogers, RPR, CRI, an official court reporter and CART provider from Washington, D.C.
The steno fitness group is a fun, supportive, and interactive group, and friendly competition never hurts. "The purpose of the group is to maintain the camaraderie that we already have in our wonderful profession, as we continue to uplift each other on our quest to promote great health," Rogers said. "Being in great physical and mental health is a major component of our profession."
Here are five women who are inspired and who inspire each other.
Keep it moving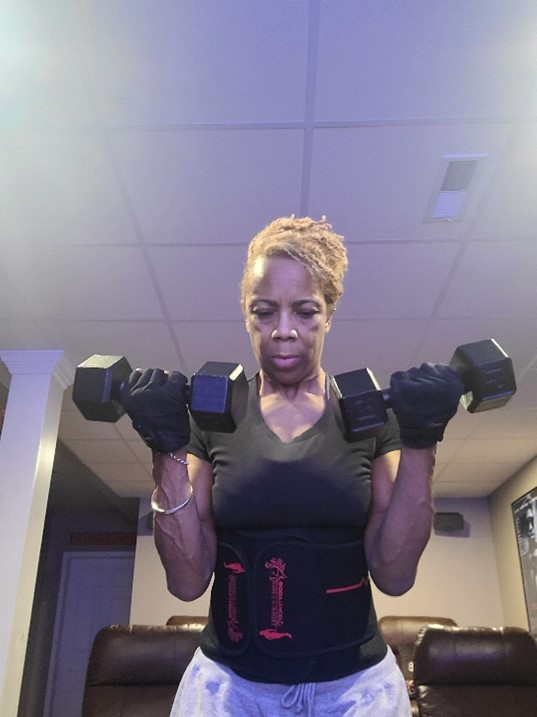 By Maxine Roberts
If you're not up and working out on Saturday mornings with the Steno Fitness challenge group, you're missing out. I will admit I don't make it weekly because, frankly, 9 a.m. is late for me. I know you're thinking, "It's 9 a.m.," but I'm an early, early riser, even on the weekend.
I started my try-to-get-fit journey many, many moons ago. It was actually a New Year's resolution with one of my dearest friends. As is common with New Year's resolutions, my dearest dropped off and left me on the journey alone. Fast forward to decades later. While I continued on my try-to-get-fit journey, I never saw the progress I wanted to see. In approximately 2006, I was introduced to a boot camp in Cleveland, Ohio, that changed my world. Earlier I said nine in the morning was late — that's because I used to get up at 3:30 in the morning, travel from my home in Akron 35 miles to work out with Coach Gwen, one of the best trainers in Cleveland, Ohio. I was dedicated and committed to that boot camp for over ten years. To this day, I still use the knowledge that she imparted — some say ingrained — in me and others to further this try-to-get-fit journey. I never used to like to work out at home, that is until the pandemic hit, and it forced lots of folks to improvise and get creative.
I, as a habit, took the weekends off from working out, then along came Margary and the Steno Fitness Challenge. It's a good time with like-minded people with a common goal, and that is to keep it moving. The challenge has helped me, particularly on the weekend, to keep moving. Sometimes it's something as simple as making myself do stretching for 15 minutes or more from YouTube videos, and other times it's going all-out crazy, depending on how much time I have.
With our profession and the massive amount of sitting that we do, I strongly urge everyone to keep it moving, challenge yourself. It's never too late to start. Carve out at least 15 minutes of your day. Your mind and body will thank you later. You'll be surprised what wonders it does. It's one of the best stress relievers.
Maxine Roberts, RDR, is an official reporter from Akron, Ohio
At your own pace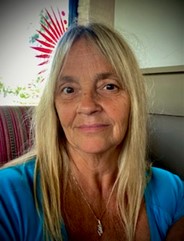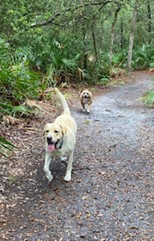 By Leslie Stilwell
As working stenographic reporters, our jobs require us to spend hours behind a computer screen. On any given day, most of my time is spent sitting at my desk taking remote assignments, editing a transcript, proofreading a transcript, finalizing a transcript (making sure it is completely ready for production), sending out emails and invoicing … all of which are very important and productive in the court reporting field, yet very sedentary.
When I first heard about the Steno Fitness Challenge, I figured, why not? Little did I know it would be a life-changing experience for me that would find me doing more than just exercising. I have learned that it doesn't have to be an all-or-nothing approach. It can be at your own pace, doing what you can, when you can, and that any movement is what's important.
Because of the Steno Fitness Challenge, I have come to learn what beauty the outdoors has to offer. I have found several hiking trails in my area that I didn't even know existed that I now share with equine riders and bicyclists. My family and I have come to enjoy taking our two fur babies out for a hike to see what there is to discover right outside our own back door.
Whether I am at the beach, on a hiking trail, walking around my neighborhood, or around a track field while attending my grandson's football games, walking has become a new-found love for me to get up and move.
I think it's safe to say that the Steno Fitness Challenge has been a daily accountability tool for so many people, and the friendships that have been made are worth their "weight" in gold. We inspire one another to do and be so much more, and that is priceless.
I will continue to get my minimum of 15 minutes a day of exercise in and continue to encourage others, whether they are at day one or day one hundred. I am so grateful that Margary Rogers founded this group, and I am already looking forward to the day we all get to finally meet in Orlando. Until then, keep on moving, my friends!
Leslie Stilwell is a freelancer from Daytona Beach, Fla.
Fitness outside the "boxing"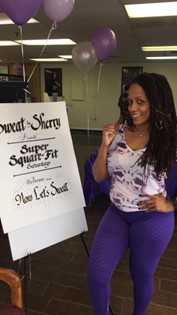 By Sherry Knox
When I saw the Steno Fitness Challenge group that was created by Margary Rogers, I was like, "I can definitely join this group." Fitness has always been a part of my life from day one — beginning as a kid playing with my siblings in our backyard, things like badminton, tag, hide-and-seek, and swinging from the tire swing on the hill. Also, as a teen taking dance classes like ballet and tap and to when I began court reporting school in 1991, I ran 5 miles every day before class. I also was a student of Jazzercise as an older teenager. Dance is really my love. It brings me life. I want to dance more now.
In fact, I never stopped moving. I've been moving my body in some form or fashion nonstop. Today for fitness I do things like boxing, swimming, fast-pace walking over bridges for up to 6 miles, strength-building exercises, etc. I get up on Saturday mornings to get a sweat session in with my steno colleagues, too.
By having a sedentary profession like stenography, my motto is: I have to stay active and keep moving and stay agile, flexible, and healthy. Before the pandemic, I would have to be on the move driving to various job sites, maybe having to walk long distances to the site after finding parking, climb stairs, hills, etc. It's very plausible for a stenographer to "go through some stuff" just to get to the job site. So having some level of fitness goes well with this profession, one that I enjoy so much and am thankful to be blessed with such a skill as ours.
I was able to teach a boxing class in the Steno Fitness Challenge group and look forward to doing it again soon. Boxing is a full-body workout and keeps you on your toes (no pun intended) and keeps your brain sharp, too! It's one of my favorite fitness regimens. I hope to see you the next time we meet on Zoom at the Steno Fitness Challenge and also live in Orlando!
Sherry Knox is a CART and broadcast captioner in Camp Springs, Md.
A strong body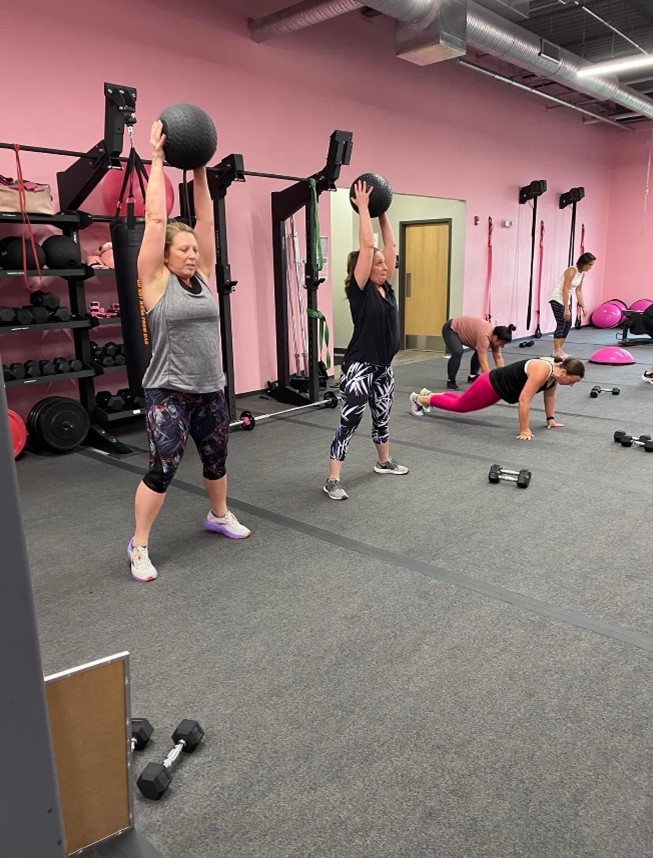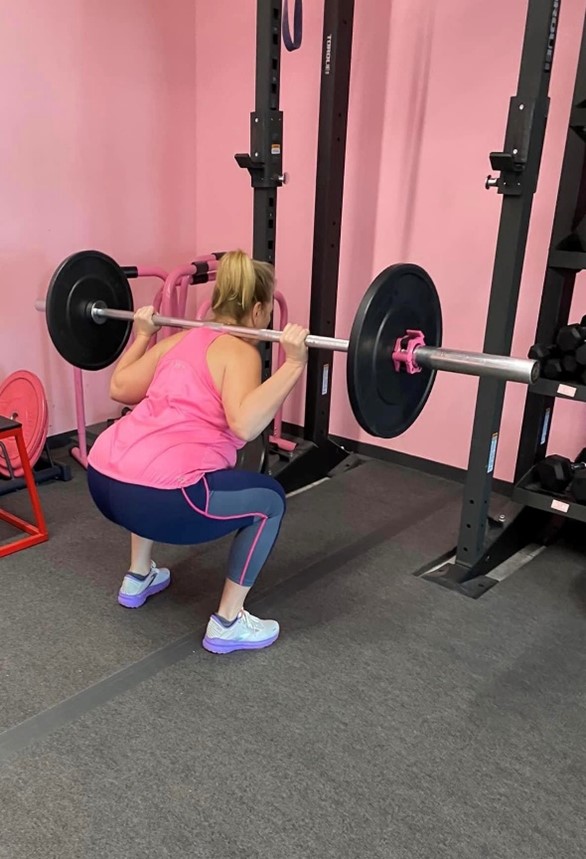 By Cindy L. Isaacsen
Thirty-four years of reporting – 34! – and, man, is it hard on a body. Our bodies were not meant to be sedentary. We have to get up and get moving – no matter what that looks like.
I have always exercised on some level – walking, Zumba, Jazzercise, running, weights, cardio – and the older I get, I find that I need to be stronger so my bones get all the support they need. I used to just walk and that would do the trick, but not anymore. I have to combine the cardio aspect with the strength training.
I want to encourage everyone, no matter your physical level, to do something. Do more than you did yesterday. Find a partner – an exercise buddy – and get moving. That's why I love the Steno Fitness Challenge so much. It's so encouraging to see everyone working hard to keep fit and it's great to see the different ways people are working out. It gives me great ideas of things to do when I get bored with my current routine.
My goals for Orlando are to feel strong, look great in my clothes, and to encourage others to keep up the hard work. We have been given this incredible body, and we are all so vastly different – whether we're tall and skinny or short and stocky – but the one thing we have is this body that we have been blessed with. I pray that we all continue to have good health in spite of this pandemic and that we make it a priority to have strong bodies so we can continue to do our jobs free from pain and discomfort.
Embrace yourself – look in the mirror and be proud of the beautiful being you are.
Cindy L. Isaacsen, RPR, is an official court reporter from Shawnee, Kan., and also serves as NCRA Secretary-Treasurer.
Fitness trainer and nutrition coach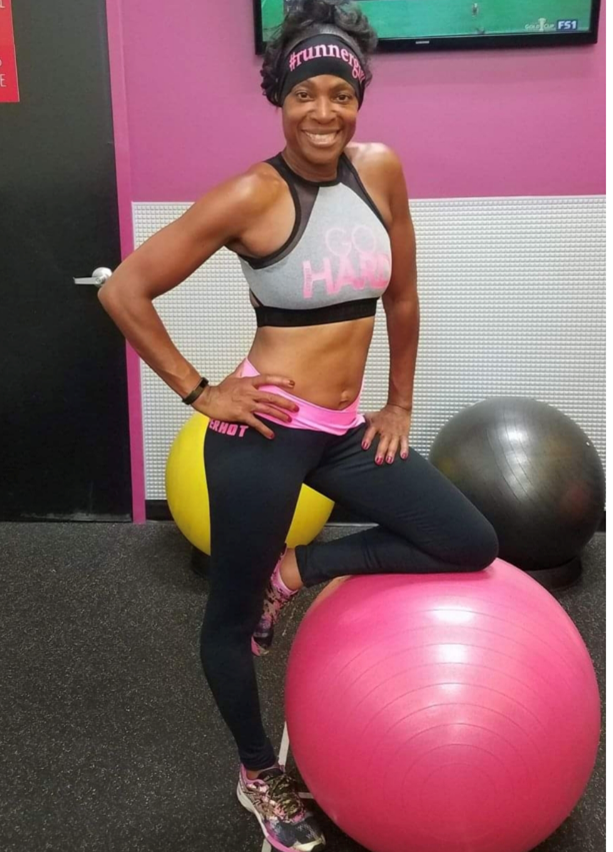 By Roberta Turner
My workout journey began when I wanted to lose weight before a big birthday. I always said I would never get up at 4 a.m. to be at a gym at 5 a.m. That time of morning I was in a coma. Fast forward, yeah, I am that person. Once you make working out a part of your life, you become addicted to it. You also learn to eat better as well. I joined a group of women working out, doing boot camp, running, and lifting weights. This also inspired me to become a fitness trainer and nutrition coach.
Being a fitness trainer was very rewarding to me. I got to watch a person from their beginning to then reaching their fitness goal and also falling in love with fitness themselves. There's a lot more to working out than just going to the gym. There are so many health benefits. There's biking, swimming, running, lifting weights, Zumba, yoga, etc. I love them all. Being fit is a lifestyle, not just a one-time event (i.e., my class reunion is coming up next month and I have to get back into that size 2). Being fit adds years to your life and also has you looking and feeling your best.
There are so many benefits that working out offers. It adds time to your life. It keeps your heart healthy, and you feel great. So every opportunity I get to explore or join in a workout, I do. Being a part of the Steno Fitness Challenge group is another opportunity to work out and meet other members of the court reporting profession while burning calories. Thanks for allowing me the opportunity, Margary, to be a part of this fitness class every Saturday morning. We don't come to play. We come to slay.
Roberta Turner, RPR, is a freelancer and agency owner in Apopka, Fla.
Find the Steno Fitness Challenge 'til Orlando 2022! Exercise at least 15 mins. a day Facebook group here.
Read about other members in the Facebook group.
Students are also participating in the Steno Fitness Challenge.