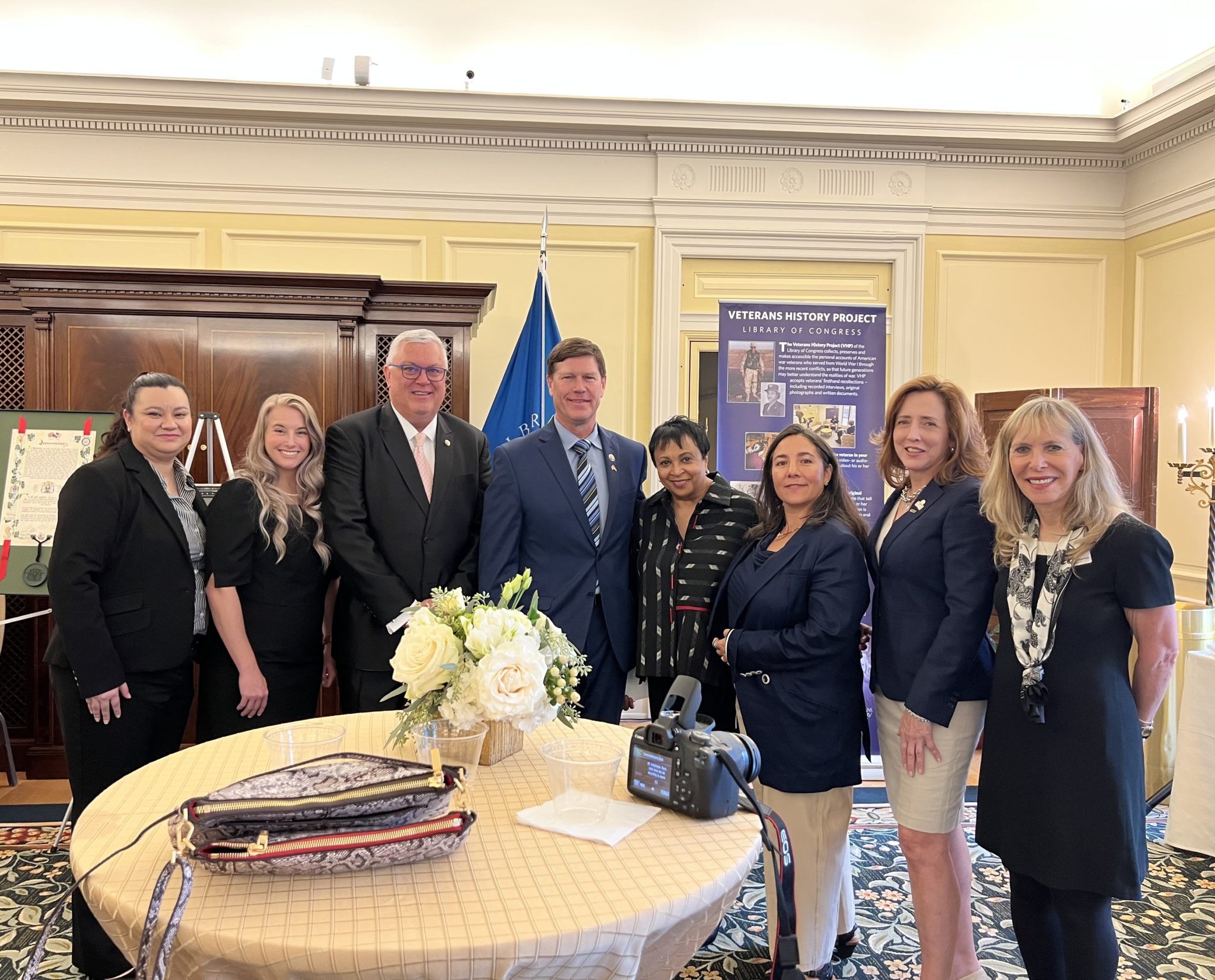 L to R: Brenda Gill (Membership & Development Manager, NCRA); Jocelynn A. Moore (Government Relations, NCRA); Dave Wenhold (Executive Director, NCRA); Rep. Ron Kind (Wisc.); Dr. Carla Hayden (14th Librarian of Congress); Monica Mohindra (Director of the Library of Congress VHP); Marjorie A. Peters, FAPR, RMR, CRR (Chair, NCRF Board of Trustees); Jill Parker Landsman (Manager, NCRF)

This past week NCRF and NCRA Government Relations recognized and celebrated Representative Ron Kind at the Library of Congress for his 25 years of distinguished service in the U.S. House of Representatives, for the formation of the Veterans History Project (VHP), and for his dedication to the court reporting, captioning, legal videography, and scopist professions. Rep. Kind, who has represented the 3rd District in Wisconsin, will be retiring in January 2023 after spending 13 terms in office.
In October 2000 Rep. Kind authored legislation creating the VHP, which preserves and makes accessible firsthand accounts of American war veterans. A large portion of this preservation is owed to the National Court Reporters Foundation's Oral Histories Program, which recruits our volunteer court reporters to transcribe veterans' stories from oral interviews. According to the VHP, as of 2018 court reporters have completed over 4,300 transcripts and submitted more than 1,350 individual interviews. Due to the close partnership between Kind, the VHP section of the Library of Congress, and NCRF, future generations of Americans will have the opportunity to hear from the veterans themselves and will be able to better understand the realities of war.
NCRF Manager Jill Parker Landsman, who was present at the event, noted the importance of Kind's involvement in the VHP: "I receive inquiries from NCRA members who want to transcribe our program's oral histories. Volunteer members who choose our veterans' stories take enormous pride when submitting transcriptions, which become part of our nation's history at the Library of Congress. It was so impressive to learn from Congressman Kind how the concept of VHP started at one of his family barbecues. In an impromptu moment, he recorded a family member's military experience. That recording led to Kind's idea and then a Congressional proposal to create the VHP, which won widespread bipartisan support. It was an honor to see Congressman Kind in action yesterday, as his support toward court reporters has been unparalleled."
NCRF Chair Marjorie A. Peters, FAPR, RMR, CRR, who also attended the event, stated, "It was my honor to be present at the Library of Congress to personally thank Representative Kind for his unwavering partnership and support of NCRA's court reporting initiatives, and particularly his own, the Veterans History Project. I remember in the late 1990s seeing Congressman Kind at a convention and learning about the VHP, so to witness his continued dedication and belief in the importance of the VHP all of these years later was inspiring. The VHP is very important to the Library of Congress, and court reporters should be very proud of our relationship with the Library and with the program as well. As I have said for many years, reporting a live oral history is one of the best days in court reporting you will ever have. And no less important, of course, is helping the Library to complete a veterans collection by transcribing a recorded oral history. You honor the service and lives of veterans when you complete a transcription. Yesterday was a great day for court reporting and for NCRA and NCRF, and I was proud to be present."
In addition to Kind's devotion to American veterans through the VHP, he has also been very committed to advocating for and supporting the court reporting, captioning, legal videography, and scoping professions in Congress. In 2003 during the 108th Congress, Kind introduced the first Training for Realtime Writers Act, H.R. 970, which garnered over 131 cosponsors in support of the bill. Then in 2007 during the 110th Congress, he reintroduced a new version of the bill, H.R. 1687, which gained a similar amount of support with 129 cosponsors of the bill.
When neither standalone bill was able to make it to the finish line, Kind was a fierce proponent of ensuring that the Training for Realtime Writers grant program was included in the 2008 reauthorization of the Higher Education Act. The bill, which was eventually enacted into law, appropriated $5 million from 2010 to 2015 to accredited court reporting programs.
Then both in 2019 in the 116th Congress and in 2021 in the 117th Congress, Kind authored and reintroduced the most current version of the Training for Realtime Writers Act. The bills sought to establish a competitive grant program that would appropriate $10 million annually for five years (for a total of $50 million) to accredited court reporting and captioning programs — a much higher funding amount compared to the 2008 law. Upon enactment of the most recent version of the bill, individual institutions that apply and are deemed eligible by the Department of Education's Fund for the Improvement of Postsecondary Education (FIPSE) may receive up to $1.5 million for the recruitment and training of new captioners. Kind was even gracious enough to reveal the introduction of this legislation in this video announcement at the 2021 NCRA Conference & Expo in Las Vegas, Nev. NCRA Government Relations is still working to garner support for the latest version of the bill before the 117th Congress ends this January.
Rep. Kind also repeatedly recognized NCRA during its Court Reporting & Captioning Week throughout the years by extending remarks in the official Congressional record.
According to Jocelynn A. Moore, NCRA's Director of Government Relations, "Congressman Kind has been NCRA's legislative champion for over a decade. His continued advocacy and fervidness for improving the livelihood of our members through Congressional action has remained unmatched. Words cannot truly convey our gratitude for the congressman's continual support. NCRA Government Relations would like to personally thank Congressman Kind for his repeated authorship and support of the Training for Realtime Writers Act and to congratulate him on his retirement."
NCRA Executive Director Dave Wenhold, CAE, PLC, who presented Kind with a distinguished service award at the event, commended the Congressman for his decades-long contributions to NCRA. "I have worked with Congressman Kind for over 20 years. He has been the champion on the Hill for our profession, and he will be missed. Congressman Kind is the kind of legislator that this country needs, and he came to Washington to make a difference for his constituents and his country. He certainly did that for veterans, reporters and captioners, and countless other groups. When I think of someone who defines character and selflessness in the Capitol, Ron Kind is the very first person I think of. I hope Ron, Tawni, and their family have a great new chapter in their lives and thank you, sir, a job well done."