Technology has given CART captioners the ability and the choice to work remotely from home. But for Renee Russo, RPR, CRR, working as a CART captioner on site has taken her to some incredible places: The United Nations, a six-hour wedding, a comedy club, the State of the City address for New York City Mayor Bill de Blasio, and a technical college where she had to leave her machine behind during a bomb scare (just to name a few).
"Our profession is an adventure every day," says Russo. "Being prepared, ready, and vigilant are the qualities we need for success and character building. Satisfaction is the reward."
JCR | How did you first learn about the profession?
RR | Presentations from two court reporting schools in my typing class about how court reporting was a lucrative, independent contractor career. I chose the school furthest from my home because they seemed more progressive with "computer compatible" theory. A high school friend and I carpooled to school every day.  We had a business dress code four days per week and Fridays were dress-down day. Nail clipper on the wall at school to remind us to keep our nails short to write better. 
JCR | How long have you been a working CART provider?
RR | Since 1991. I have been a court reporter since 1986. Always have enjoyed both. Blindly accepting all assignments for experience first and then as time passed, more by choice.
JCR | Can you tell us about providing CART at the 2018 State of the City address for New York City Mayor Bill de Blasio?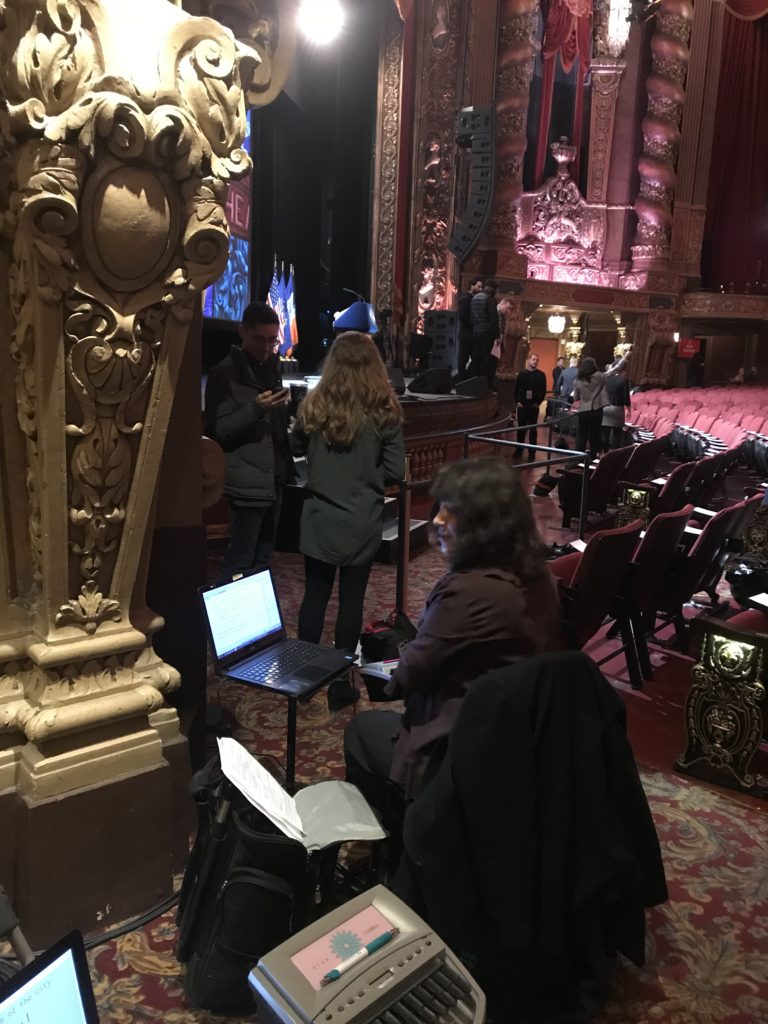 RR | I was honored and excited and needed to breathe. There were two CART providers, which I did not know until arrival: One for display, one for captioned transcript online. She drove from the mountains and I from the suburbs. We arrived two hours early to go through security and set up. I also carried my backup equipment into the theatre. At stage right was a very small space for us to work in. Audio was not the best. We shared information to be consistent. When the event was over, she left, and I worked on my transcript for the final to be turned in. Stressful but accomplished.
JCR | What have been some of your other memorable assignments?
RR | Most of my assignments were given to me by my mentor, the founder of CART in New Jersey, Woody Waga, FAPR, RMR, CRR (Ret). One assignment was an Indian wedding for six hours. It was a beautiful, large, celebratory event. Red roses and gold everywhere. Dress changes by the bride. I moved my equipment from vows to toast. Amazing experience.
A second assignment was Carolines on Broadway (a comedy club) in New York. Again, very small venue, difficult tech setup, and fun. Great to laugh at work — unlike while writing as a court reporter with no facial expressions.
[Another] memorable [assignment] was a bomb scare in a tech college many, many years ago. Had to evacuate and could not take my equipment with me. When I came back to the classroom my computer was gone.
JCR | What would you tell someone who is thinking about going into this profession?
RR | This is a business. Learn about the business end of our profession as much as skills and certifications. As a young reporter, I would feel bad when people could not receive CART they needed and would ask why we didn't provide our services for free. We can't all work for nothing every time a need arises. Later, as a little more experienced provider, I was asked by a professor to transcribe as soon as possible her private research study notes that were not part of a university project. She was going to pay me out of her own private funds. I, as an independent contractor, felt she was in a desperate situation, and needed to help her. As my motive was tunnel-visioned to help her, I did not know that could be a conflict of interest for me. 
JCR | Is there anything else you would like to add?
RR | I love what I do. The valuable knowledge and life experiences I have been given and shared with other reporters and mentoring students. Giving back is how we all improve every day. Much gratitude to this profession. Give it time. We are all human. Enjoy, and go for it!
Renee Russo, RPR, CRR, is a CART captioner and freelancer in Pompton Plains, N.J. She can be reached at cartreporter@optonline.net.
The JCR would love to hear from you! Do you have a story to tell about jobs you have covered during your career? Let us know so that we can include you in an upcoming story. Email us at pr@ncra.org.