Plans are being finalized, a challenge has been issued, and more savings are coming your way for NCRA's 2023 Court Reporting & Captioning Week happening Feb. 4-11.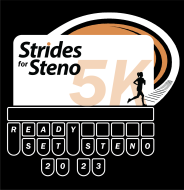 StenoStrides is hosting its third Annual 5K virtual run/walk to celebrate the week. The virtual 5K can be done anywhere, with anyone. Participants just need to snap a picture and share it on the StenoStrides Facebook page showing their support for stenographic court reporters. Proceeds from the event will go to benefit StenoStrides and its initiative of promoting verbatim reporting one stride at a time. For more information, visit StenoStrides.
Last year, 14 states secured official proclamations recognizing the week and were entered into a drawing to win a free registration to the NCRA Conference & Expo. NCRA President Jason T. Meadors, FAPR, RPR, CRR, CRC, a freelance court reporter and agency owner from Fort Collins, Colo., is once again issuing the proclamation challenge for 2023 and encourages all states to work to secure an official proclamation recognizing this year's celebration. A sample proclamation can be found on the NCRA 2023 Court Reporting & Captioning Week resource page. All official proclamations submitted to pr@ncra.org will be eligible for a drawing to win a free registration to the 2023 NCRA Conference & Expo being held in Houston, Texas, July 27-30.
"The captioning and reporting profession is the best-kept secret in the job market. If people truly knew the extent of our experiences, not to mention income, they would be breaking the doors down to get trained, certified, and started," Meadors said. "Court Reporting & Captioning Week offers a prime time to help get the word out about this profession, and one way to do that is by having our state lawmakers recognize the week with an official proclamation," he added.
Don't forget to take advantage of the savings being offered this week in the NCRA Merchandise Shop in honor of Court Reporting & Captioning Week. From Jan. 15 through Jan. 18, you can save money with free shipping on all orders, including on any customized swag now for 2023 Court Reporting & Captioning Week. Shop for the latest in clothing, accessories, gifts, and more, and customize with this year's official "STENO always in my heart" logo. Items can also be customized with your favorite NCRA, NCRF, I Love Steno, NCRA STRONG, or official certification logos.
The online company that provides the items and customization, Spreadshirt, takes care of processing the orders and ships goods directly to the consumer. The company also offers customers an easy exchange and return policy. Members who purchase items from the Merchandise Shop are supporting their national organization's programs and scholarships while also showing off their NCRA pride.
Be sure to check back often in the Merchandise Shop to see what new items and merchandise are being offered. NCRA will also announce new items and merchandise during special events.
NCRA members who do purchase items are encouraged to share photos of themselves sporting their swag. You might just get featured on the store site or in other marketing materials. Send your photos to pr@ncra.org. Happy shopping and happy Court Reporting & Captioning Week.
Be sure to check out the 2023 Court Reporting & Captioning Week resource page for a variety of downloadable materials designed to help you celebrate your certification.