Are you a state leader or do you aspire to be one? The 2023 NCRA Leadership & Legislative Boot Camp on Feb. 26-28, at the Embassy Suites by Hilton, Alexandria Old Town, Va., is your chance to get the skills and training you need to let your voice be heard in Washington, D.C. You will learn techniques to advocate for the court reporting, captioning, legal videography, scoping, and associated legal professions and have the opportunity to use those newly gained skills on Capitol Hill. Registration ends Jan. 26.
Dave Wenhold, CAE, PLC, NCRA Executive Director, and Jocelynn Moore, Esq., NCRA Director of Government Relations, will lead the three-day event.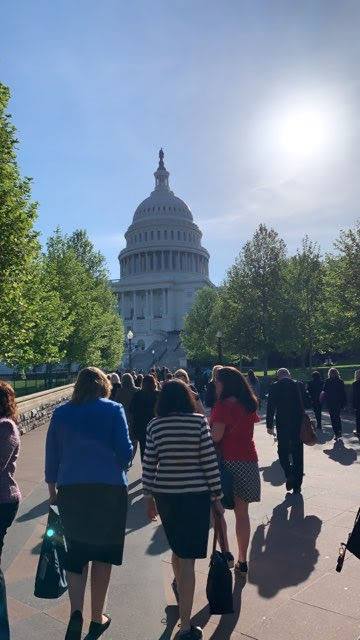 "I have been serving on the Board of Directors of the Florida Court Reporters Association for five years now," says Sheri Smargon, RDR, CRR, CRC, president-elect of the Florida Court Reporters Association, "and I kept hearing the wonderful things my colleagues who attended Boot Camp in the past were saying. They talked about how Boot Camp inspired them with confidence when speaking about topics affecting our members. I had been slated to go to Boot Camp for the past three years, but then COVID-19 hit. My president and I are so very excited to finally get the experience. We're told to expect to be exhausted when we're done, but that we will learn so much."
Sonja L. Reeves, RDR, CRR, a federal official from Palmer, Alaska, will also be participating in Boot Camp for the first time. "I am honored to attend on behalf of the United States Court Reporters Association," says Reeves. "It is my goal to learn how to advocate for federal official court reporters so we remain the gold standard for capturing and preserving the record in U.S. District Courts across the nation."
This immersive, hands-on event will challenge you – it's not called "Boot Camp" for nothing! But you will come away ready to take action and energized to support your profession.
Attendees will:
Participate in intensive sessions and training that will teach them the skills and strategies necessary to effectively advocate for their profession in state legislatures and in Congress;
Engage in real-life scenarios where they can put their newly learned advocacy skills into practice and network with other NCRA members who are passionate about their profession; and
Have the chance to visit Capitol Hill where they will put their grassroots advocacy training to the test and advocate before their elected representatives and staff in Congress.
Registration rates are $275 for members, $225 for a second member from the same state, and $375 for nonmembers. Reservation information for the NCRA discounted room rate at the Embassy Suites by Hilton Alexandria Old Town will be provided in your confirmation email once event registration is complete. The deadline to book a room is Feb. 3 or when the room block is filled, whichever comes first.
For more information about the event and to register, please visit the 2023 NCRA Leadership & Legislative Boot Camp web page or email NCRA Director of Government Relations Jocelynn Moore at jmoore@ncra.org.