Court Reporting & Captioning Week, taking place Feb. 4-11, is just around the corner, and the NCRA Student/Teacher Committee is once again planning to celebrate by offering live events just for students. On Wednesday hear from a panel of teachers and recent graduates on how to survive court reporting school, and round out the week on Friday with karaoke night — steno style — led by Margary Rogers, RPR, CRI, president of the Maryland Court Reporters Association.
How I Survived Court Reporting School
On Feb. 8, at 7 p.m. Eastern, teachers Cathy Penniston, RPR, CRI, of Des Moines Area Community College, and Mary Beth Johnson, CRI, of Community College of Allegheny County, will join recent graduates Nathan Sibley and Erin Blair, RPR, for a panel discussion of How I Survived Court Reporting School. The webinar, which is free for NCRA members and $10 for nonmembers, will offer tips and tricks on how to navigate the journey through school and the path to graduation. No CEUs will be offered for this webinar.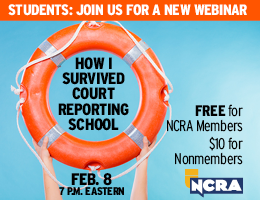 "Students, join us as we interview recent court reporting graduates about their experiences traveling through court reporting school," says Penniston. "What worked best? What didn't work? What advice do they offer current students stuck at one speed? What are their tips for building speed?"
Blair says she's excited to be part of the webinar. "I look forward to sharing some ways that I got through court reporting school that are targeted at getting your headspace set up for success away from the machine."
---
I Love Steno Karaoke #CRCW2023
Are you a student who loves music? Do you like writing on your steno machine to music? If so, here is your time to shine and have some fun doing it.
Margary Rogers, RPR, CRI, an official court reporter from Washington, D.C., will once again host a steno karaoke night. She first dazzled students with Court Reporter Holiday Karaoke back in 2020, a virtual session where attendees wrote lyrics to songs such as "Let It Snow! Let It Snow! Let It Snow" by Dean Martin and "Christmas Rappin'" by Kurtis Blow. The event was such a success that she reprised it with Court Reporter Karaoke nights for Court Reporting & Captioning Weeks in both 2021 and 2022. This year's event, "I Love Steno" Karaoke (Stenographers Writing to their Favorite Love Songs), takes place on Friday, Feb. 10, from 7-8 p.m. Eastern.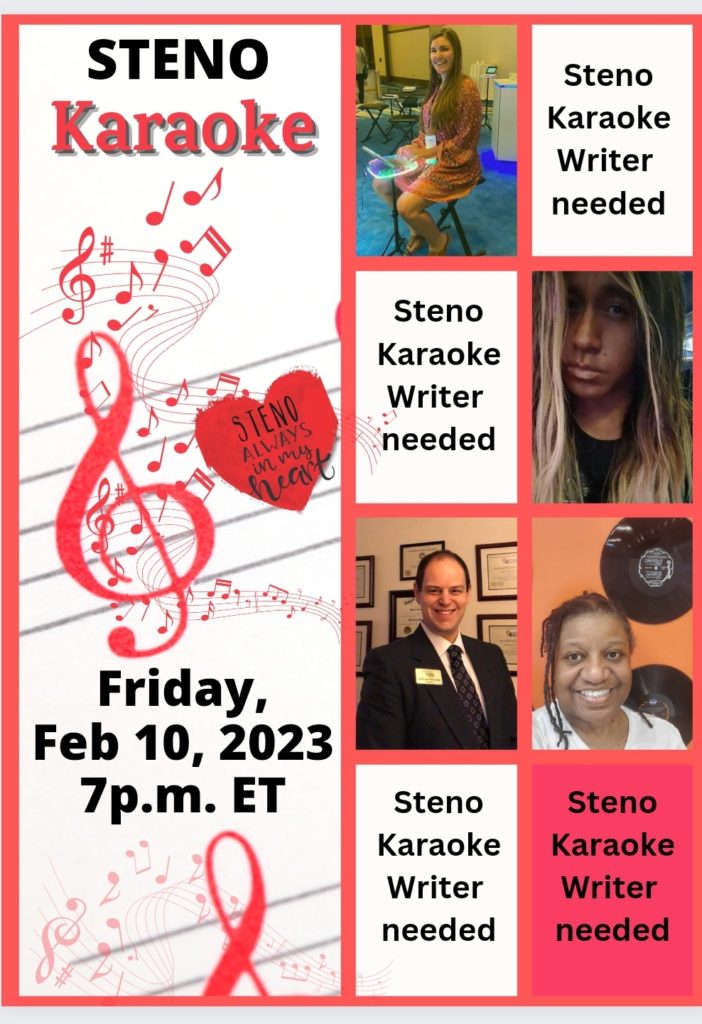 Who: Steno writers will write to their favorite love songs. They will share their realtime screens and steno outlines so students can view the way each reporter writes and also enjoy the music at the same time.
Why: To inspire students to feel comfortable writing in realtime and have fun doing it. We also encourage students to practice to music that they like and to add new words to their dictionary. Steno Karaoke is also a way to bridge the gap between the students and the stenographers, letting students know that we all are human, that we all make mistakes, but we strive to write our best.
We need voluteer writers! Will you volunteer? If you are interested in filling one of four emply slots, email your favorite love songs that you would like to write in realtime to Rogers at sluwcerts@gmail.com.
Participants must register in advance for this free karaoke event. After registering, you will receive a confirmation email containing information about joining the webinar.
---
Court Reporting & Captioning Week
Make plans now to share why "STENO is always in your heart" this Court Reporting & Captioning Week. The 2023 celebration marks the 11th year the week-long event has been sponsored by NCRA to encourage all state associations, individual members, schools, students, vendors, and anyone else who is interested to promote the professions and showcase why stenographic court reporting and captioning is the gold standard for making the most accurate record.
Be sure to visit NCRA's 2023 Court Reporting & Captioning Week resource page to learn more about how you can participate in this special week. NCRA has made available an array of resources from press release templates to flyers to posters and more designed to help you celebrate.
New for students: Discounted webinars!
NCRA values education for all its members, and that includes our students. In an effort to make the vast NCRA Learning Center library more affordable, we are happy to announce new deeply discounted prices available on all webinars for student members ($20-$40). As an added benefit, student members are now able to participate in free webinars that are open to the general membership (i.e., Town Halls, mental health webinars, Board meetings, etc.).