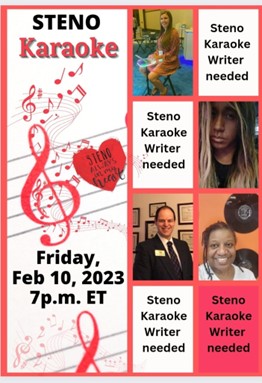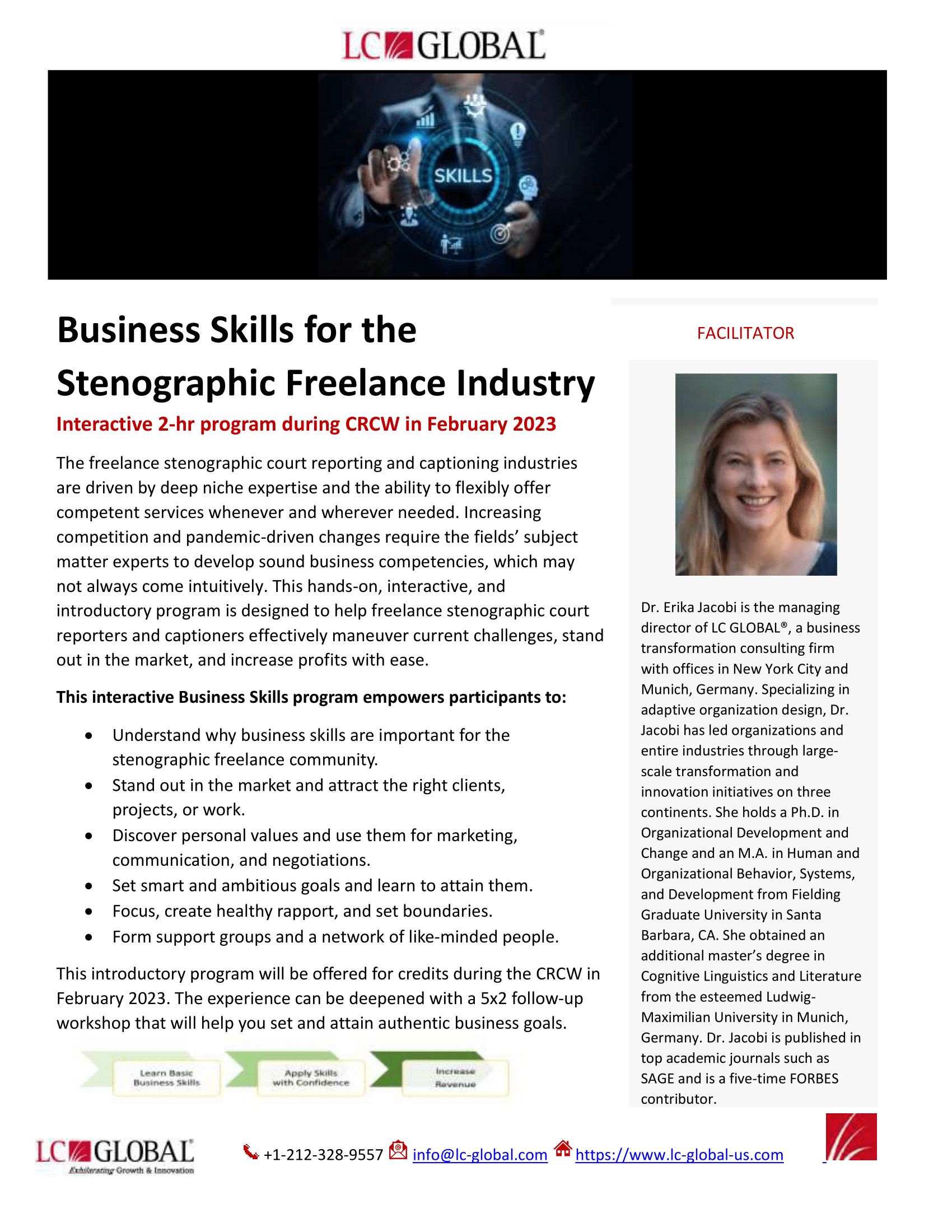 NCRA's 2023 Court Reporting & Captioning Week kicks off Feb. 4 and runs through Feb 11, with the theme "STENO always in my heart." A number of state associations, schools, and individuals have already shared their plans to celebrate this 11th annual event. Below is a rundown of what's happening so far.
NCRA
As always, NCRA has made available a Court Reporting & Captioning Week resources page that offers an array of downloadable promotional materials ranging from press release templates, flyers, presentations, social media tips and messaging, posters, yard signs, business cards, and to much more.


The NCRA Merchandise Store will be running more sales in February. Sales are coming that offer free shipping from Feb. 2-8, 25 percent off everything on Feb. 14, and 15 percent off everything from Feb. 23 – 27. These sales offer a great opportunity to save money while also purchasing a range of items from clothing to gifts and accessories that sport the official 2023 Court Reporting & Captioning Week logo, as well as other NCRA and NCRF logos and artwork.
NCRA member Amy Doman, RMR, CRR, a freelance court reporter from Carmel, Ind., shared a selfie modeling her latest purchase for Court Reporting & Captioning Week and said she loves the merchandise store.
Join Doman in celebrating by sending a picture of your customized swag to pr@ncar.org by March 1 and be entered into a drawing for one of three prizes.
The NCRA Student/Teacher Committee is offering live events just for students to celebrate the week, including a panel of teachers and recent graduates on how to survive court reporting school, (free for NCRA members) and a karaoke night — steno style — led by Margary Rogers, RPR, CRI, an official court reporter from Washington, D.C., and president of the Maryland Court Reporters Association. Registration for the webinar is through the NCRA Learning Center. Register for "I Love Steno" Karaoke here.
State proclamations
A number of state associations have reported that they have reached out to state leaders requesting official proclamations recognizing the week. States that have already submitted a copy of their official proclamations include Alabama, Ohio, and New Mexico. States that send a copy of their proclamations to pr@ncra.org are entered into a drawing to win a 2023 NCRA Conference & Expo registration.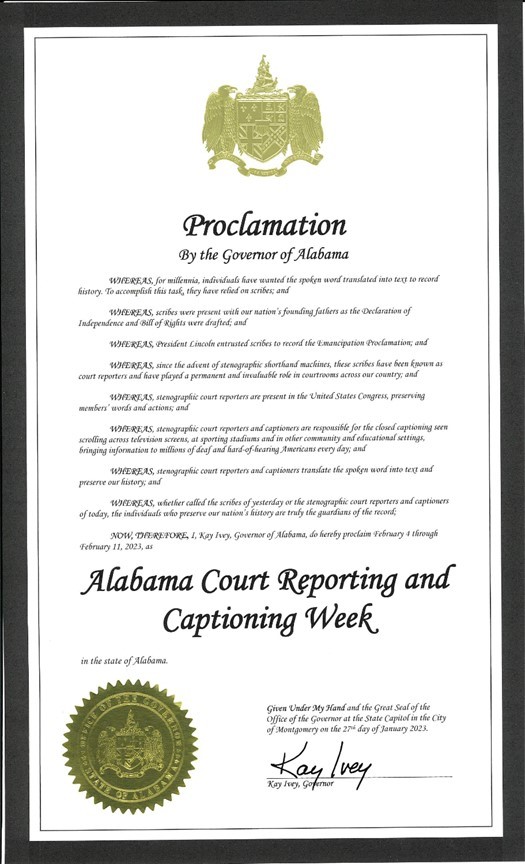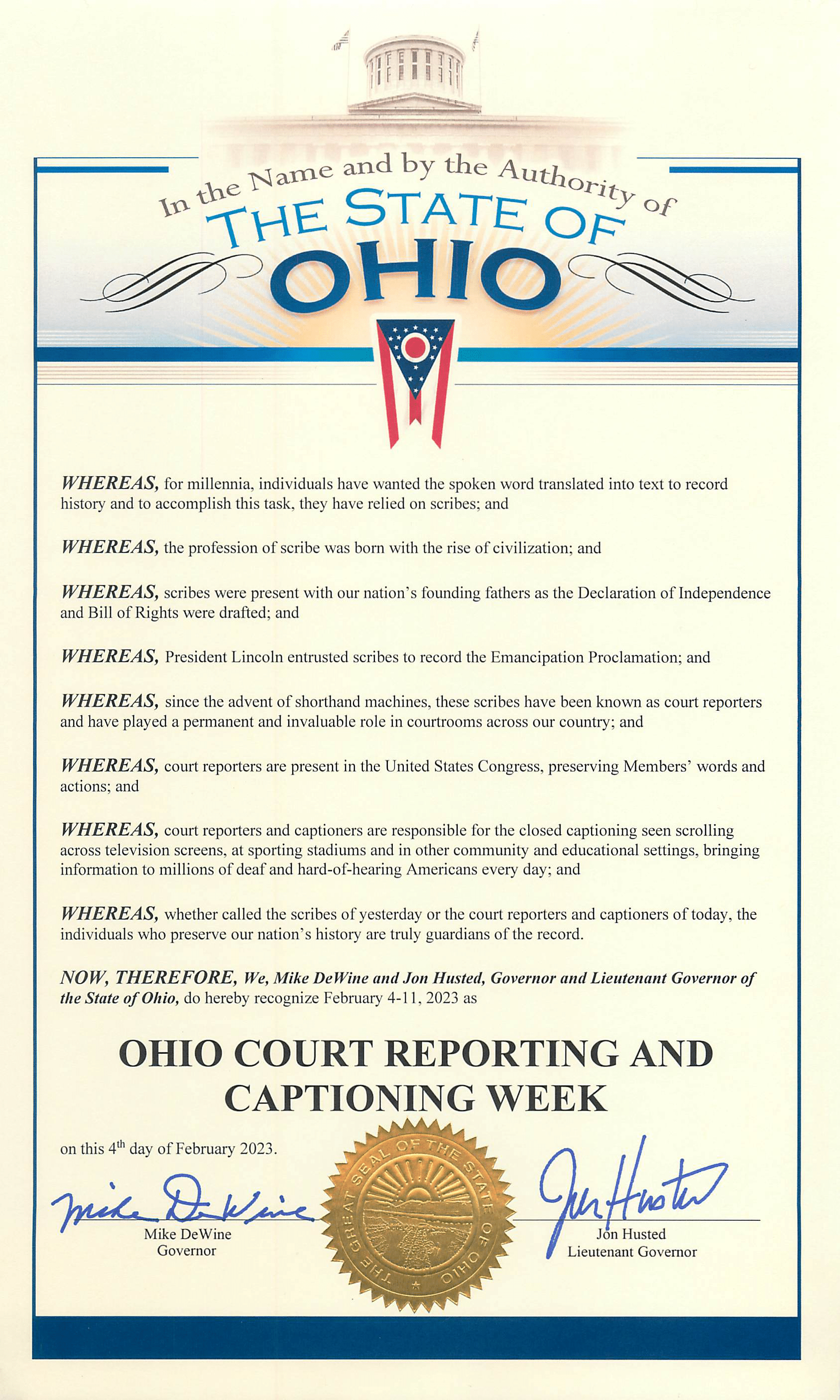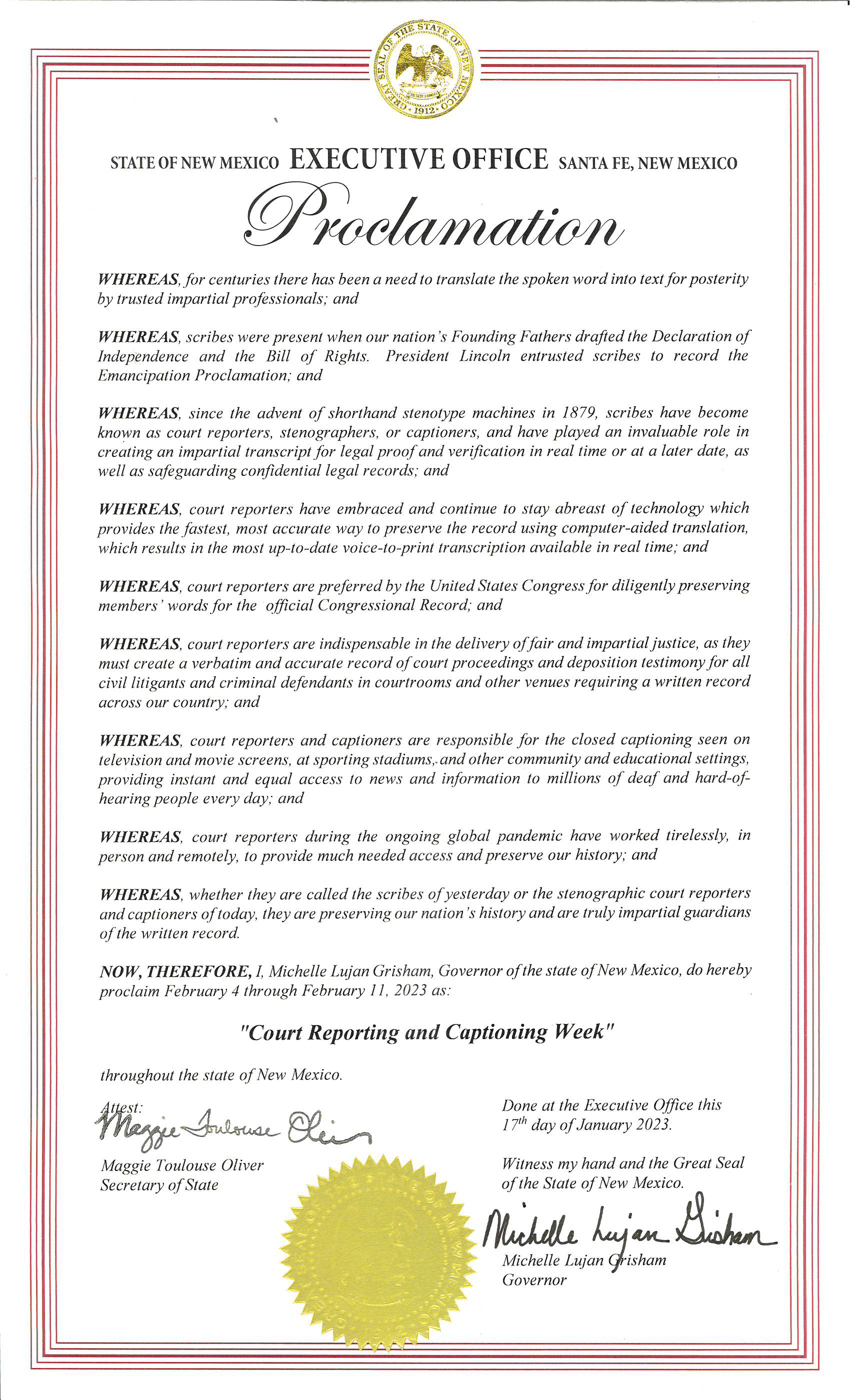 State Associations
Florida plans a big social media campaign and a virtual meet and greet for members.
In Indiana StenoStrides is hosting its third Annual 5K virtual run/walk to celebrate the week. For more information, visit StenoStrides.
Maryland's Promoting Our Profession Committee has partnered with a nonprofit organization for women in need and women entering and returning to the workforce in the Washington, D.C., area called Suited for Change. They will host a professional/business attire clothing drive and will assist with sorting and displaying the donations.
Massachusetts is hosting a session on how to stream realtime that will include an actual setup as well as micing up the courtroom to help with sidebars and hearing in general.
New York is hosting an interactive two-hour program about business skills for the stenographic freelance industry as well as a day-long CART-Yoga retreat on Feb. 5 in Midtown Manhattan. For more information visit NYSCRA Upcoming Events.
Ohio is hosting a Winter Jump Start. The one-day event features a session on how to change actions to change habits followed by a tour of the statehouse. More info is available here.
Virginia is offering free training on several different software applications for members.
Wisconsin is holding its third Meet a Wisco Steno virtual event for students that will feature a panel of stenographers ready to answer questions.
Individual members
Margary Rogers, RPR, CRI, an official court reporter from Washington, D.C, has organized a virtual transcribe-a-thon for court reporters and students Feb. 5 from 2 to 4 p.m. Eastern. Click here to register. Participants will help share and preserve African American history by transcribing Freedmen's Bureau Records from the Smithsonian Transcription Center.
Dineen Squillante, RPR, a freelance court reporter from Arlington, Vt., said she will be emailing her state bar association and the state trial lawyers association to explain what a stenographic court reporter does and why they are crucial to ensuring an accurate record, why they should choose a certified reporter, and tips for scheduling.
Reminder: State associations, schools, individuals, and vendors, please share with us photos and stories about how you celebrated the week and send to pr@ncra.org.