Attendees at the 2023 NCRA Leadership & Legislative Boot Camp met with their members of Congress last week to advocate for the court reporting, captioning, and legal videography professions. And one attendee was able to meet with her entire congressional delegation: Sonja L. Reeves, RDR, CRR, of Anchorage, Alaska, flew over 4,200 miles to Washington, D.C., to meet with both of her U.S. Senators and the singular Alaskan Representative to discuss the future of court reporting and captioning as well as including environmental cues in the record.
A state's congressional delegation is composed of both U.S. Senators and all member(s) of the House of Representatives. The state of Alaska's delegation is composed of Lisa Murkowski and Dan Sullivan in the U.S. Senate and Mary Sattler Peltola, who represents all of Alaska as the at-large member in the House of Representatives.
After two days of advocacy training and testimony scenario role-playing at the Embassy Suites by Hilton Alexandria Old Town, Va., more than 60 NCRA members deployed to Capitol Hill last week to solicit bipartisan sponsors and co-sponsors for the Training for Realtime Writers grant program.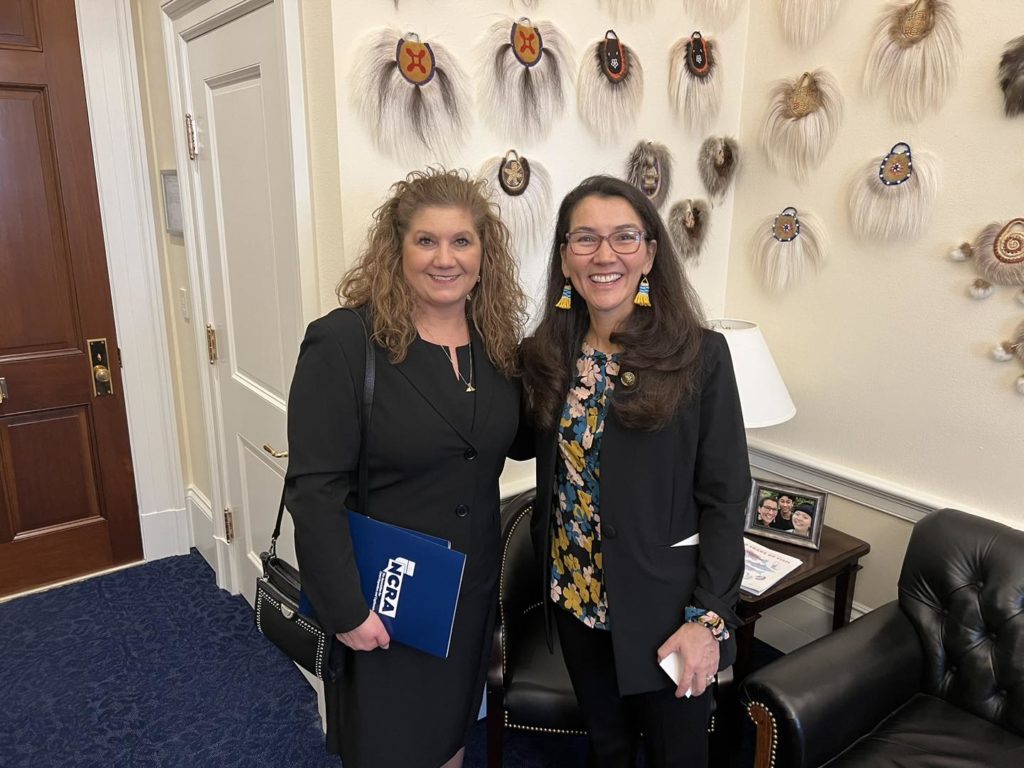 Representative Peltola hosted a two-hour meeting for constituents who were visiting Washington, D.C. At this meeting, Reeves was able to connect with fellow Alaskans to raise awareness and implement the advocacy training she learned from Boot Camp.
Reeves was then scheduled to meet with the staff of Sen. Murkowski when she was able to catch the Senator herself, getting facetime to discuss court reporting while the Senator was heading to the Capitol building for votes. The Alaskan court reporter then went for a drop-in at Sen. Sullivan's office. A drop-in, as described during a presentation at Boot Camp by NCRA Executive Director Dave Wenhold, CAE, PLC, is an unscheduled visit to an elected official's office to leave behind a folder or request a brief meeting with the officeholder or staffer if there is an opening in the Congressperson's day.
Reeves discussed her time as a military spouse and how being a court reporter not only supplemented her household income, but was also a career that could be sustained through many moves and different localities.
An in-depth summary of the 2023 NCRA Leadership & Legislative Boot Camp will be published in the March 15 JCR Weekly by NCRA's Director of Government Relations, Jocelynn A. Moore, Esq. If you attended Boot Camp and met with your U.S. Senator or Representative as a constituent and have pictures, please submit them to social@ncra.org.