The deadline is approaching for both the Gina Battaglia Memorial Student Intern Scholarship and the Court to CART Grant. The National Court Reporters Foundation (NCRF) is proud to offer both of these financial awards for the first time. Applications are being accepted until March 31.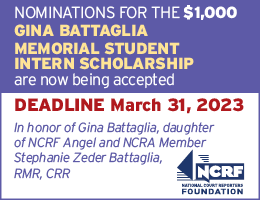 The Gina Battaglia Memorial Student Intern Scholarship is intended to help an NCRA student member who has been an intern in the past 12 months. Applicants must be nominated by their court reporting programs and must also submit a letter of recommendation and an essay. Judicial, CART, and captioning students are encouraged to apply. See the scholarship page for full eligibility and submission details.
The $1,000 student scholarship was created by NCRF Trustees and Angel Gatherers Committee members to honor the memory of Gina Battaglia, daughter of Angel Stephanie Zeder Battaglia, RMR, CRR, a freelance court reporter from Hinsdale, Ill.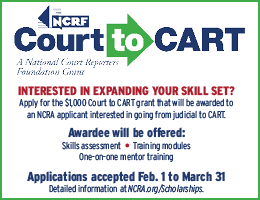 NCRF's new Court to CART Grant is an annual $1,000 grant awarded to an NCRA applicant currently practicing in the judicial field and interested in developing skills in CART captioning. The grant winner will receive an assessment of his or her realtime skills and instruction about current CART technology. Hands-on training will be provided as well as the chance to learn from applicable existing NCRA videos.
Applicants must be a current member of NCRA in good standing, hold a minimum RPR and preferably a realtime certification, and must be providing realtime services in the judicial setting among other criteria. Interested members must submit an application, a letter of recommendation, and an essay. Full eligibility criteria and application details can be found here.
For more information on these and other Foundation scholarships and grants, please contact NCRF at ncrfoundation@ncra.org.