Students celebrated 2023 Court Reporting & Captioning Week last month with a panel discussion of "How I Survived Court Reporting School" and a night of Steno Karaoke, hosted by Margary Rogers, RPR, CRI, an official court reporter from Washington, D.C.
Tamara Musni, a student at Mark Kislingbury's Academy of Court Reporting from Orlando, Fla., attended the online "I Love Steno" Karaoke event.
"I had such a great time watching Steno Karaoke," said Musni. "While the evening started out with technical difficulties, it was helpful for me to see professionals deal with the technical issues on Zoom. Everyone remained calm while trying to get the sound to work properly.
"Once the music started, I realized just how much I liked Steno Karaoke. Writing to music was so much fun. I enjoyed challenging myself with writing along to all the songs and conversation in a low-pressure way throughout the evening. I also realized that I liked seeing the social aspect of Steno Karaoke. It seems it would be a lot easier to gain steno friends and contacts by participating frequently in events like this as one of the writers. Another thing I liked seeing was that one of the participants writing was a student who is still in theory. It's good to know that one doesn't have to be an experienced stenographer to participate as one of the karaoke writers. Overall, Steno Karaoke was so much fun. I highly recommend it!" she added.
"We had some of the best steno writers writing in realtime to their favorites and some hilarious love songs as well," said Rogers, who is also president of the Maryland Court Reporters Association. "Our very own NCRA President Jason Meadors, RPR, CRR, CRC, also made a special appearance."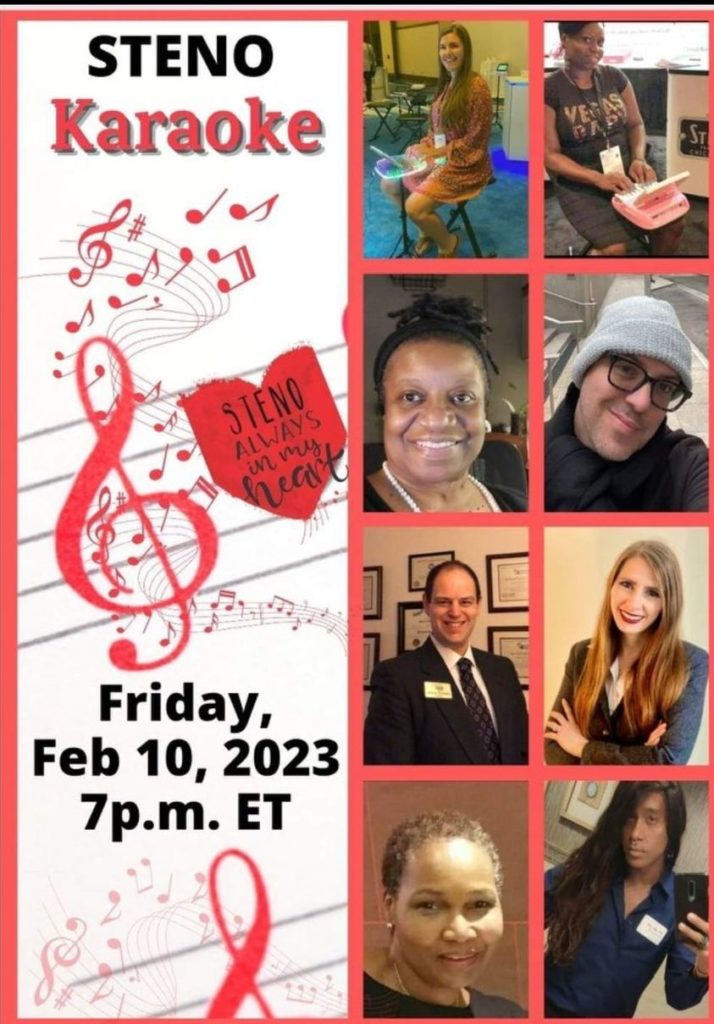 See the Steno Karaoke writers below and the songs that they wrote to:
Miriam Meneeley, student | "I Get to Love You" by Ruelle
Lisa Neal, RPR, official | "Sunroof" by Nicky Youre
Chris DeGrazio, freelancer | "I Love Me" by Demi Lovato
Juanita Price, RPR, official | "My One and Only Love" by Sting
Joshua Edwards, RDR, CRR, CRC, CART captioner | "Not Getting Married Today" by Stephen
Sara Necciai, official | "Skate" by Silk Sonic
Thomas Herman, CART captioner | "Unconditionally" by Katy Perry
Margary Rogers, RPR, CRI, official | "What's Love Got to Do with It" by Tina Turner
There were also many prizes and giveaways for the student reporters from the generous sponsors and donors listed below. Thank you!
KLOR Steno Key Design (steno keypads)
Kreate-wise (steno "Ask Me What's in My Bag" steno bag stickers.)
Margie Wakeman Wells, CRI (textbook/workbook, a word pairs book and eight drill books.)
NCRA Student/Teacher Committee member Debbie Kriegshauser, FAPR, RMR, CRR, CRC, CLVS (four $25 Amazon gift cards)
NCRA Student/Teacher Committee member Mary Beth Johnson, CRI.
NCRA Membership Committee Chair, Margary Rogers, RPR, CRI (NCRA Student Membership)
StenoCaptions (Pengad gift card)
StenoFluencer (steno tote)
Stenographer Chris DeGrazio (Amazon gift card)
Stenographer Lisa Neal (steno t-shirt)
StenoSwag (steno machine cover)
Studio Z Boutique (Future KROERT notebook)