Abbey Turnage finished her court reporting program and passed her RPR in under a year, but she knows that her experience is not typical. She credits her unusual journey to not having any outside obligations and being able to focus solely on her studies. "What matters most is not the length of time it may take to finish," she says. "Rather, it is never giving up and reaching the goal of being a working reporter."
UTS | How did you first get the idea of being a court reporter?
AT | About halfway through my first year in college, I realized the path I had chosen was not for me. After being set on a certain degree for so long, I had no idea what else I would do with my life. After speaking with my mom, she urged me to look into court reporting.
I did some research into the career and was immediately interested. After completing the NCRA A to Z® Intro to Steno Machine Shorthand program, I knew that this career was for me. Being on the machine and learning the basics of everything was so exciting. Upon completion of the NCRA A to Z program, I enrolled at Mark Kislingbury's Academy of Court Reporting in September 2021 and haven't looked back since.
UTS | It takes most students two years or more to finish school. How did you manage to complete school in just 10 months?
AT | I was extremely blessed to not have to work throughout court reporting school. I was an unmarried 19-20 year old with no children either, so all of my time was devoted to learning theory and being on my machine. Since I attended classes online, I was home a lot and able to practice writing to TV shows or anything else I might be watching or listening to at that time. I spent around three-and-a-half hours in classes each weekday morning. On top of that, I averaged between four to six hours of practice on my machine each day.
Though I finished school quickly, I would like to note that everyone's court reporting journey is so different. Court reporting school is hard even when it's not being juggled on top of numerous other aspects of life such as work or raising children. Because of this, I believe it is so important to be kind to yourself on your court reporting journey, whatever it may look like. What matters most is not the length of time it may take to finish; rather, it is never giving up and reaching the goal of being a working reporter. School and certifications are challenging, but being a reporter is so worth it in the end.
UTS | You already have your RMR. When did you start testing for you RPR, and what was your testing experience like?
AT | I first began testing for my RPR in July 2022 and passed all four legs during that testing period. Before signing up for my RPR, I passed a 5-minute test in school for each of the three skills. This helped me to have a bit more confidence going into my RPR since I had passed a test at that speed at least once before.
Overall, the testing process was fairly simple. The worst part was the nerves, since I am an extremely nervous tester. I found that listening to some of my favorite music prior to testing helped ease some of the tension and anxiety I felt.
I took my RPR skills over the course of three days and then took the written knowledge test about a week later. I highly encourage those taking their certifications to utilize the practice test given by NCRA, especially if it is your first time testing. It helps give testers an idea of what the process of testing will be like and what to expect before taking the actual test.
UTS | You just started your first job, correct? Where do you work and what are your first impressions?
AT | I did begin my first job recently as an official court reporter with the 15th Circuit District in Mississippi. During school, I interned with this district and fell in love with not only the job, but also the people there. It covers five counties, and two of those are the county I currently live in and the county where I was raised. It has been wonderful getting to stay close to home for work as well as getting to work around people I have known my whole life. A huge bonus is getting to have homemade breakfast at my mom's house whenever we are in term in the county where my parents reside.
During my internship for school, I sat in with some official and freelance court reporters to get a better idea of the pros and cons of each side. I definitely feel more comfortable in an official position and have loved every moment so far of getting to be a working court reporter. The best feeling ever was getting the first docket that had my name listed as the court reporter that day. It was so exciting to see on paper.
UTS | Do you plan to attend the NCRA Conference & Expo in Houston, Texas, this summer?
AT | I do plan to attend the NCRA Conference & Expo this year and look forward to being able to compete in the Speed Contest. Due to testing for my RPR, I was unable to make it last year as a student. Also, since I attended school completely online, I am looking forward to meeting new people and getting to be around so many awesome court reporters. I am extremely excited about attending the Conference & Expo this year.
UTS | Is there anything else you would like to share about yourself?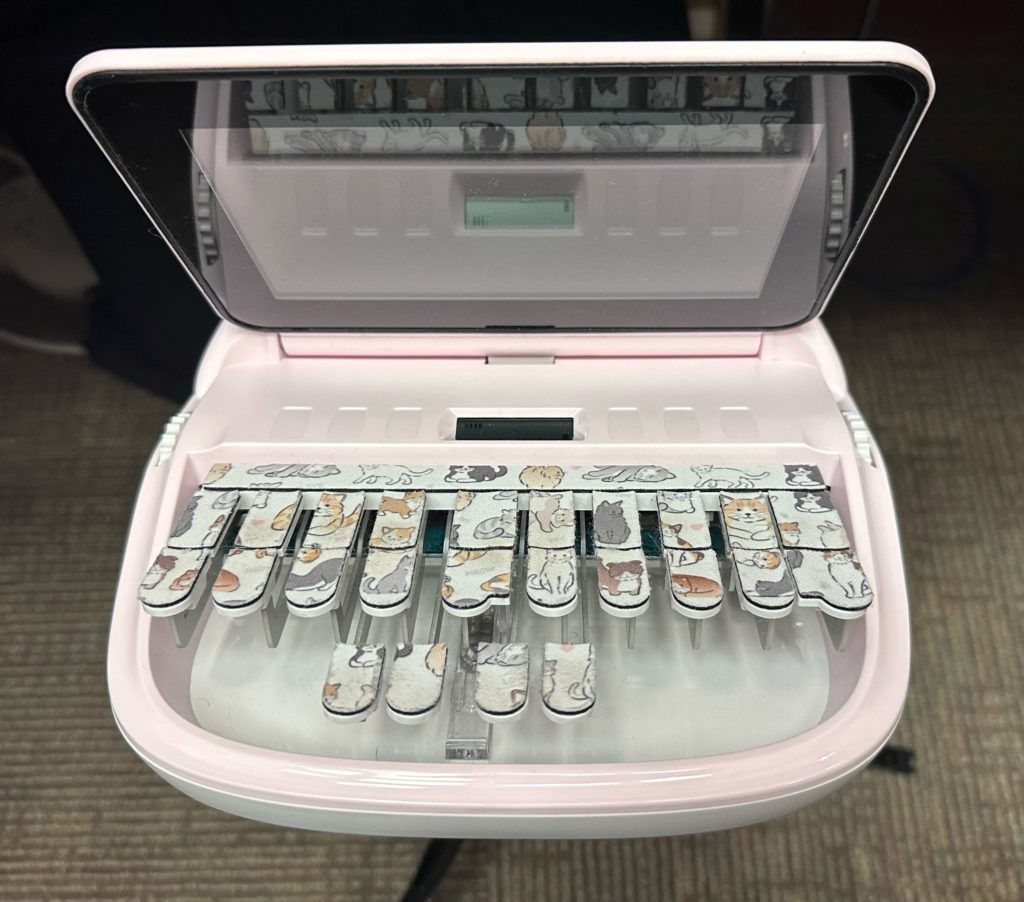 AT | Something else I would like to share is my love for personalizing my machine. It is very simple, but I enjoy getting to make my machine my own through the use of things such as keypads, stickers, and covers. I think it is so fun to get to personalize my machine in this way. Right now I have keypads that have cats all over them and will probably look to change them out in the future. Not only is it a simple way to decorate my machine a bit, but it usually starts a conversation whenever people happen to notice the custom keypads. Since my machine feels like an extension of myself, I love getting to make it fun and unique to me however possible.
Abbey Turnage, RMR, is an official reporter from Silver Creek, Miss. She can be reached at Abbey.turnage@gmail.com.
Missed previous issues of Up-to-Speed? Access them here.