Become an NCRF Angel or a recurring Angel by Sept. 1 and be entered to win a weeklong stay in a Junior Suite at a Mexican resort donated by longtime Angel Denise Paternoster, RPR (Ret.) in memory of her beloved husband Frank. The winner will be selected by random drawing via Facebook in September.
Only Angels who are current by Sept. 1 will be eligible for this NCRF getaway. Join the NCRF Angel family by signing up with monthly ($83.34) or quarterly ($250) donations or an annual donation of $1,000. The total annual donation provides a great 2023 tax write-off and a myriad of benefits, including a listing on the Angels poster at the booth and an invitation to attend the exclusive VIP NCRF Angel Luncheon in Houston, Texas, this year, and the benefit of knowing that each donation helps NCRF advance its philanthropic programs and mission. Each Angel donor's name will also be listed on the NCRA website and in the JCR magazine. Giving back to our profession matters, and this is the perfect way to help other court reporters in their career journeys.
To become an Angel, you may select the recurring donation that works best for your budget by texting the keyword NCRFAngel to 41444. Or contact Jill Parker Landsman at jlandsman@ncra.org, who can help set up your NCRF donation over the phone.
The Angels Program continues to be the most impactful component of the National Court Reporters Foundation's annual campaign, as it supports four key initiatives that are advancing the court reporting and captioning professions: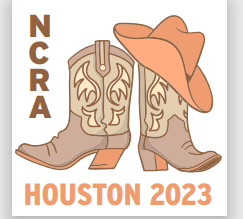 Purchase a 2023 commemorative pin
Each year the Conference has a memento for sale at the NCRF booth. The 2023 commemorative Conference pins will be available for purchase for $10 each.