Rich Germosen, FAPR, RDR, CRR, of North Brunswick, N.J., wears many hats: Freelance court reporter, NCRF Trustee, and a well-known figure in the stenographic field. Last month Germosen was invited to carry out the annual social media takeover at the NCRA Conference & Expo in Houston, Texas.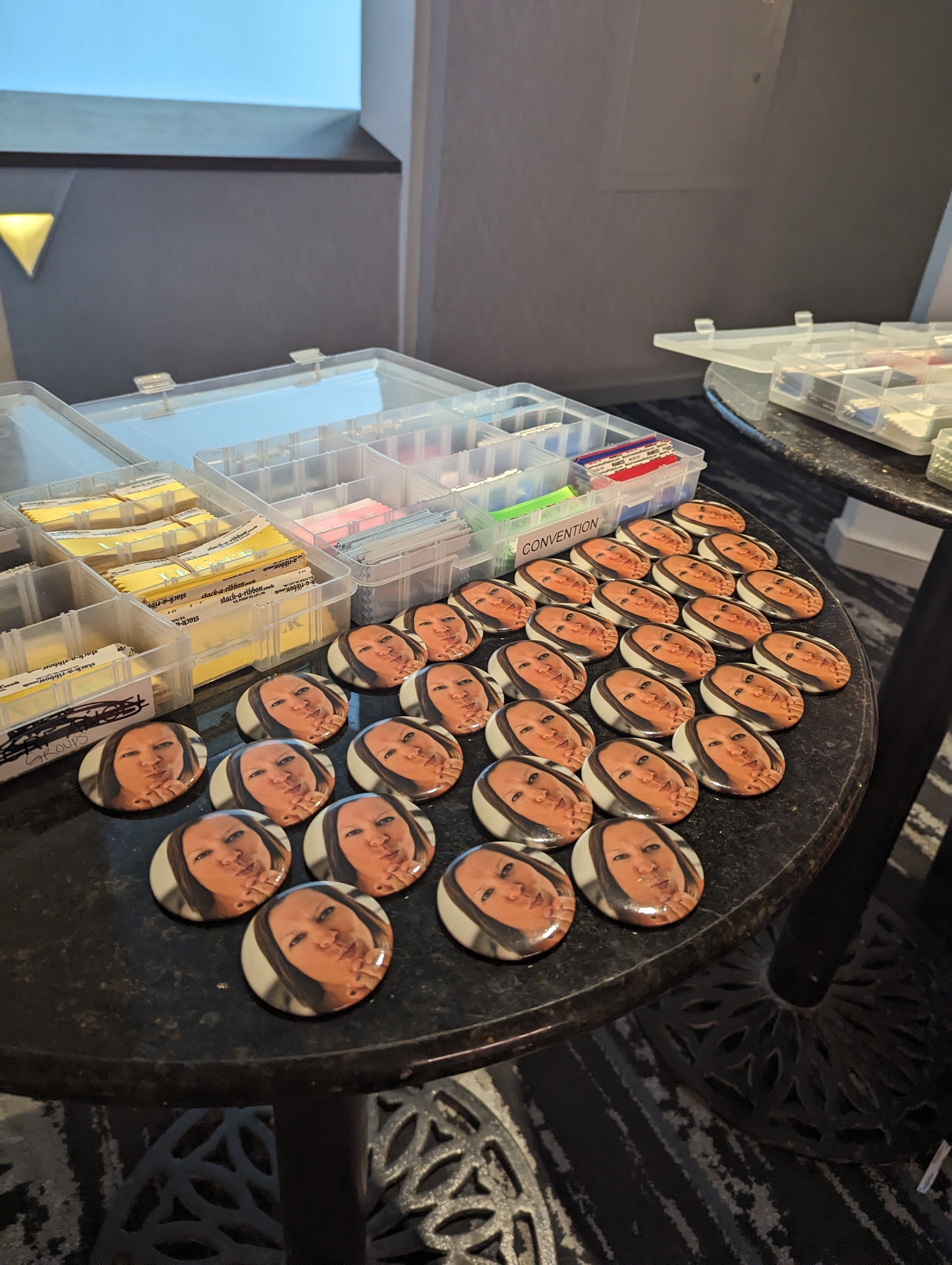 Pins with a picture of the late Monyeen Lee Black, RPR, CRR, at the registration desk ribbon station in Houston

For the day, Germosen was able to post what he experienced as an attendee as well as highlight a couple of events near and dear to his heart. First post of the day: Inviting attendees who wanted a pin to honor  friend and colleague Monyeen Lee Black, RPR, CRR, a freelance court reporter and agency owner from Paso Robles, Calif., who passed away in 2021.
"Realtime Rich," as he is known, was kind enough to grant the JCR Weekly an interview on his social media takeover and what he is looking forward to at next year's Conference in Louisville, Ky.
JCR | What was your favorite thing about Conference this year?
RG | My favorite thing about Conference starts with the Speed and Realtime Contests. If you know me, you know that I love the history of the Speed Contest. This is why I started going to Conferences regularly in 2012. Most of us come in early on Monday for the Tuesday practice session. Tuesday night all contestants go out to dinner. I love hanging out with friends whom I've known for well over a decade and I haven't seen for a year. Also meeting all the new folks is so much fun as well.
JCR | How was it different from last year?
RG | I loved the setup of the hotel where you had to walk by the bar to get to the elevators. I liked that there was only one set of elevator banks. In Orlando there were two sets of elevators. Orlando was so big that there was a lot of walking involved. Houston was a smaller hotel, and it was easier to find groups of people hanging out.
JCR | Did you have a chance to explore Houston at all?
RG | Unfortunately, I normally don't leave the hotel much at all during Conference. It is usually nonstop for me starting with Monday all the way through Sunday. I did go to some offsite parties on Friday night.
JCR | What would you like to see different in Louisville, Ky., next year?
RG | I would love for the international reporters to have some kind of get-together. I'm not sure if there was one, but I met several reporters from the Caribbean after the Saturday night Gala, and I also know there were a handful of reporters from across the pond that I already knew from Facebook and the practice page. I'd like to somehow celebrate the international reporters more. As I said, I'm not sure if there were any gatherings planned for them or not.
JCR | Is there something you thought was an improvement compared to Orlando last year?
RG | I thought the layout of the hotel was an improvement. The bar being in the lobby area and having to walk by there to get to the elevators, I loved that. It was like that in Denver in 2019. In Orlando, you sort of had to look for where people were hanging out in the evenings. This year you didn't have to look very far.
JCR | Does social media help you professionally?
RG | I use social media to try to get people excited and pumped up about the Conference. I try to keep those who couldn't make it in the loop by posting many pictures and videos. My Confernce streak goes back to 2012. I haven't missed any Conferences since then save for the in-person one in 2020 during COVID-19 that was moved online. I didn't plan to have a Conference streak. It just sort of happened. When I went to Philadelphia in 2012, I wasn't planning to go to Nashville in 2013. Next thing you know I'm going to Nashville. Same thing with San Francisco in 2014. Next thing you know my streak goes back 13 years.
If it wasn't for social media, I think it would be very difficult to maintain relationships with so many stenographers across the country and across the world really. I will friend most people I meet at Conferences. Then you get to see them throughout the year before the next Conference. Then when you see them next year you feel connected more so because of social media.
It was a lot of fun taking over NCRA's social media for a day at Conference. I sort of wish I had a little more time to post more, but next thing you know, we were at the end of the night and my time was up.
JCR | Compared to other careers, how has court reporting benefited from social media? As in, many are active online and have forged relationships where they don't meet until Conference sometimes.
RG | This is a very isolated field. We're the only reporter in the room and everyone else is a lawyer or judge, etc. It's a very special feeling when we all get together for Conference and we're all stenographers together celebrating what we do. There are reporters that I've gotten close to on social media that I have yet to meet. One reporter in particular is originally from N.Y. but now lives in Chicago. We're both big Seinfeld fans. Whenever I do finally meet her, I feel it will be special and it doesn't even feel like I haven't met her in person yet because of social media.
Rich Germosen, FAPR, RDR, CRR, is a freelance court reporter based in North Brunswick, N.J. He can be reached at rich@realtimerich.com.