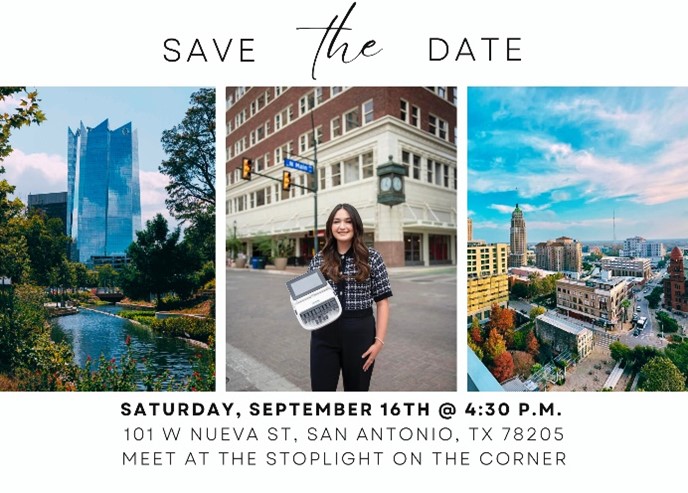 Above is one invitation Benoit issued to court reporters in San Antonio.
NCRA's new Membership, Marketing, & Outreach Committee (MMO) is launching a new digital social media campaign designed to bring visibility to the steno industry to students and potential new students by asking working reporters to share photos on social media of themselves in their communities, homes, or where they work along with their machines.
The MMO Committee was established in 2023 by NCRA President Kristin M. Anderson, M.A., RPR, FCRR, an official court reporter from Denton, Texas, with the charge to develop and create membership campaigns/initiatives throughout the year that will aid in promoting membership retention, renewal, and recruitment.
"We are inviting everyone to join in on the #ModernStenoMovement campaign," said MMO Committee Chair Denee Vadell, RPR, an official court reporter from Edison, N.J.
"This is an effort to help drive engagement and conversations about court reporting within our communities. We want people to see themselves in us because when we post these pictures, we are giving people a glimpse into a career they may have never heard about." Vadell added.
The effort was first launched by MMO Vice Chair Kensie Benoit, an official court reporter from San Antonio, Texas, who invited court reporters in her area to share via social media photos of themselves and their machines taken throughout the city.
Members of the MMO Committee are urging all NCRA members to invite the court reporters and captioners in their communities to participate in the social media movement.
Below are some tips from the MMO Committee to help those interested in participating in the #ModernStenoMovement campaign:
Step 1 – Pick a location (city).
Step 2 – Hire a photographer or have someone with a good camera take your picture with your machine.
Step 3 – Create a save-the-date (if you're organizing a group).
Step 4 – Send out an email or post online asking people to RSVP to the save-the-date (and tell them the purpose of the event and what it will include).
Step 5 – Take the pictures.
Step 6 – Post online with the hashtag #ModernStenoMovement and link it to DiscoverSteno.com, and encourage anyone interested in a career in steno to learn more about NCRA's Intro to Steno Machine Shorthand, a free, six-week course. Other suggested hashtags include: #stenographer, #stenostudent, #careerswitch, #careerchange, #steno, #ncra, #atoz, and #freeprogram.
"Thank you to Kensie for mobilizing this campaign and for allowing me to create the hashtag for this revolutionary movement," Vadell noted. The MMO Committee is also planning to create a photo collage of members to share on social media in celebration of the 2024 NCRA Court Reporting & Captioning Week. If you are interested in being a part of the collage, please contact NCRA and MMO Committee member Chris DeGrazio at sokhacambodian@yahoo.com.