The holiday season has many of our NCRA members thinking about giving gifts and embracing the spirit of generosity. Add the National Court Reporters Foundation (NCRF) to your holiday list and help us keep court reporting and captioning scholarships, grants, and other opportunities going. New this year is a fundraiser to send 20 students to the 2024 NCRA Conference & Expo in Louisville, Ky.
We can continue to give back to the community with the Natural Disaster Relief Fund, the NCRF Career Launcher program, and the Oral Histories Program. Adapting to future matters, our leadership is proactively positioning the Foundation to do more, give back more, and make a difference in the court reporting and captioning communities and beyond.
Each year the first Tuesday after Thanksgiving is #GivingTuesday, the biggest giving day for nonprofits worldwide. Since its creation in 2012, Giving Tuesday has inspired hundreds of millions of people to give, collaborate, and celebrate generosity; and this year you can support NCRF through its 2023 #GivingTuesday campaign on Nov. 28. Help your Foundation do more by donating here or texting keyword guardians to 41444.
Donate to help NCRA students with Conference registrations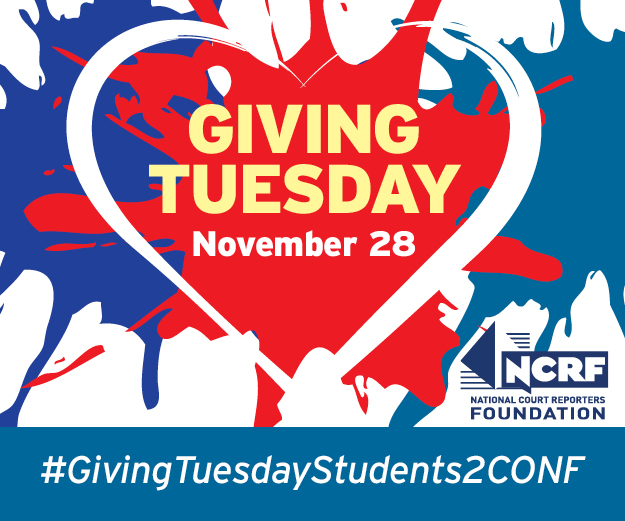 Please keep our students and Foundation programs top of mind. This year NCRF offers two #GivingTuesday options.
The second fundraiser will benefit students by offering 20 free registrations to the 2024 NCRA Conference & Expo in Louisville, Ky., Aug. 1-3 approximately $6,000 is needed to be raised. Helping to bring students to NCRA's Conferences ensures the future of court reporting and captioning. Donate online here or text using keyword giving2students to 41444. Donations are a tax write-off from NCRF. The student winner names will be drawn on April 2, 2024.
Your #GivingTuesday donations are fully appreciated. Wishing you a great holiday season.
For more information about NCRF and its programs, visit www.ncra.org/foundation or contact Jill Parker Landsman at jlandsman@ncra.org.