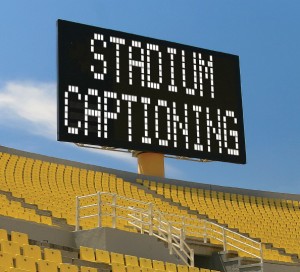 In the past few years, advocates for hearing accessibility have made gains in sports venues. Today, many major league and college stadiums regularly offer captioning of in-stadium announcements for sporting events. Here, we talk to three captioners who provide captioning of stadium events. In some cases, the captioners will work in the stadium, and in others, they provide captions through a remote connecton. The set-ups for viewing captions vary from stadium to stadium, as well, with displays on JumboTron, LED boards, and Daktronics boards, not to mention on handheld devices and in-stadium televisions.
Want to learn more? Read on.
Do you have to like sports to do stadium captioning? Which sports do you prefer?
Larry Driver: I don't think you have to like sports, but it surely helps. I would have to say my preference would be basketball just because it's faster paced. Football time is like "dog years"… two minutes on the game clock can seem like hours.
Jen Bonfilio: I don't think you have to like sports to do stadium captioning, but it sure helps, and if you do like sports, then work becomes play!
My preference for sports stadium captioning is [because it's] completely different from broadcast sports captioning. Prep is one factor that is basically the same for both, but if you caption for the same stadium/ team during a season, then you only have to prep the opposing team each game. With broadcast sports captioning, the broadcasters speak very rapidly, and, depending on the pace of the action, it could affect the speed of the speakers. Therefore, basketball and hockey can be challenging.
Stadium captioning is completely different. The PA announcer "calls" each play in football, tennis, and basketball, but it could be one sentence delivered slowly and calmly (in football) and the play-call is spaced out with seconds or minutes between each one. Basketball PA announcers are a bit more colorful and like to strettttttttch out players' names as they score a basket and, again, only announce when a basket has been made. In baseball, there is no play-call during the game. The captioner can sit back and wait until three outs are called and the teams are switching sides. At that time, for the duration of a commercial break for those at home, announcements are made regarding refreshments, safety information, ticketing information, as well as sponsor commercials. Sprinkled in with those types of announcements may be prerecorded video spots, many of which include dense sports material.
Lisa Davis: No, I suppose you don't, but it would make your day go by much, much slower. I prefer football and baseball.
How many hours does it take for you to prepare for one game? How do you prepare? Are you given scripts?
Driver: It really depends on the game. College football takes the longest to do the research. The rosters are incredibly long with lots of difficult names. And just how many ways can you spell "Darren"? Prescripting the announcer "reads" is a must. The sponsor announcements are usually very fast and chock full of proper names, numbers, etc. In addition, there are always lots of pregame, halftime, and post-game announcements with proper names. Much of the scripted material repeats, albeit sometimes in a different sequence for every game. Once I've created the first script of the season, I find it usually takes about an hour to edit the script for subsequent games.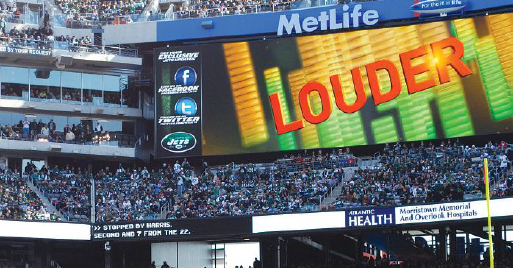 Bonfilio: I visit the team's website and copy/paste rosters, stats, or box scores from a recent game so I know who the key players are, coaches, front office staff, stadium name, and history, and then I repeat the process for the opposing team. As outlined above, I put all of this information into a Word document to make it pretty and big enough so I can prop it up in front of me on game day.
Scripts are usually provided on the same day of the game. I either copy/paste from the script into my captioning software or "write" from my steno machine the pertinent "blurbs" to create a script file in my software. Then I insert "slug lines" (script commands) and format them with terminal punctuation and other captioning related style requirements.
For ongoing jobs, the "blurbs" are repeated each time with some "blurbs" changing slightly. Once the script has been created in my captioning software the first time, then each game day, I go through and compare the provided script with my script and make any necessary changes.
Davis: Anywhere from two to six hours. I go around to the various departments and get everything I need: music, sponsors, timed outlines.
Are we given scripts? Yes! Always, yes!
What exactly do you caption? PA announcements, music, everything? Are there some things that don't get captioned?
Driver: We caption all announcer reads. We usually do not caption music with the exception of the National Anthem or other music we may have been provided prior to the event. Captioning of stadium events also usually includes the locker room interviews after the game.
Bonfilio: In the past, it was everything except music or, in some cases, just the National Anthem and perhaps a couple of other patriotic songs; however, a recent legal decision has required stadiums to caption all music. It should be noted, though, when captioning remotely, oftentimes the music being played in the stadium is not being piped through our audio feed. So if we can't hear it, we can't caption it.
But one job I worked on last year on site comes to mind; we captioned more music than sports action. Captioning musical lyrics can be as challenging as captioning sports. Therefore, captioners must make sure they are very skilled in this area before attempting to work in a stadium environment.
Davis: In one venue, I caption everything. At my other venue, I caption only sponsors, commercials, and lineups. Are there some things that don't get captioned? I am instructed not to caption while the batters are in the box. The policy is very strict on this; apparently it's a Major League Baseball thing.
Do you caption onsite at the stadium or remotely?
Driver: Initially we captioned onsite, but over the past couple of years, it's been all remote. For some special events, such as the All-Star Game, we will still try to go onsite.
Bonfilio: Both.
Davis: Both for me. For football, I am onsite. For baseball, I am remote.
What method do you use to provide the text? Do you output to an encoder, an Internet platform, a Daktronics board? If you output to a Daktronics board, can you explain what that is?
Driver: We display captions a number of ways, including open captions displayed on JumboTron and realtime text using StreamText or a direct IP route to JumboTrons or handheld devices.
Bonfilio: Daktronics boards are the large LED boards, sometimes referred to as ribbon boards, located in stadiums. An operator can manipulate the text and colors that appear on the boards, whether it's our captioning or sponsor logos. These boards can be scoreboards as well. Think about the signage you see on the highway with large amber text alerting you to a traffic jam ahead or an Amber Alert.
I have provided captioning in the stadium environment through an encoder onsite to Daktronics boards. I have provided captioning through iCap (Internet encoder) to handheld devices. And our company has delivered captioning remotely through an encoder as well as modem-to-modem connections to Daktronics boards.
Davis: For the stadium, I output to a Windows handheld mobile device as well as to all flat panel televisions. For the ballpark, I output only to the Daktronics board. On this question, I'm still learning. All I know of the Dak board is that it is a huge digital board that I share with the billboards, and my captions are the bottom two lines of the board and it does not like music notes at all. Boo!
Are you isolated in your location if you're onsite at the stadium? Is it a quiet environment? Are you bombarded with fan noise?
Driver: When we captioned onsite at Arizona State University, we were in the control room. It was extremely chaotic and noisy. Space was also a real issue, with barely enough room for a laptop, cables snaking around our legs, and scripts on a music stand. There are disadvantages to remote captioning, but you can't beat the peace and quiet of your own work space. When open captioning to an encoder or directly to a JumboTron over IP, we've found installing a SlingBox so we can actually see what is happening on the screen to be invaluable.
Bonfilio: It depends on the stadium. One stadium in which I worked, I was located in the same booth as the PA announcer and one other person. There was relatively little noise. At another stadium, I was in what's called the "Radio Bullpen," which is where the folks who give regular updates to their radio stations were housed. This room got very loud at times, especially when the German fellow sitting very close to us would record his updates (in German!).
It is not uncommon for stadium personnel to "stick" the captioner in the control room, which is full of people, including the director, all talking (and shouting) in the ordinary course of their business. I strongly encourage captioners to discourage this room as an option. Not only is it noisy, but space is very limited, and you really need to spread out and have room for your equipment, including a backup system, typist stands with rosters, and personal items. Yes, I have to have my box of tissues and hand cream, as well as extra cables, adaptors, notebooks, folders, AC adaptors to charge all my equipment and gadgets, steno machine and laptop cases, not to mention a lunch box with probably two or three meals. There is no time to go out to get something to eat, and you may be there for a good number of hours. For regular gigs, you're essentially moving in!
I always wear noise-cancelling headphones whether working onsite or remotely, so that minimizes the noise quite a bit. For remote work, there is absolutely nothing else on the line except the voice of the PA announcer or, in the case of football, the referee. The crowd noise hasn't been a factor at all for me, which is the complete opposite when you're captioning sports on television, especially basketball! Sometimes you cannot hear the broadcasters at all because of the fan noise.
Davis: Mine is semi-private. I am in a suite, so I have the option of leaving my door open or closed, but it is a heavy, insulated door. So if it is open, I get the "experience," but if it is closed and my headset is on, I don't hear any outside noises at all.
Do you caption the fan noise?
Driver: No, we usually do not hear the fan noise. We only hear when the announcer's mic is open or the referee makes a call.
Bonfilio: Since I can't hear it remotely, no. But if the situation calls for it onsite, I have, for example, during player introductions.
Davis: I do, and sometimes "it ain't pretty."
What do you do if you can't hear because of the fan noise?
Bonfilio: As I said, it's really not an issue for me, but if it ever were, my stock answer for anything that interferes with doing the job when there's no control of a situation: Do the best you can.
Davis: I usually put up generic parenthetical with relation to that specifically.
Do you have a visual of the game? If so, is it on a monitor, or can you see the field?
Driver: Not always. If the game is being broadcast, I will always tune in to watch. It certainly helps to have the visual cues.
Bonfilio: At one stadium, I had a clear, unobstructed view of the field. At another stadium, I had a monitor, but toward the end of my time there, when the German guy left, I moved up to his seat on the final day and was able to see the court. For remote work, the answer is no; however, one of our clients is working on getting us video of just the Daktronics boards for the upcoming season so we can monitor our captions.
Davis: I am unable to directly view the field and be sound-proofed at the same time, so I have four flat-panel LCD TVs that are huge, and I can see anything anywhere at any time. I actually see more than the fans! All the behind-the-scenes nitty gritty!
How do you get your audio feed? Do you have to bring the equipment, or does the stadium provide it?
Driver: When onsite, we've encountered both. I always bring an amplifier and headphones. I recently acquired an amp made by Rolls. It has almost every kind of input jack one could ever need, and it has five headphone outputs, each with individual volume controls. A true life saver when multiple captioners are on the same event.
Bonfilio: The stadium provides the audio equipment (hybrid coupler), which delivers the audio feed to the captioner, whether onsite or remotely.
Davis: The stadium provides my audio setup for me including my own headset. They stressed over what kind of headset to get me for comfort, functionality, and clarity.
TEAM PLAYERS

Jennifer Bonfilio began her court reporting career in 1984, working as a freelance reporter for several agencies in New Jersey. She started providing CART in 1994, when she was asked to help a student at Princeton University. In 1999, Jennifer started captioning, and in 2001, she started her own business, NJCaptions. In 2010, she formed a new company, Coast 2 Coast Captioning (c2cc) that provides remote and on-site stadium captioning and CART services throughout the United States and Canada

Lisa Davis, CBC, of Lavon, Texas, the owner of Lone Star Captioning, Inc., has also earned CART Level II certifications in Texas. She has been captioning since 1995 and providing CART services since 1997. She currently provides captioning, CART and remote CART, web streams, and live on-site and live remote captioning in venues including convention centers, stadiums, hotels, colleges, event centers, and TV stations.

Larry Driver, RDR, CRR, CBC, began his reporting career as a freelancer in Phoenix, Ariz., in 1977. In 1986, while attending an NCRA Annual Convention, Larry learned about closed captioning. After two years of "reprogramming his shorthand theory," he won a contract to caption the nightly news for a local NBC affiliate. Shortly thereafter, he was approached to caption all Phoenix Suns broadcasts. In the late 1990s, he took on his first stadium captioning assignments for the Arizona State University Sun Devils and Arizona Cardinals. Larry now works with several other captioners to provide stadium captioning services to both teams. In addition to stadium captioning, his company, Closed Caption Productions, provides realtime captioning for television broadcastsers, webcasts, remote and on-site CART, and offline captioning/subtitling.