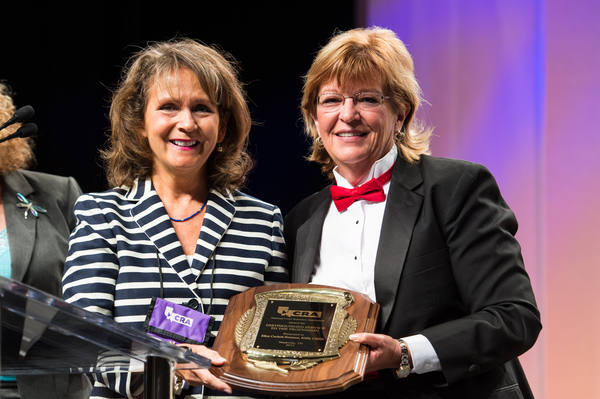 NASHVILLE, Tenn., — Ellie Corbett Hannum, RMR, CMRS, of Unionville, Pa., a veteran member and court reporter for more than 33 years, was presented with NCRA's coveted Distinguished Service Award (DSA), during the Premier session held today at the 2013 Convention & Expo. The DSA is the highest honor NCRA bestows on members.
Hannum was recognized for her distinguished work and service for the benefit of the court reporting profession, including service to NCRA as a member, a committee member, a director, or an officer of the association.
Hannum, a court reporter for more than 33 years, holds the professional certifications of Registered Professional Reporter (RPR), Registered Merit Reporter (RMR), and Certified Manager of Reporting Services (CMR). She is also a certified LiveNote Reporter. For nearly 32 years, she served as owner and president of Corbett Reporting before it was acquired by Veritext. She is currently affiliated with the Mid-Atlantic division of Veritext.
"The Distinguished Service Award is the highest honor our association bestows upon a member, and having worked side-by-side with Ellie over the years, it was particularly meaningful for me to present it to her," said Merilyn Sanchez, RMR, RPR, CRR, and FAPR, a court reporter form Phoenix, Az., who presented the award to Hannum.